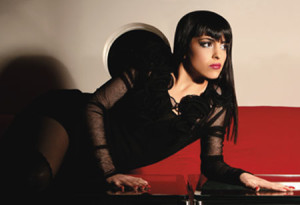 Cyprus felt the cold shoulder of the Eurovision audience in 2007. Many feel Evridiki deserved a better placing. Now Evdokia is putting her song and herself forward for the Mediterranean nation, can she succeed where Evridiki failed or is this another risky choice from Cyprus?
Evdokia Kadi, the Cypriot representative to the 2008 Eurovision song contest, was born in Nicosia in 1981. She is a graduate of the University of Cyprus in French language and literature. She made her first "official" appearance on the music stage in 2001, singing every Tuesday at university student music stages.
From 2003 she started singing regularly in several music stages in Nicosia. She collaborated with Koullis Theodorou in his CD "Kaimos-Prodotis", by singing two songs. Evdokia also took part in a concert, held in Geneva in Switzerland for the Greek diaspora.
In 2006, she joined the CyBC orchestra and gave concerts all over the island. From September 2007, she started appearing in a music stage in Limassol. Evdokia won the Cypriot preselection for Eurovision 2008, on the 12th of January 2008. With the song 'Femme fatale', which was composed by Nikos Evaggelou. Evdokia managed to get 6279 votes during the televote, thus coming first, despite the fact that the jury placed her 3rd of 10 entries. The winner of the selection was decided through a mixture of a jury (40%) and televoting (60%).