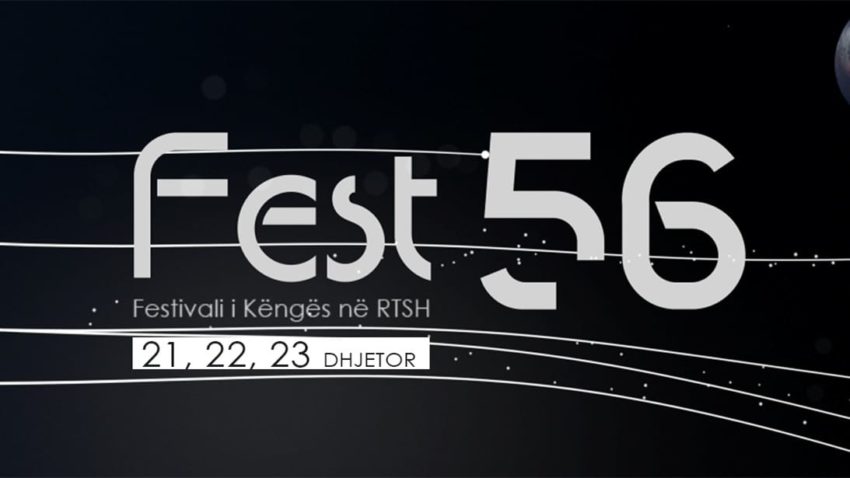 After hearing all 22 acts competing in the 56th edition of the Albanian music festival Festivali i Këngës, question is what do they have to offer? The two semi-finals take place on the 21st and 22nd of December, and they include a lot of variation.
In two weeks time, we will know who will represent Albania at the 2018 Eurovision Song Contest.  Below, we review half of the 22 songs, while the other half, will come soon. After listening to all the songs, Albania has indeed, a lot to offer – from romantic and passionate ballads to the most unexpected rock songs.
AkullThyesit – Divorci
AkullThyesit is an Albanian rock duo, who are quite noted in their home country. This is not the first time the two have participated in Festivali i Këngës, however. They first participated in the 31st edition of the festival, in 1992, which, at the time, was the most important festival in the country. After failing to win the festival in 1992, they decided to try again in 1995 in the 34th edition of the festival. This year, the band enters Divorci (The Divorce) which at first seems like a dramatic and thrilling song, until it completely changes to a crazy rock song. The song isn't forgettable, as it keeps the audience alarmed with the unexpected screaming in the megaphone, however, with an impressive performance, AkullThyesit have a good chance on getting through the finals.
Artemisa Mithi – E dua botën
Artemisa Mithi is a young Albanian singer. She has won awards in various talent shows, such as 'The Voice of Albania',  and has been singing professionally for 3 years. The passion for music is inherited from her mother, who has been playing the piano for 12 years. Artemisa is very close to her mother, and saw 'The Voice of Albania' as an opportunity to make her proud. Now Artemisa has took a step further and is participating in the Festivali i Këngës, with her song'E dua botën (I Love The World). In her music video, she appears to be very commanding, proud, and decisive. The opening was very sensual, and the music was energetic. It sounded like something that is listened to nowadays, which is a good thing, as she has a higher chance to impress the audience.
Bojken Lako – Sytë e shpirtit
Bojken Lako, a 42-year-old Albanian rock artist. As AkullThyesit, this is not his first experience at the Albanian festival. He competed in the Festival i Këngës in 1999, 2001,2009, 2011, and in 2012 as a solo artist. Soon after, he formed a group named 'Bojken Lako Band' and, together, they entered the 53rd edition of Festival i Këngës in November 2014, with the song 'Tëndjëj'. He never had the luck to win the festival, so, for the 7th time, Bojken Lako enters the 56th edition of the festival with his song Sytë e shpirtit (The Eyes Of The Soul). It's a soft rock song, which is accompanied by his lovely deep voice. It is a very mature song, and an authentic one, as he seems to be telling a story of pain and loss. Our expectations are high for this song!
Denisa Gjezo – Zemër ku je
Denisa Gjezo is a famous Albanian artist. She has participated in many musical competitions in her home country, such as Kënga Magjke and Top Fest. She is also part of an Albanian TV programme 'El Diell' which airs every weekend. When she was 10 years old, she entered many music competitions for children in the city in which she lived in, where she was admired by everyone. It was when she turned 15 that she started to sing live in public places such as concerts and inaugurations. Her first album was released in 2007 named Jam labike Laberis which included turbo-folk music. After many tryouts at Top Fest, Denisa enters the Festival I Këngës with her song Zemër ku je (My love, where are you?).  Her voice is very powerful in her music video, possibly could sound even more powerful in a live performance, but overall a very good song, that allows the world to see how good a singer she is.
Elton Deda – Fjalët
Elton Deda is an Albanian musician, singer and television personality. He competed in many song festivals. His first appearance on TV was in the early 1980's where he sang a song dedicated to his father, who, at the time, was a very popular conductor. When he was young, he formed a band named Tingulli i Zjarrtë and the band received the 'Best Group Award'. With his band, Elton has entered the Festival i Këngës several times. This year, he enters a rock song in the festival, named 'Fjalët' (The Words). It is a karaoke-bar type of song, which is accompanied by a guitar and his very strong voice.
Endri & Stefi – Mesazh 
Endri & Stefi are an Albanian duo, comprising two brothers, Endri and Stefi Prifti. The Brothers Prifti were born in the early 1970s in Korça, Albania. Endri & Stefi participated in Kënga Magjike 2007 with their song Serenata. In 2008, the brothers took part in the 47th edition of the Festivali i Këngës.  The following year they participated in the 48th edition of the Festivali in Këngës. This year, the duo comes back to the festival with the song Mesazh, (Message). It is a rock song, and with their strong voices, the song is strangely likeable. With a good performance, we are sure they will pull it off.
Ergi Bregu – Bum Bum
Ergi Bregu is an Albanian singer. Not a lot is known about the singer as she is not very noted in her home country. This year, she will sing at the Festival i Këngës, with her song Bum Bum . It is very much like a 70's disco type of song, and is very groovy. In the music video, Ergi Bregu seems to be an energetic and lively person, and we hope we will also see her like this on stage.
Eugent Bushpepa – Mall
Eugent Bushpepa is a 33-year-old Albanian rock singer and songwriter. He started to work as a singer in 2006, on a talk show on Albania's national television, slowly becoming one of the most well-known Albanian singers. Cover songs on talk shows and the best-known clubs in Albania is his speciality. He participated in Top Fest multiple times, once performing with a band and has collaborated with many Albanian singers. This year, Eugent Bushpepa will sing Mall (Yearning) at the 56th edition of the Festival i Këngës. It is a slow rock song initially, but gradually it becomes even stronger, and so does his voice.
Evans Rama – Gjurmët
Evans Rama is famous in Albania for participating in multiple music festivals. He is a 44-year-old Albanian singer and lives in his home country. He participated in the second edition of Top Fest in 2005. In 2006, he participated in other music festivals; one of which was the 45th edition of the Festival i Këngës. He kept attempting at the Festival i Këngës in 2007, 2010, 2011, and in 2015. This year, Evans Rama will make his 6th attempt to win the famous Albanese festival, by singing his song Gjurmët (The Traces). It is a reggae type of song, very pirate-like in parts of the song, yet also very simple. And sometimes, simple is just what we need.
Genc & David Tukiçi – Të pandarë
Genc & David Tukiçi are a duo comprising two brothers. The two are Albanian-French singers, pianists and composers. The brothers have been singing on their own, but this year, the two enter the Festival i Këngës together. However, this isn't the first Festival i  Këngës they have experienced. David Tukiçi, for instance, participated at the 1969 edition of the festival, at the age of 13. The two are singing together for the first time at a public event, and they have certainly impressed us. The song they will sing at the festival – 'Të Pandarë'  (Inseparable) –  is a ballad, a bit opera-ish. Their performance was very cinematic, nostalgic, and yearning. It very much reminds us of Jacques Houdek, who represented Croatia in this year's Eurovision Song Contest; who sang high at one point, and then completely changed the tone in his voice to a much deeper and operatic one, and this is just what the brothers Tukiçi are doing, and it works out perfectly. We hope they'll be just as successful as Jacques Houdek was.
Inis Neziri – Piedestal
Inish Neziri is an Albanian singer. Not a lot is known about her, however, she has participated in many musical events, such as the 5th and 6th edition of Gjeniu i Vogel and at the Mbrëmje Gala. This year, she takes a step further and participates at the 56th edition of the Festival i Këngës with her amazing song Piedestal (Pedestal). Her voice is extremely powerful, her performance in her music video was so inspiring. Her body language was expressive and the song itself is very impressive. We are looking forward to seeing her performing her beautiful song on stage!
Albania will be hoping they return to the final this year, after missing out, despite strong vocal performances, in 2016 and 2017. For now remind yourself of Eneda Tarifa's Fairytale, the first of the two non-qualifying entries.
This reflection article is based on the author's own personal experience. Views expressed belongs to him or her, and are to be seen as unrelated to EuroVisionary.com.