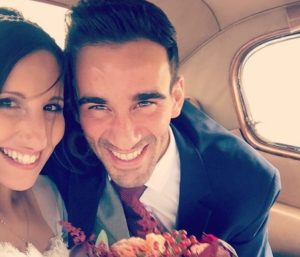 Babies, weddings, careers that have flopped and careers that have thrived. We take a look at what has happened in the lives of the acts that ended in top 10 at the Eurovision Song Contest, five years ago.
2013 was a great year for music and an incredible year for Eurovision. The contest took place in Malmö, Sweden and was hosted by the wonderfully charasmatic Petra Mede. Lets take a look at what the top 10 competitors have been up to since they returned home from their Eurovision endeavours.
10. ByeAlex – Kedvesem – Hungary
ByeAlex wrote one of the entries for Hungary's selection show A Dal. H Y P N O T I Z E D performed by former Hungarian X Factor participant Roland Gulyás was eliminated during the semi finals, and as such we wouldn't get a comeback for ByeAlex.
He has been working as a mentor on the Hungarian X-Factor. At the start of this year, he released the video for his latest single Menned kéne (You should do it) which was sung in collaboration with his band Slepp.
9. Anouk – Bird – The Netherlands
Anouk was a game changer for the Netherlands at Eurovision. She became the first dutch competitor to qualify for the Grand Final in 9 years, and finished in 9th place with 114 points. 2015 was a busy year, she wrote the Dutch entry for the contest Walk Along performed by Trijntje Oosterhuis (Unfortunately the track did not make it past the semi final) and she became a judge on The Voice of Holland.
Since her performance at Eurovision, Anouk has become the mother to two children, a boy and a girl which brings her children to a grand total of six, and she has released 3 albums. Her next album entitled Wen D'r Maar Aan (Get Used To It) it will be released after the Summer. Her latest single Lente (Spring) was released earlier this week.
8. Gianluca – Tomorrow – Malta
Maltese doctor Gianluca charmed Europe with his sweet song Tomorrow. He created a record, having been the first Maltese Eurovision act to make it into the UK charts. Since his stint at Eurovision, Gianluca has continued to perform. The following year, together with four of his sisters, qualified for the semi-final of the Maltese selection for Eurovision with the song Beautiful To Me. Together they performed under the name "L-Aħwa", the Maltese word for siblings. He has also performed as a front-man of the band Funk Initiative. Earlier this year Bezzina ran the Maltese Marathon to raise money for Cystic Fibrosis.
He married Vanessa Callus in November 2017, and immediately flew out for a long honeymoon to USA and Canada.
7. Marco Mengoni – L'essenziale – Italy
Marco Mengoni has continued to have a great career in Italy since he competed in the Sanremo Music Festival, which ultimately led him to Eurovision. His single L'essenziale multi-platinum in Italy after being No:1 in the charts for 8 consecutive weeks.
In 2015, the performer won the Best Italian Act and the Best European Act awards at the MTV Europe Music Awards and in 2016 he released a live album where he duetted with British star Paloma Faith.
6. Koza Mostra feat. Agathon Iakovidis – Alcohol Is Free – Greece
Greek folk/Ska band Koza Mostra had great success following their participation in the contest. Their album Keep Up The Rhythm released the same year went triple platinum, however they didn't release another album until 2017.
5. Dina Garipova – What If – Russia
Following her time at Eurovision, Dina released an album called Два шага до любви (Two steps to love) and was one of the 5 jurors for Russia in the 2015 contest. Garipova released a song called Fifth Element last year. Unfortunately the song failed to chart in Russia but the singer has continued to perform on television. This week, Garipova announced that she would be one of Russia's jurors during this year's junior Eurovision Song Contest.
4. Maragret Berger – I Feed You My Love – Norway
Following in Garipova's shows, Berger (which is the name she now goes by artistically) was also a juror in the 2015 contest, but for her country of Norway. She has released several singles since I Feed You My Love, but has yet to release an album. After 12 years in the music industry, she decided to create her own record label which coincidentally is also called Berger.
Berger confirmed this week that she will be performing at the London Eurovision party as special guest.
3. Zlata Ognevich – Gravity – Ukraine
It was third time lucky for Zlata who finally got her chance to represent Ukraine in 2013 with Gravity. The following year Zlata co-hosted the junior Eurovision Song Contest with Timur Miroshnychenko, and also announced the Ukrainian vote in the adult competition. During this year she was elected into the Ukrainian parliament wanting to take a stand against corruption in the political system. This was short lived as she resigned just over a year later.
Last year Zlata supported classical music icon Andreas Bocelli during his concerts in Ukraine, and has been continuing to release music in her home country. Her latest being Do мене (To Me).
2. Farid Mammadov – Hold Me – Azerbaijan
In 2013, Farid Mammadov was the first male solo artist to represent Azerbaijan at Eurovision, and with that he became the first Azeri contestant to win the Marcel Bezençon Artist Awards. Mammadov hasn't done much musically since his time in the competition.
He sang the national anthem with fellow Azerbaijani Sabina Babayeva at the Baku 2015 1st European games.
1 . Emmelie De Forest – Only Teardrops – Denmark
De Forest has continued to write and release music since she won the contest in Malmo, Sweden. She wrote the UK entry for the Eurovision Song Contest last year. Never Give Up On You won the UK selection show Eurovision: You Decide, and the single was performed by former X-Factor UK contestant Lucie Jones. Her second album History was released last month and shows a much different Emmelie to what we remember 5 years ago.
You can listen to the song Sanctuary taken from the album below.