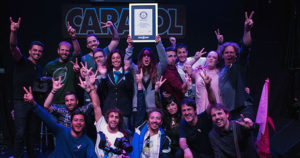 Guinness World Records, travelling the world and headlining fashion shows. These are just some of the things that the class of 2014 have been up to since their time at the Eurovision Song Contest.
The year was 2014 and it was Copenhagen's turn to host the contest as the year before Emmelie De Forest won the contest by a landslide with her Only Teardrops. 37 countries participated in the contest and saw the return of Poland and Portugal after short absences. A whopping 112 million Danish Kroner was spent on the contest which was three times more than the expected cost.
Here we look at what the top 10 contestants of that year have been up to since then:
10. Ruth Lorenzo – Dancing In The Rain (Spain)
Ruth has continued with her music career in Spain since competing at the Eurovision Song Contest, rather successfully. Releasing a couple of albums and several singles. In 2016 she achieved a Guinness World Record performing in 8 different cities in Spain within a 12 hour period.
During this achievement she raised a lot of money for Breast Cancer Awareness.
In 2017 Lorenzo created her own record label Raspberry Records and released her latest album Loveaholic the following year.
9. Basim – Cliché Love Song (Denmark)
In 2016 Basim's mother passed away, after already losing his father in 2012 the passing of his mother hit the singer quite hard. The following year he released the single Comme ci comme ça which peaked at number 2 in the Danish singles chart. Basim said that he felt that his parents were speaking to him through the lyrics of the song.
Basim has excelled in song writing and has penned tracks for Japanese Band GENERATIONS and co-wrote Boomerang for Emin.
8. Carl Espen – Silent Storm (Norway)
Carl released a couple of singles following his time in Eurovision but seems to have taken a step out of the limelight and developed a love of quirky tattoos which he has been proudly showing off on his Instagram page, clearly showing he has a sense of humour. Recently he has travelled to Poland and visited Auschwitz Birkenau camp as well as the Salt Mines.
7. Tolmachevy Sisters – Shine (Russia)
Anastasia and Maria Tolmachevy were booed by the crowd in Copenhagen due to political tensions between their home nation Russia and neighbor Ukraine. This year the twins were part of the expert Russian jury.
In 2018 the girls expressed an interest in representing their country at Eurovision for a third time (they had already won the Junior ESC), however, it wasn't to be as Julia Samoylova was selected instead to represent the nation, after Russia withdrew from the 2017 contest in Kyiv.
6. Mariya Yaremchuk – Tick Tock (Ukraine)
Mariya released a couple of songs after her time in Eurovision, but decided to take a sabbatical in 2018 expressing her desire to travel. Since then she has been absent from most social medias.
5. András Kállay-Saunders – Running (Hungary)
Since 2014 András switched from being a solo artist to starting a band, The self named Kállay-Saunders Band. In 2015 he performed at the Hungarian selection show A Dal as part of the interval act where he performed his own version of the competing songs. He returned to A Dal in 2016 with his band as competitors but only made it down to the last 4. In 2017 he competed in A Dal again with the band where they progressed to the final. András made yet another attempt at A Dal this year but as part of The Middletonz collaborating with rapper Farshad Alebatool. They made it to the final once again but were defeated by Joci Pápai.
4. Aram Mp3 – Not Alone (Armenia)
Aram Mp3, real name Aram Sargsyan, has continued to release music following his time at the contest. In 2016 he participated in a special project to give support to Armenian children suffering with cancer. In 2016, he was the speaking and singing voice of Adult Simba and also the lead singer of Circle of Life. in the Armenian version of The Lion King.
3. Sanna Nielson – Undo (Sweden)
Sanna has continued to be involved in Eurovision since her successful third place result at the 2014 contest. The following year she was one of the hosts of Melodifestivalen and was the Swedish commentator for the 2015 and 2018 contests.  In February of this year she released her first album in 5 years Mitt Sanna Jag.
2. The Common Linnets – Calm After The Storm (The Netherlands)
Fronted by Ilse DeLange and Waylon, The Common Linnets gave The Netherlands their best result since 1975. Later on that year Waylon left the band and was replaced by American Jake Etheridge. The Common Linnets, consisting of Ilse, Jake, JB Meyers and Matthew Crosby went on to release an album entitled II which charted in Belgium, Austria and Germany as well as topping the Dutch album chart.
Waylon continued his career as a solo artist releasing 3 studio albums. The Dutch singer entered Eurovision for a second time in 2018 where he finished in a less successful 18th place with his track Outlaw In Em.
Outside of the band, Ilse has dabbled in acting and had a reccurring role in American show Nashville as well as being a mentor on The Voice Holland. DeLange was also part of this year's Dutch delegation and was a mentor of Duncan Laurence who won the Eurovision Song Contest this year in Israel.
1. Conchita Wurst – Rise Like A Phoenix (Austria)
2014 was a huge year for Conchita Wurst, real name Tom Neuwirth which saw her headlining and opening a number of pride festival around europe. That same year she took part in Jean Paul Gaultier's Couture fashion show in Paris, being given the coveted final spot which is usually reserved for Gaultier's favourite model.
Last year Tom Neuwirth admitted that he was HIV Positive and had been receiving treatment for a number of years. Earlier this year Tom announced that he would be splitting the name Conchita Wurst into two different characters. Conchita showing the same feminine style of performance while WURST would be more masculine. In March of this year WURST released his first single Trash All The Glam from the album Trust Over Magnitude.
At this year's contest Conchita joined Måns Zelmerlöw, Eleni Foureira and Verka Serduchka to perform in the interval. Conchita sang her own version of Heroes.