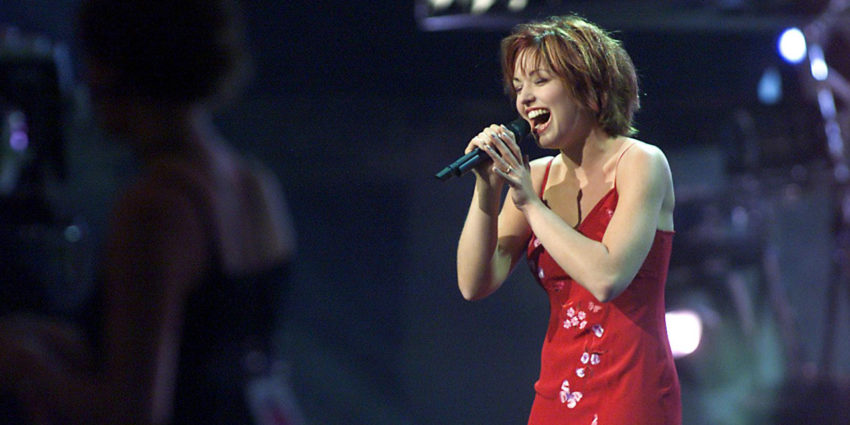 Today marks the 150th anniversary of Canada, and despite its young age in comparison to some European countries, Canada was featured a few times at the contest.
You don't always have to be a native singer of the country you represent to take part into the Eurovision Song Contest. In some years, we've even been able to enjoy the music of international artists from other continents. Since today marks Canada's 150th anniversary as a country, let's look back at 5 of the biggest contributions Canadians made to Eurovision.
Rykka
The most recent performer, Rykka was born in Vancouver, British Columbia. Her grand parents were all born in Europe, although only one of them is from Switzerland, which is the country Rykka represented at the 2016 Eurovision Song Contest with the song The Last Of Our Kind. Most of her ancestry actually seem to come from the Netherlands.. Unfortunately, Rykka finished last during the second semi-final with only 28 points. Despite this, Rykka continues to perform, mainly in Canada. In fact, she will be featured today in Vancouver's Canada Day celebration. If you are in the area, she will be playing at the Coast Capital Stage on Canada Place Way and Thurlow at 4:30pm local time.
You can watch Rykka perform her song The Last of Our Kind at the dress rehearsal below.
Sherisse Laurence
One of the first Canadian to be featured on the Eurovision stage and that was back in 1986 for Luxembourg. Born in Manitoba, Sherisse Laurence (now known as Sherisse Stevens) was a TV host and musician back in Canada in the late 70s and 80s. She hosted the show Circus on CTV until 1983. In 1986, sang L'Amour De Ma Vie for Luxembourg at the Eurovision Song Contest. The song was performed first the night of the contest and Sherisse secured a very respectable third place with 117 points. She is now a choir director in the town of Huntsville, Ontario.
You can watch the Eurovision performance os Sherisse below with English subtitles.
Annie Cotton
Annie Cotton was born in Laval, Québec. she played in various teen shows and soap operas during the 1990s which were popular in French Canada such as Watatatow and Virginie. She took part in the 1993 Eurovision Song Contest in Millstreet Ireland, with the song Moi, Tout Simplement (Me, All Simply). Representing Switzerland, the song collected a very respectable 148 points and earned her a 3rd place.
You can watch Annie perform Moi, Tout Simplement below.
Natasha St-Pier
Born in Bathurst, New Brunswick with Acadian roots, Natasha St-Pier represented France at the 2001 Eurovision Song Contest with the song Je N'Ai Que Mon Âme. After releasing her first album only in Canada back in the late 1990s and taking part in the musical Notre Dame de Paris, this worked as her platform to launch her European career. On the night of Eurovision, Je N'Ai Que Mon Âme, was one of the front-runners and finished fourth place with 142 points. This remains France's best result in over 20 years. Natasha enjoyed a very successful career after her participation releasing 7 albums with her 2006 release Longueur D'Ondes topping the French charts.
In 2016, to celebrate the 60th anniversary of the Eurovision Song Contest, Natasha was invited to perform her entry at a special event, you can watch it here.
Céline Dion
And of course, how can we not mention her, our national treasure! Back in the 1980s, Céline Dion was mostly only known in French-speaking Canada. After releasing her first mainstream pop album Incognito in 1987. Hoping to crack the European market, Céline entered the national selection of Switzerland with the song Ne Partez Pas Sans Moi. The song ended up not only winning the national selection but winning the 1988 Eurovision Song Contest in Dublin. It scored at total 137 points, only 1 ahead of the United Kingdom's entry which made it one of the tightest race for a winner ever. Céline continued a massive career across the globe after releasing music in English and other languages.
Watch her winning performance of Ne Partez Pas Sans Moi below with English subtitles.
Despite not being an eligible country to take part in the contest (yet), Canada has proven to be a great contributor to the Eurovision Song Contest. Let's hope it won't take another 150 years for the next Canadian entry!
Happy Canada day to everyone!