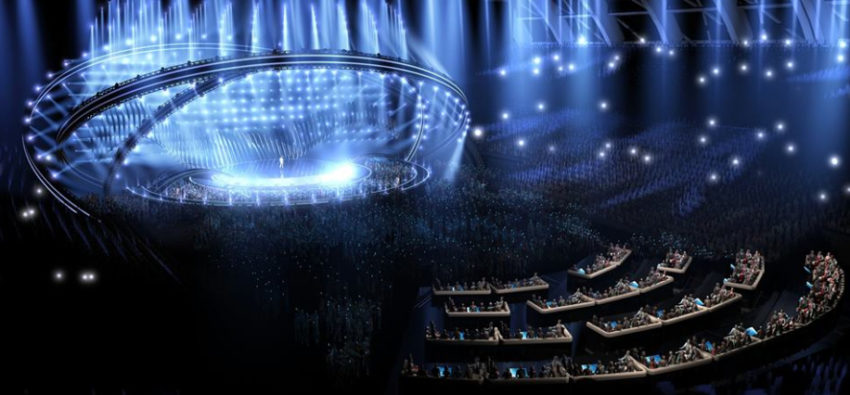 EuroVisionary caught up with next year's Stage designer Florian Wieder to understand a little more about the stage concept. The huge LED displays often seen at Eurovison – and deemed crucial for a few victories – will not be present in Lisbon. According to Florian, this is a strong concept as the countries won't be able to rely on those as they once did.

Roughly a week ago, Lisbon revealed their stage for the Eurovision Song Contest 2018. Florian Wieder – the Stage designer – took his time to elaborate a little bit on the stage and revealed how Portugal's glorious past influenced the creativity process. With such a complete guide, you'd believe there would be not many questions, but when the fans realized the iconic LED screens were gone, such questions arose.
The use of LED screens has increased over the years and, in fact, has contributed to great results in Eurovision. Acts have had the chance to show elaborate animations on their LED backdrop, adding additional virtual dancers and other awe-inspiring effects. During 2017, the use was higher than ever with acts choosing to even show pictures and videos of themselves on such screens. Salvador Sobral however is the living proof that they aren't needed as the singer took the prize home with little to no use of such.
With those gone, it will not be an easy task for each country to catch the public's attention during their performances. EuroVisionary spoke exclusively with Florian Wieder to understand the reason why Lisbon opted out for LED screens: "15 years ago, LED screens didn't exist and they (Eurovision producers) did great shows", Florian said. "It will be a good show. It's a strong concept."
This is also the reason why Portugal won in 2017
According to the stage designer, this will end up requiring more from each delegation in order to catch the public's eye: "It's a good thing to have no LED… Not a bad one. (…) The delegations will be challenged even more. (…) This is also the reason why Portugal won in 2017".
During his final speech in Kyiv, Salvador Sobral did say something similar and sounded like he wanted Eurovision to be revamped in a completely different concept that now may be about to happen: "We live a in a world of disposable music… Fast food music without any content and I think this could be a victory for music".
Well, Florian will not be able to fullfil Salvador's wishes musically, but surely is translating it in the visual world with this stage idea: "Sometimes, it's good to think different. It's a challenge to look for other staging ideas rather than just put some content on a screen".
After 2011, 2012, 2015 and 2017, 2018 is the fifth time Florian Wieder designs a stage for the Eurovision Song Contest.
While we wait for more details and for the final look, just today Eurovision's official Facebook page revealed more pictures of what the stage in Lisbon will look like. They asked, if it is too early to start getting excited… Well, we don't think so!
At this point, it is unknown if the stage will make use of projectors. In recent years, high output projectors have often been combined with LED.
Last time, the Eurovision Song Contest stage didn't have LED screens were for the 2013 contest held in Malmö, Sweden. Although projectors were then used.
In the video below, take a look at the 2017 Eurovision stage during the Flag Ceremony, beautifully combining LED screens on the backdrop with projections onto the stage.