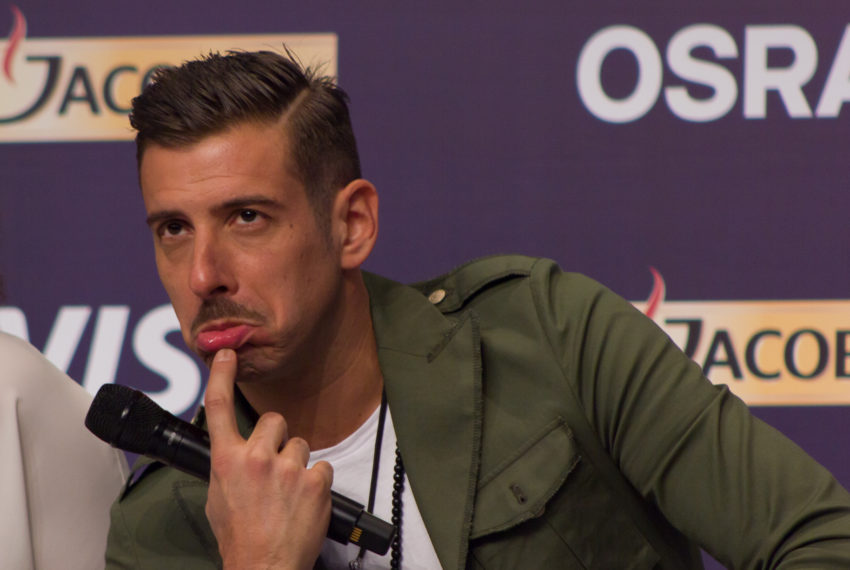 A catchy song, a gorilla and YouTube! Those three parameters combined has secured Francesco Gabbani yet another succes. 150 million, that's the number of views on just one of the videos for this year's Italian Eurovision entry.

He was the bookmaker favourite to win, but had to accept a 6th place only at the Eurovision Song Contest a few months ago in Kyiv, Ukraine. Portugal's Salvador cleared the table and won both jury, televote – and the overall final result.
Last month we reported that Eurovision YouTube figures were down by 49% on last year's, and that Sergey Lazarev's song You Are The Only One, was the most watched official Eurovision performance video. This is a fantastic achievement, but if you compare Sergey's Official Music video to that of Francesco's, it pales in significance. With over 6 times more views, Francesco's does deserve the title of most hyped Eurovision song/performance of 2017.
With this continued success, we also must look at the part the internet plays in domestic and global charts. Francesco must have been given a great boost from the publicity Eurovision had to offer as after only 5 months, the official video for Occidentali's Karma has now garnered 150 Million views on a single YouTube upload.
If we compare some of the biggest hits from the last five contests, looking at their official music videos, Francesco has had some major success with his Eurovision song on the video sharing site. The figures below all correspond to the number of views captured for videos uploaded to YouTube by the artist themselves or their record label.
Official Music Videos
YouTube Views
Occidentali's Karma YouTube Views
Euphoria
35 Million
150 Million
Only Teardrops

 

2.5 Million
Undo

 

7 Million
Heroes

 

26 Million
Grande Amore

 

96 Million
1944

 

2.5 Million
You Are the Only One

 

25 Million
If I Were Sorry

 

31.5 Million
J'ai Cherché

 

68.5 Million
What is interesting to note from this, is that the closest a song has got to emulating Francesco's success is the other big Italian entry since their return, Il Volo's Grande Amore. The song earned critical and commercial success across the world after the Trio performed their Operatic Ballad in Vienna. Also all of these songs have had a full year of exposure on the website.
Occidentali's Karma (Westerne's Karma) won the 67th Edition of the Sanremo Music Festival, Italy's biggest music contest and the inspiration for our beloved Eurovision Song Contest. He made waves across social media in the lead up to the contest, and while he was not the eventual winner he and his dancing Gorilla did make an impact on the final night.
One thing that can't be denied is Francesco's popularity at home, and his increasing popularity across Europe. He has performed on many TV shows across the continent, and released a successful follow-up single, Tra le granite le granate, which reached the Italian Top 20. His album Magellan, has also been very successful reaching Number 1 in Italy and charting across Europe in countries such as Belgium and Switzerland.
This just goes to show how big a star he is in his home country and the potential, 'Signor Gabbani' has for the future. We can all see now, that if you sing about Karma, hopefully the good type will prevail, it certainly has for Francesco.
Curious if Francesco is more of a morning or evening person? Find out in the video below.
This reflection article is based on the author's own personal experience. Views expressed belongs to him or her, and are to be seen as unrelated to EuroVisionary.com.