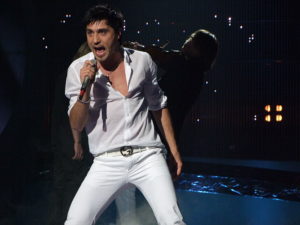 Allegations of stabbings, weddings, babies, film careers and dozens of songs released. We take a look at what has happened to the top 10 from Eurovision 2008 – ten years ago.
After recently having looked at top 10 from five years ago, we now go ten years back. 2008 was the year that Russia won for the first time, but lots of other good songs came from that year too.
10. Laka – Pokušaj – Bosnia & Herzegovina
Laka read out the results for Bosnia & Herzegovina in 2009 and again in 2012. He has continued to release lots of new music since 2008. His album Stvorenje in particular was a great success in 2010. The album was popular in the former Yugoslavic countries. Most recently he released Lizalo, which you can enjoy below.
9. Boaz – Fire In Your Eyes – Israel
Boaz hasn't done much since he performed at the Eurovision Song Contest. He released an album consisting mainly of covers and also a couple of singles in 2009. In 2011, he released a cover of a famous Israeli song Yeled Hasade, which appeared on a popular Israeli drama called Alifim.
8.Elnur & Samir – Day After Day – Azerbaijan
Elnur Hüseynov spent some time performing in the theatre before re-launching his music career. In 2014, he took part in The Voice Turkey, which he won. Elnur represented Azerbaijan for a second time in 2015, and finished in 12th place with his song Hour Of The Wolf.
Samir Javadzadeh got into trouble in 2011 when he allegedly stabbed  Alvin Hüseynov, brother of Elnur whom he competed at Eurovision with.
7. Mor ve Ötesi – Deli – Turkey
The Turkish rock group have released three studio albums since their time in Eurovision. In 2010, lead vocalist Harun Tekin tried his hand at acting, appearing in two episodes of Behzat Ç. Bir Ankara Polisiyesi (Behzat Ç. An Ankara Detective Story) which is one of the biggest television shows in Turkey.
6. Jelena Tomašević – Oro – Serbia
Jelena has worked steadily since she represented Serbia at home field in 2008. In 2009, she recorded a song with Sirusho  (Armenia) and Boaz (Israel). The song Time To Pray was written by the President of Israel, Shimon Peres.
In 2011, Tomašević married Serbian actor Ivan Bosiljčić and the pair welcomed their first child, a daughter named Nina the following year.
5. Maria Haukaas Storeng – Hold On Be Strong – Norway
2009 was a busy year for Maria who competed in Sweden's Melodifestivalen. She came in second to last place during the fourth heat of the competition with her song Killing Me Tenderly. During that year she also co-hosted Norway's Melodi Grand Prix where Norway selected Alexander Rybak as their entry. In 2010, Maria returned to Melodi Grand Prix but as a contestant. She made her way into the final, but did not earn enough televotes to take her into the final four.
4. Sirusho – Qele, Qele – Armenia
Armenian star Sirusho has continued to go on from strength to strength in her career. In the same year as her time in Eurovision, the singer won her fourth Best Female Artist award at the 2008 Armenian Music Awards. She has released over 13 singles, two albums and even a jewellery series. "PreGomesh by Sirusho" has just released a spring collection.
3. Kalomira – Secret Combination – Greece
Following her third place success in Belgrade, Kalomira immediately released her new album, Secret Combination the Album. Her Eurovision entry Secret Combination was the first and only single from the album to be released. The American Greek singer has released a number of albums since her participation in the contest, and also took some time out to start a family. In 2010, she married her fiancé George Bousalis and gave birth to twin boys two years later. In 2016 the couple also had a daughter. In 2015, she made a comeback to Greek music and released a Christmas single.
2. Ani Lorak – Shady Lady – Ukraine
The following year, Lorak married her longtime partner Murat Nalçacıoğlu and in June 2011, they welcomed their first child Sophia into the world. In 2014, Lorak came under intense criticism in Ukraine for accepting an award in Russia during the time that Russia were invading Crimea. The songstress didn't back down and continued to perform in Russia as well as her native Ukraine. Most recently Ani Lorak has been touring Eastern Europe and the USA with her newest show DIVA. The tour which won Show Of The Year at the BraVo International Music awards sold out in Moscow and in three shows of the her American tour.
1. Dima Bilan – Believe – Russia
Dima Bilan won the contest in 2008 giving Russia it's first and as of now, only win at the contest. Not content with just this, Bilan attempted to represent his country again in 2012. He participated in Russia's national selection with former Eurovision competitor and t.A.T.u singer Yulia Volkova. Their duet Back To Her Future came in 2nd place behind Buranovskiye Babushki and their hit Party For Everybody.
In 2016, Bilan tried his hand at acting and played the lead role in historical drama The Heritage Of Love (Russian: Герой, The Hero). Last year, the Russian singer was in this year's host city Lisbon filming the video for his then latest single, Derzhi (Hold). Bilan spent time as one of the judges on The Voice Kids in Russia. In 2014, Bilan was the coach of last year's Eurovision 2nd place competitor Kristian Kostov and was the winning coach on two occasions. He didn't return as a coach for the 2018 series and was subsequently replaced by Russian rapper Basta.
Last year Bilan teamed up with fellow Russian star Sergei Lazarev and released a single Прости меня (Forgive me). This was the second of Bilan's videos to be filmed in the 2018 host country Portugal.