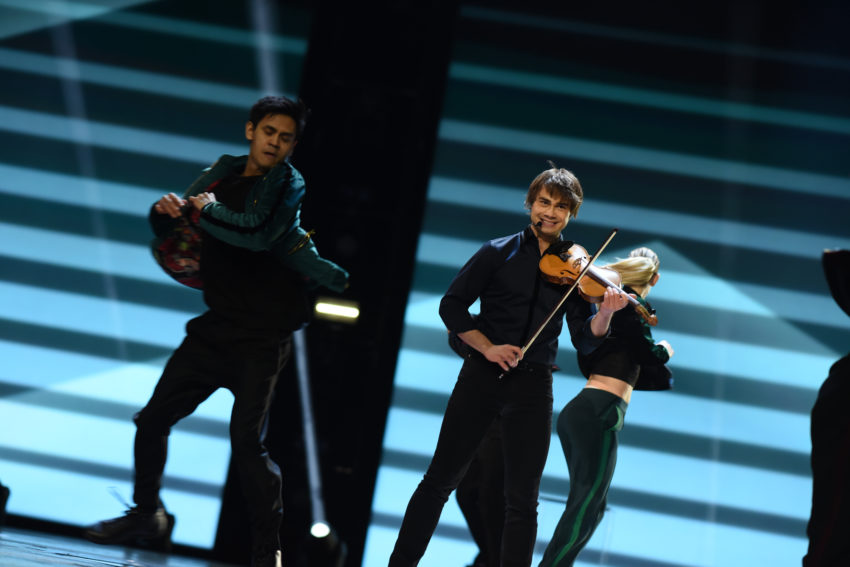 2009 was a great year for Eurovision. Norway reigned supreme and the United Kingdom ended in top 10 (yes, you heard that right). A decade has passed, there have been deaths, babies and weddings. We take a closer look at what happened to the participants that finished in top 10 in 2009.
10. Inga & Anush – Jan Jan (Armenia)
Sisters Inga and Anush Arshakyan released a studio album and a tour following their 10th place at Eurovision. It has been five years since they released another album, their 2014 album Sketches. The following year the oldest of the sisters, Inga represented Armenia at the Eurovision Song Contest again, but this time as part of an Armenian super group Geneology. All members of the band were either Armenian or of Armenian descent. Their entry Face The Shadow qualified for the final and finished in 16th place.
9. Regina – Bistra Voda (Boznia & Herzigovina)
The rock band released three albums following their time at Eurovision in 2009. Sadly, bass guitarist Denis Čabrić died of a heart attack on holiday in Croatia with his family on the of 16 August 2016. He was just 49 years old. The band continued and their last album U Scru was released in 2017.
8. Patricia Kaas – Et S'il Fallait Le Faire (France)
Once it was known that Patricia Kaas would represent France in the Eurovision Song Contest 2009 in Moscow her fans took part in an online poll in several countries where they selected their favourite song from her Kabaret album. The song Et 'il Fallait Le Faire (And if it had to be done) received a clear majority of the votes and was then chosen as the French entry for the Eurovision Song Contest in 2009.
Since Eurovision, Kaas continued to enjoy success, but not just in singing. In 2011 she released an autobiography which was a bestseller and was translated into more than six other languages. Later Kaas starred in a musical show where she performed some of the most popular and successful songs of French cabaret performer and film actress Edith Piaf. The show opened in some of the most prestigious venues in the world such as the Royal Albert Hall in London and the Carnegie Hall in New York. As part of the tour, Kaas also returned to Moscow to perform at the Operetta Theatre.
7. Sakis Rouvas – This Is Our Night (Greece)
Sakis Rouvas has not let the grass grow from under his feet. Since his time at the contest in 2009, the Greek singer has been a television host, a voice actor, a club & restaurant owner, a film production company owner and a songwriter. In 2010, one of his clubs caught fire sustaining more than four million euros of damage. In 2011, Sakis became a father for a second time, to a son. In 2013, they welcomed another daughter into the world and yet another child in 2016. The following year, Sakis and his long term girlfriend of 14 years Katia Zygouli finally got hitched.
6. Urban Symphony – Rändajad – (Estonia)
Urban Symphony brought Estonia there best score since 2002 when they performed Rändajad (Nomads) at the grand final in Moscow. The following year, the band announced a hiatus and lead singer Sandra Nurmsalu used this time to concentrate on raising her child. In 2012, Nurmsalu returned to music as a solo artist and her vocals featured on a song called Sel Teel which went straight to the top of the Estonian charts and enjoyed some success around Europe. Nurmsalu has attempted to represent Estonia in 2014 and 2019, but was unsuccessful in her endeavors.
5. Jade Ewen – It's My Time – (United Kingdom)
After being the most successful Eurovision participant for the United Kingdom in recent years, Jade Ewen recorded a single My Man. The song was released, but was abandoned as Ewen had received an invite to join UK girl group Sugababes as a replacement for the last original member Keisha Buchanan. The band had a couple of singles that achieved moderate success but eventually fizzled out. Since then, Jade has gone back to her roots as a stage performer and has appeared in musicals all over the world as well as appearing in the odd reality TV show and acting in occasional television episodes.
4. Hadise – Düm Tek Tek – (Turkey)
Belgian born Hadise focused her attention on the Turkish market after representing the country at Eurovision, making her the most popular celebrity in Turkey that year. In 2011, Hadise released another Turkish album which was a great success and it was followed by other albums in 2014 and 2017. The latter album caused some controversy. One of the singles from the album Sıfır Tolerans was accused by the Radio and Television Supreme Council of being too erotic and as a result, all the media that had broadcast the song, were fined. Hadise hit out at this decision claiming that the decision was sexist against women saying that men can sing about what they like and yet the woman is punished for doing the same thing.
3. AySel and Arash –Always – (Azerbaijan)
Aysel Teymurzadeh and Arash joined forces to bring Azerbaijan their first ever top 3 placement at the contest. Originally solo artists, the duo toured a little following their success at Eurovision before ultimately reverting back to their solo careers. Aysel got married in 2012 and has had three children; two sons and a daughter.
Since his time at the contest, Arash has also walked down the aisle. He married his long term girlfriend in Dubai in 2011 and in the following year, the couple welcomed twin boys into the world. In 2014, Arash released the album Superman which featured duets from T-Pain and Sean Paul. A couple of years earlier he played a part in Iranian movie Rhino Season.
2. Yohanna – Is It True? – (Iceland)
Yohanna still continues to be the most successful Icelandic artist at the Eurovision Song Contest. In 2010 she returned to Eurovision but as a spokesperson providing the Icelandic votes. Yohanna entered the national selection in the hope of representing her country again in 2011 and 2013, but failed to be selected. The singer moved to Norway and has released a series of non-album singles. In 2015, Yohanna gave birth to her first child.
Alexander Rybak – Fairytale – (Norway)
Rybak has had a strong affiliation with the Eurovision Song Contest since he won in 2009. He performed during the interval during the 2011 and 2016 contests and returned as a participant in 2018 with That's How You Write A Song. He has appeared as a contestant in Sweden's version of Strictly Come Dancing and wrote a song for children's movie How To Train Your Dragon 2. His voice was also used in the Norweigan dubbing for this same movie.
Alexander has released several singles and albums with many of these being sang in Russian.