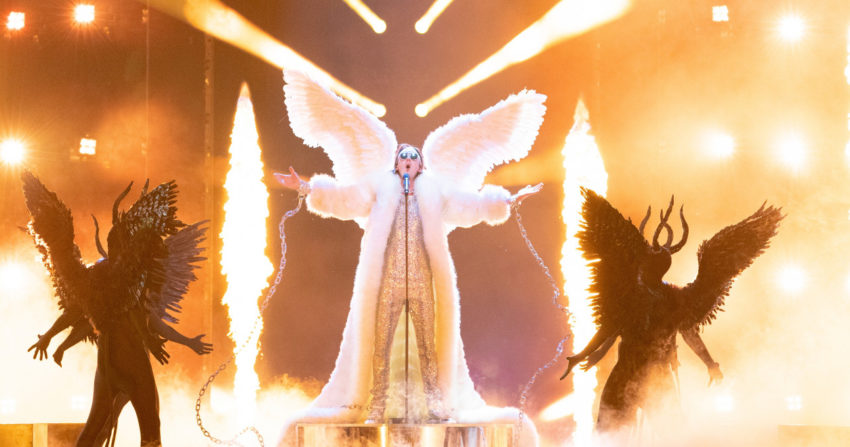 TIX from Norway stood out so much this year – in a way that it secured him the annual Barbara Dex Award. The acts from Romania and Croatia came in second and third.
Barbara Dex Award is named after Barbara Dex, who represented Belgium at the 1993 Eurovision Song Contest. Her self-created dress has put name to this special award that has been handed out every year since 1997 – with 2020 as an exception of course due to the contest being cancelled.
The purpose is simple: Pick 'the most notable dressed act' from that year's Eurovision Song Contest. It's a democratic online voting held by Songfestival.be where everyone can only vote once.
Note: For this year, the criteria have been changed. It's now written: 'It's all about being notable and remarkable. Not we, but thousands of Eurovision fans chose the winner. Just to make things sure: this award for the most notable outfit has nothing to do with claiming clothes as being ugly'.
Barbara Dex Award 2021 top 5:
Norway – TIX
Romania– Roxen
Croatia – Albina
United Kingdom– James Newman
Israel – Eden Alene
Barbara Dex Award winners
| | | |
| --- | --- | --- |
| Year | Artists | Country |
| 2021 | TIX | Norway |
| 2019 | Conan Osíris | Portugal |
| 2018 | Eye Cue | North Macedonia |
| 2017 | Slavko Kalezic | Montenegro |
| 2016 | Nina Kraljić | Croatia |
| 2015 | Trijntje Oosterhuis | The Netherlands |
| 2014 | Vilija Matačiūnaitė | Lithuania |
| 2013 | Moje 3 | Serbia |
| 2012 | Rona Nishliu | Albania |
| 2011 | Eldrine | Georgia |
| 2010 | Milan Stanković | Serbia |
| 2009 | Zoli Ádok | Hungary |
| 2008 | Gisela | Andorra |
| 2007 | Verka Serduchka | Ukraine |
| 2006 | Nonstop | Portugal |
| 2005 | Martin Vučić | North Macedonia |
| 2004 | Sanda Ladoși | Romania |
| 2003 | t.A.T.u. | Russia |
| 2002 | Michalis Rakintzis | Greece |
| 2001 | Piasek | Poland |
| 2000 | Nathalie Sorce | Belgium |
| 1999 | Lydia | Spain |
| 1998 | Guildo Horn | Germany |
| 1997 | Debbie Scerri | Malta |