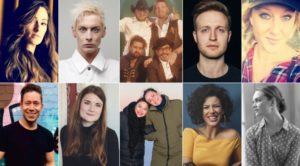 Have your heard this year's Danish songs – and do you already have an idea what the Danes will vote for? One of them will represent Denmark on the Eurovision stage in Tel Aviv, Israel in May. We take a closer look at the 10 songs in the running. 
The bookmakers say its a two way race between Leonora and Julie & Nina. The rest are basically no where in the game. When taking to fans, it's the same. Many fans do tend to prefer Julie & Nina over Leonora while foreign fans in particular have fallen in love with Leonora. But let's make it clear; it's very much still an open competition as the Danish viewers before have surprised us. Just think back to 2016. How many had spotted Lighthouse X as the Danish winner? Very few.
We want to be sure to be right this time, so we predict that all 10 songs can win it – and here is why.
1. Simone Emelie – Anywhere
Simone can win because because the Danes might go for a nice calm piano ballad after Rasmussen's energetic Higher Ground last year. Anywhere can be staged quite simple, yet beautiful – and Danes do like things that way; simple, yet beautiful. 'Less is more' in the Nordic minimalistic style.
2. Jasmin Gabay – Kiss Like This
The Danish winter is usually quite cold, windy and full of snow. With the cold outside, the Many Danish TV viewers will prefer 30 degrees, summer, beach and latino rhythms, and that's exactly what Jasmin brings. If she manage to make the male TV viewers feel like she is kissing them, she got a good shot at winning – unless the wifes grab their husband's phone before they managed to vote!
3. Rasmus Faartoft – Hold My Breath
We all need to feel that's it OK to be just the way we are – and that there will be someone who will love us too. That's the message Rasmus take on stage. It's a powerful ballad carried through by a strong voice – and you know the Danes will vote for that. They did in 2017 with Anja Nissen's Where I Am.
4. Marie Isabell – Dancing With You In My Heart
A catchy song which you can sing a long to half way into first listening, that's often a guarantee for many votes. If it is this time too, Marie Isabell has an advantage over many others. It's furthermore quite a classic "Melodi Grand Prix" up tempo song, so don't rule it out just yet.
5. Sigmund – Say My Name
Sigmund comes with a message, which many people can relate to – and it's delivered in a song with chorus easy to remember. That in itself will receive votes. If you then add that many Danes like to see themselves as quite open minded – and sometimes are overly desperate to show it, you get an extra bunch of votes for Sigmund. Before you know it, he might have a lot.
6. Humørekspressen – Dronning Af Baren
The Danish population often get together and vote for the underdog. In TV shows like Vild Med Dans (Strictly Come Dancing), it's tradition that the one contestant who absolutely can not dance will get a massive amount of votes and come extremely far. If the Danes get together around Humørekspressen as they sing in Danish, they already got a lot of votes. Adding that it is an extremely catchy song – and that Tuborg lanched a campaign promising free beers on bars across the country, if this song wins, you have a good winner candidate.
7. Julie & Nina – League Of Light
Already when the rumours pointed towards Julie as a participant, she was one of the favourites. Julie is extremely likeable and very popular. In Nina, she found a friend who fits her vocally and together they deliver a song, which is sure to be a hit. The song builds up like many Eurovision songs, and the Greenlandic adds a charm, which will not only catch votes from Greenland. It has winner written all over it.
8. Teit Samsø – Step It Up
It's time the Danes got up to dance – and this song will do just that. It's catchy and easy to remember. 'You got the hips that I like and you're making me hot…'. Teit is charming and will appeal to several generations, so do not rule this out as a potential winner.
9. Leonora – Love Is Forever
When you are being compared to two former Eurovision winners (Emmelie de Forest and Lena) and have Lise Cabble as a songwriter, you can hardly avoid being one of the favourites. When you then add a catchy song which includes several languages (English, Danish, French and German) in a very charming way, you become the one to beat. No wonder why bookmakers and fans are busy pointing at this song.
10. LeeLoo – That Vibe
In Denmark, start position 10 has since 2000 produced 6 winners, more than any other. That does give LeeLoo an advantage. The song is an uptempo club song in a different style than the Danes usually vote for. But TV viewers are unpredictable, so they are likely to think it's time for something else – and that will benefit LeeLoo further.