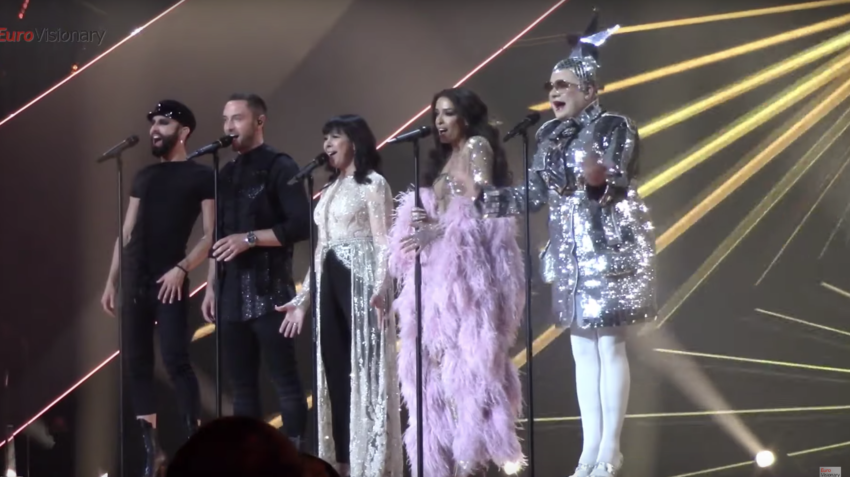 Electricity in the air and butterflies in your tummy, that is the feeling you get when you hear "Te Deum" and the iconic EBU graphics flash across your TV Screens on Eurovision Grand Final night. What can you expect to see in the show this year?
What happens in the 10 minutes before the songs are presented and the time before for the votes is just as important for the show as the songs themselves. We have the low down on what you will see tomorrow night at the final of this year's contest.
Opening Acts
Since 2013 the flag ceremony has become a staple of the Eurovision Song Contest and in 2019, Israel have kept this new tradition alive by treating us to a flag ceremony that will take you to the skies. We first see Jan Ola Sand in a airport control room talking to a pilot who we quickly discover is Netta. She swoops through the sky until she reaches the coast of Israel and flies over Tel Aviv as the locals guide her to landing by lighting up the city in many different ways.
Once we are in the arena the back of the stage opens up to reveal a large airplane with two sets of stairs either side of the cockpit. Cabin Crew start to disembark from the plane, and I for one immediately thought Scooch had made a surprise return to the Eurovision stage. This dream is short lived, as we realise that more and more cabin crew start emerging, I'm no expert, but I feel like there is never a flight in the world that needs more crew than passengers. That being said I'm coming along for the ride.
Once all crew have disembarked, Netta in a fitted rhinestone white and blue jacket and skirt, dances around the stage with the cabin crew and we hear some elements of Toy. One-by-one each countries act start to emerge from either side of the stage, in the run through it wasn't uniform and the left side of the stage had more performers entering and exiting.
The presentation of countries are done in a very creative way during the 'flag ceremony', countries flags are seen through the twirling of LED sticks, as the stick is twirling it picks up flickers of light that transcend above the stage and light up the triangles on the ceiling to create each countries flag. It is a very effective and slick presentation, and on screen really does set the mood for what is to come in terms of technological advances for the contest.
During the opening ceremony we are also treated to some great performances, firstly Dana International joins the cabin crew on stage to sing the songs Tel Aviv and Diva, of course the latter being her iconic Eurovision winner. Other performances come from 2015 representative Nadav Guedj singing Golden boy and Israel's first ever representative Ilanit with her Euro-Classic Ey Sham.
Interval Acts
Well we all know by now that the whole Madonna debacle has been sorted and that she will indeed perform at the grand final tomorrow night. She eluded to the fact on her Instagram page yesterday before official confirmation from the EBU late yesterday evening. In today's dress rehearsal she was not present and it is unlikely we will see her perform before the big night so as of now there is very little information to share. We do know what she will perform, her classic 1989 song Like A Prayer, which is celebrating 30 years since its release and a new single from her upcoming album Madame X, a world exclusive of the song Future.
There are some details of the interval act that we do know and have experienced today. The biggest portion of the interval and what most fans will be looking forward to is that of the Eurovision icons taking on each others songs, a Eurovision Mix-Up. On stage the four icons will take on some modern euro classics Conchita (singing Heroes), Mans Zelmerlow (singing Fuego), Eleni Foueira (singing Dancing Lasha Tumbai) and Verka Serduchka (singing Toy) all I can say is, wait until you see Eleni perform Verka's 2007 camp classic. Once all four have done their renditions of other songs, 1979 Israeli Eurovision winner Gali Atari joins them on stage for a rendition of Hallelujah which is such a beautiful moment, and harks back to 1999 in Jerusalem.
We get a performance from The Idan Raichel Project, known for fusing together electronics with Arab and Ethiopian music as well as Hebrew texts. A real multicultural treat, one albeit, that has been included to show Israel's diversity and inclusivity.
Netta has come back to perform her newest song Nana Banana, she is sat at a table that could have been borrowed from the Mad Hatter, although all the seats and flourishes are banana or yellow and white in colour. It's a very upbeat performance and exactly what you think a follow up single from Netta would be.
The interval glides along nicely and keeps all entertained, with the Eurovision Mix-Up probably going down as one of the better intervals we have seen at the contest in a long time, very apt on the 25th anniversary of Riverdance to have another iconic interval act.
Are you excited for the show?  What is your favourite part of the contest, the opening and interval acts, the songs, the voting? Let us know, and we all at EuroVisionary hope you have a fantastic night celebrating another Eurovision.