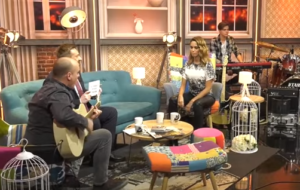 Fairytale, Euphoria, Molitva, Hard Rock Hallelujah and Rock Me Baby. Those five former Eurovision entries, Franka was challenged to sing live during a TV show. A video is now available for fans to enjoy.
At the Dalibor Petko Show, well known Croatian TV and radio host Dalibor Petko met up with Franka representing the country at this year's Eurovision Song Contest. The TV show probably served as a nice distraction to Franka following accusations of plagiarism. According to the Croatian Broadcaster other songs with the same background tract appeared as one of the producers accidentally uploaded the track for sale under another name.
Franka do know her Eurovision entries well. That she proved as she was challenged to sing five former winning entries: Fairytale (Norway 2009), Euphoria (Sweden 2012), Molitva (Serbia 2007), Hard Rock Hallelujah (Finland 2006) and Rock Me Baby (Yugoslavia 1989).