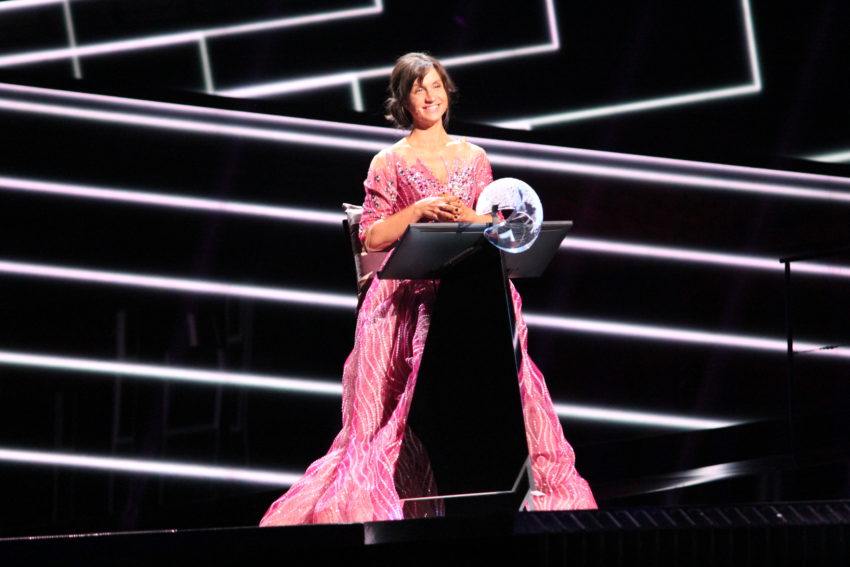 As we are approaching the moment that the Eurovision Song Contest 2016 final will start, EBU revealed the voting running order as well as the 42 spokespersons that will announce the jury results and many of them are ex Eurovision participants. Austria will vote first, while the host country, Sweden, will close the voting.
EBU revealed this morning the running order in which each of the 42 competing countries will announce their jury results. As widely reported already, the voting system has changed this year. To start with, the 42 spokespersons will announce the jury results from each competing country and then Petra and Måns will reveal the total amount of points each country received in the televoting.
Amongst the spokespersons, we can see some ex Eurovision participants like Nina Sublatti (Georgia 2015), Sebalter (Switzerland 2014), Trijntje Oosterhuis (Netherlands 2015), Uzari (Belarus 2015), Elisabeth Andreassen (Norway 1985, 1994 & 1996), Verka Serduchka (Ukraine 2007), Marjetka Vovk (Slovenia 2015) Danijel Alibabic (Serbia & Montenegro 2005) and Konstantinos Christoforou (Cyprus 1996, 2002 and 2005)  Apart from them, Gina Dirawi, who hosted Melodifestivalen 2016, will give the Swedish points while Nyusha, who is a very popular singer in Russia and really favoured as a potential Russian representative by many fans in the country, will give the Russian voting results. From Copenhagen Ulla Essendrop who hosted the press conferences at Eurovision 2014, will give the Danish votes.
The voting running order for Eurovision Song Contest 2016 and the 42 spokespersons are:
1. Austria – Kati Bellowitsch
2. Iceland – Unnsteinn Manuel Stefansson
3. Azerbaijan – Tural Asadov
4. San Marino – Irol MC
5. Czech Republic – Daniela Písařovicová
6. Ireland – Sinead Kennedy
7. Georgia – Nina Sublatti
8. Bosnia & Hertzegovina – Ivana Crnogorac
9. Malta – Ben Camille
10. Spain – Jota Abril
11. Finland – Jussi-Pekka Rantanen
12. Switzerland – Sebalter
13. Denmark – Ulla Essendrop
14. France – Élodie Gossuin
15. Moldova – Olivia Furtuna
16. Armenia – Arman Margaryan
17. Cyprus – Λουκάς Χαμάτσος
18. Bulgaria – Anna Angelova
19. The Netharlands – Trijntje Oosterhuis
20. Latvia – Toms Grēviņš
21. Ιsrael – Ofer Nachshon
22. Bulgaria – Uzari
23. Germany – Barbara Schöneberger
24. Russia – Nyusha
25. Νorway – Elisabeth Andreassen
26. Australia – Lee Lin Chin
27. Belgium – Umesh Vangaver
28. United Kingdom – Richard Osman
29. Croatia – Nevena Rendeli
30. Greece – Konstantinos Christoforou
31. Lithuania – Ugnė Galadauskaitė
32. Serbia – Dragana Kosjerina
33. FYR Macedonia – Dijana Gogova
34. Albania – Andri Xhahu
35. Estonia – Daniel Levi
36. Ukraine – Verka Serduchka
37. Italy – Claudia Andreatti
38. Poland – Anna Popek
39. Slovenia – Marjetka Vovk
40. Hungary – Csilla Tatár
41. Μontenegro – Danijel Alibabic
42. Sweden – Gina Dirawi