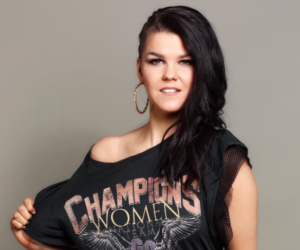 Saara Aalto felt the Finnish people held her down. Now she hopes for 12 points from the UK. When we caught up with her for a little chat, she wondered if someone within EBU revealed her name to the Irish delegation, and she talked about the Monsters she is still fighting. Watch our video interview with this year's Finnish participant.
The months from an artist is selected and until the start rehearsing on the Eurovision stage is full of preparations of their stage design, outfit, postcard shooting and also promotional tours. We caught up with Saara Aalto a few days ago in this year's host city Lisbon.
Saara is representing Finland at this year's Eurovision Song Contest, but due to her appearance on X-Factor UK, she is a well known name outside of her native country. It was a relaxed woman we met though she is quite busy preparing for Eurovision. In the video below you can watch our interview with her mixed in with clips from a performance of Monsters at the Trumps Eurovision party from Friday evening.