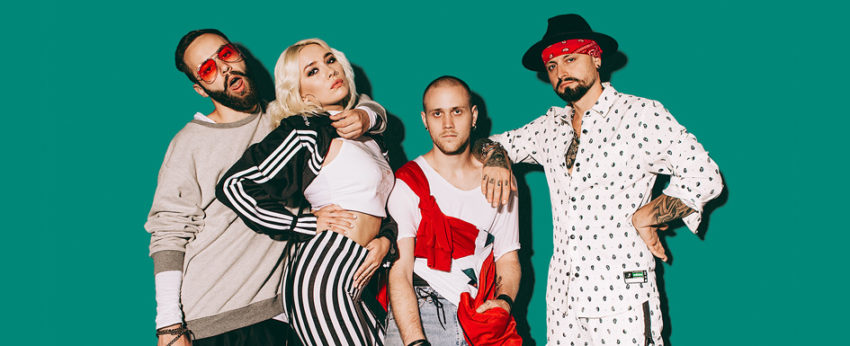 Ukraine kicked of its Vidbir shows tonight. The shows are being used this year to find the Ukrainian entry for the Eurovision Song Contest 2018.
Tonight was the first semi-final of Ukraine's Vidbir, and featured nine songs performed by a variety of acts. The top three go straight to the final.
The Show
The show was hosted by Serhiy Prytula who did well controlling any unruly acts and judges.
O.Torvald performed their latest song.
After the voting break, the Czech Republic's 2018 entry Mikolas Josef gave us a taste of what Lie To Me would be like live.
The Songs
Constantine – Misto
A very powerful vocal to open tonight's show. This is a very modern sounding song. A banging drum beat brings the song to life. Towards the end, with a screaming guitar, the song becomes very anthemic. No gimmicks but a good song to send to Lisbon.
Serhiy Babkin – Kriz tvoyi ochi
This song plods along at a very slow pace to begin with, very urban and city like. Serhiy has a very wide vocal range, reaching high notes in the chorus. Maybe a bit of vocal trickery is going on. The song never lifts out of its tempo. As an extra visual treat, his microphone is wrapped up in red wool to match the video back wall.
Laud – Waiting
Ukraine is going for slow this year. This is another well-sung number, which isn't out-of-place amongst current hits. A little bit of vocoder was added to the chorus to add extra effect. Young Laud seemed to appeal to our three judges.
Kazka – Dyva
Probably the most upbeat song of the evening. Lots of na na na's and the playing of a pipe effect in the background. Kazka's lead singer's vocals were a bit weak in places but nothing to be concerned about. A bearded keyboardist completed the band. Not too bad for a group who've only been together for a few months.
The VYO – Ng'a-Ng'a
Sounds of the Caribbean from this five-piece band. A very unusual but welcome sound coming out of Ukraine. All pine trees and Jamaican, it made Jamala get up and dance. Perfect for lazy summer days,
Kozak System –  Mamai
Wow this seemed like it was going to be a rock band like last year, but heck no. Complete with accordion, tuba and all sorts of instruments, this is Ukraine's answer to Bad Manners. All ready for drunken parties in Lisbon this was way too lively for this show. A mysterious female voice could be heard repeating the refrain. This is ready for Eurovision.
Vilna – Forest Song
One of these new age songs about saving the planet. Although the verses are a little subdued, the song builds to include one of these chants for the earth. Well intended with a powerful message. The banging drums added meat to the song and Vilna was the perfect Earth goddess.
Pur:Pur – Fire
With very childlike vocals, Pur:Pur are back to try to right the wrong when they lost out in 2016. Complete with space-age hair and a cape to remember, the group performs this mid-tempo number, playing piano and guitar. Three backing singers were brought in for extra punch.
The Erised – Heroes
Ending with the most powerful performance of the evening is this five-piece, four male, one female rock band. A drum features all the way through the song. Modern and moody would be the best way to describe the song. Sonya Sukhorukova, the lead singer sounds a bit like Rihanna in places.
The Judges
The judges were a pregnant Jamala, winner of Eurovision 2016. Joining her were Eugene Filatov, director of Onaku, last years Eurovision interval act. Completing the threesome was Andriy Danylko, also known of course as Verka Serduchka, 2007's Ukranian entry. All judges fought each other to see who could talk the most. Ruslana, fortunately, was absent or we'd still be waiting to hear the results.
The Results
A jury and the public picked the three acts going on to the February 24 final.
| | | | | |
| --- | --- | --- | --- | --- |
| | Jury | Public | Total | Position |
| Constantine | 7 | 2 | 9 | 7 |
| Serhiy Babkin | 8 | 4 | 12 | 5 |
| Laud | 9 | 7 | 16 | 1 |
| Kazka | 4 | 5 | 9 | 6 |
| The VYO | 2 | 1 | 3 | 9 |
| Kozak System | 1 | 3 | 4 | 8 |
| Vilna | 3 | 9 | 12 | 3 |
| Pur:Pur | 6 | 6 | 12 | 4 |
| The Erised | 5 | 8 | 13 | 2 |
Ukraine At The Eurovision Song Contest
Debuting in 1993, and with its only absence in 2015, Ukraine has been a permanent fixture in the finals.
With two wins under its belt – Ruslana with Wild Dances in 2004 and Jamla with 1944 in 2016, Ukraine is one of the most successful countries since the introduction of the semi-finals.
With 4 other top 4 entries, it was only last year in their own hosted competition that Ukraine performed poorly. O.Torvald came 24th with the song Time. No doubt Ukraine will hope to be at the top again this year.
Here is tonights winning song from Laud