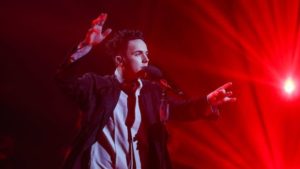 Mélovin promised to bring victory back to Ukraine, but all is not what it seems. His song Under The Ladder which won the public televote in Ukraine has undergone a subtle revamp after it mysteriously disappeared from media. It has now returned with a video. Having slipped down in the betting odds, can the song inspire a win at Lisbon?
The Ukrainian entry for this year's Eurovision Song Contest has undergone an update following it's victory at the selection show, Vidbir. The revamped version has very minor changes that one might not hear if you don't listen closely. Mélovin has taken some of his earlier criticism on board and has improved his English pronunciation.
Mélovin who doesn't have a producer has released his video for Under The Ladder. Disappointingly, the video is a repost of Mélovin performing his song at the Ukrainian National Final. In the video Mélovin starts the performance at the front of the stage with his backing singers far behind him. As the song builds up momentum so does Mélovin. The highlight of the performance is him playing the piano on an elevated stage which is on fire. Could this be something that we see in Lisbon?
Despite dropping the songs make over, Mélovin, real name Kostyantyn Bocharov, is keeping his fans guessing as to what his performance in Lisbon will look like. In a press conference he said "I don't tell anyone what will change in my performance. Yes somethings will be different…. I know for sure that there will be flames and my eye." He continued to say "First, we want the performance in Lisbon to be real, not 'plastic'. It should be done properly. But I don't want to say what will be changed. I love intrigue".
Mélovin is trying everything he can to bring Ukraine another victory at the Eurovision Song Contest. However, Mélovin doesn't define a victory as winning the contest but as something else. The former X Factor Ukraine winner said "The victory could be very different. Another thing is important.. It is important that Europe remember me, and my song would be sung there afterwards….Sometimes the second place can be greater than the one ahead."
Mélovin will compete in semi final 2 on 10th May. He will be up against tough competition with the likes of Jessica Mouboy from Australia and Waylon from The Netherlands. You can listen to the new version of the Ukrainian entry for this year's contest below.