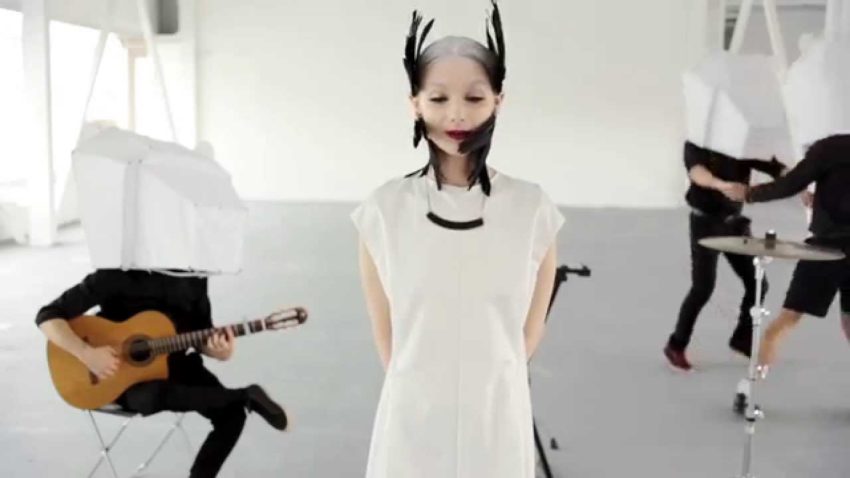 Ukraine held its second semi-final tonight, finding three more acts to head to its grand final. The winner will become the thirteenth contestant to represent Ukraine at the Eurovision Song Contest. They will be hoping to replicate this year's judge Ruslana and take home the crown to Ukraine for the second time
The second of two semi-finals took place in Kyiv tonight, where three acts were selected to continue to the grand final on February 21st when Ukraine's 2016 entry for the Eurovision Song Contest will be chosen. This group was more upbeat than last week's selections.
The songs
Arkadiy Voytyuk – Vse V Tobi      
This was a real hand-clapping country hoe-down of a song. Totally unexpected, the audience were all up clapping along and justifiably so. This put Ruslana in a good mood – what a refreshing bouncy number! Would not be out of place in Nashville's bars. Very good. Arkadiy is a former ex X-Factor contestant.
Alloise – Crown
This is another bouncy number with a podgier Madonna lookalike. Lots of attitude in this song with a younger boy standing behind her, more posing than dancing. A four piece band accompanied Allosie and, again, the audience seemed pleased. Ukraine has had a real sprinkling of happy dust this week.
Japanda – Anime
Three girls dressed in yellow and orange cone-like dresses with a dancing panda. All sorts of lollipops in the background, Katy Perry style, with an electronic beat – a bit of a faster version of Love Injected. the audience loved this one, too – will make it very difficult to decide. It was too much fun for Konstantin, who barely cracked a smile.
NuAngels – Higher 
Two ladies this time, both singers  have very low singing voices. Another rousing self-empowering song. So far all the songs have been full of joy. the audience is getting real value for money today. Most of them up on their feet through the whole performance. Selecting a winner has just got much harder.
Pur:Pur – We Do Change  
This was a very pure-type song, like the name of the act. The first sight of eccentric Ukraine appeared here with the singer wearing what looked like a birdcage on her head. This is what we expect from Ukraine. The song was pretty slow though, limiting what can be done. The judges asked for it to be more melodramatic.
Peaks of Kings – Last Hope
This had all the promise of a rock song, but it started out to be a plodding pop song, before the screeching guitars came in. Just as it looked like reaching a frenetic pace, it slowed down again, so not really quite sure what type of image they're trying to portray.
Viktoria Petryk – Overload  
This one is very good – it's an actual song with a great hook. Viktoria played it straight today and just stood and sang the song very well. The song invites all sorts of props for the background so, if this wins, expect full use of the stage in Stockholm. A Eurovision dream.
Pringlez – Easy To Love   
This one definitely had its eye on the dance floor. All dressed in black with colourful stripes covering their costumes. This had a disco beat running all the way through it. This week's songs – it can't be said enough – paint a very different mood to the previous week. As a result, it looks like there will be a very mixed bag in next week's final.
SunSay – Love Manifest
The singer himself described this number as experimental, and he was right. While not horrible, how much experimental can one take? However, when it got to the chorus, it was quite the anthem, sending the audience into fever pitch. All in all, this has been a good show in Ukraine – the results will be very interesting.
The show
The hosts tonight and, indeed, for all three shows, are Ukrainian TV presenters Dimitri Tankovich and Aleksander Pedan. They opened again with a Ukrainian comedy routine, sort of like the two Muppets, Statler and Waldorf, who used to heckle Kermit the Frog from the balcony. All the acts were introduced by postcard videos. After song two, there was the first commercial break. These last so long and no sign of a beaver to keep you amused. They must do something about that. Barei was special guest before the voting and sang Spain's entry Say Yeah.
The results
A panel made up of ex-Eurovision winner Ruslana wearing a pale orange short-sleeved number, second place Verka Serduchka (Andriy Danylko), who looked more like Bob The Builder than what we're used to, and tonight's fish out of water, sensible composer Konstantin Meladze, gave their critiques. All their votes were tallied and converted to a 9-1 point scale for each song. An hour long televoting took place with the same point conversion for these votes. The top three acts carry on to the final.
| | | | | |
| --- | --- | --- | --- | --- |
| | Jury |  Public |  Total | |
| Arkadiy Voytyuk  |  4 |  6 |  10 | |
|  Alloise |  6 |  2 |  8 | |
|  Japanda |  1 |  1 |  2 | |
|   NuAngels |  7 |  8 |  15 |  Final |
|  Pur:Pur |  8 | 7 | 15 |  Final |
|  Peaks of Kings |  3 |  3 |  6 | |
|  Viktoria Petryk |  2 |  4 |  6 | |
|  Pringlez |  5 |  5 | 10 | |
|  SunSay |  9 |  9 |  18 | Final |
Ukraine at the Eurovision Song Contest
Ukraine  has participated in the Eurovision Song Contest twelve times, debuting in 2003 with a 14th place finish for Oleksandr Ponomariov and Hasta La Vista. Not the best start, but the following year they took first place, in only their second attempt, with Ruslana and Wild Dances.
While hosting, Ukraine placed their worst to date with Green Jolly and Razom Nas Bahato, which finished in nineteenth place. Tina Karol returned the country to the top ten in 2006 with Show Me Your Love. The following two years saw them finish second with Verka Serduchka Dancing Lasha Tumbai (yeah right) and Ani Lorak's Shady Lady.
The hamster wheel made its first appearance in 2009 with Svetlana Loboda's Be My Valentine, only to be used again in 2014 when Mariya Yaremchuck went Tick Tock. In the interim, Mika Newton placed fourth with Angel in 2011 and Zlata Ognevich came third in 2013 with Gravity.
Below you can watch a compilation of the last seven years of Ukraine in the Eurovision Song Contest. We did our extra best to find our greatest footage and maybe you'll see something you haven't seen before.