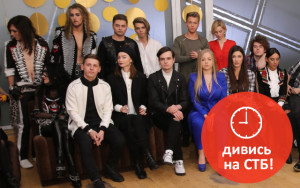 A huge welcome back to Ukraine, which had to miss last year's competition in Vienna. Tonight the first of two semi-finals took place, where three lucky contestants continued on to the final to be held on February 20.  Ukraine are another country with a blue and yellow flag who do very well at Eurovision. Will the tradition continue this year?
The first of two semi-finals took place in Kyiv tonight, where three acts were selected to continue to the grand final on February 20 when Ukriane's 2016 entry for the Eurovision Song Contest will be chosen.
The songs
Anastasia Prikhodko – I Am Free Now
The show opened with Anastasia celebrating her freedom but it is obvious it has come at a price. The opening video had Anastasia's hand on fire. Dressed spectacularly all in white with ruby red lips, there was no aging process videos in the background .Very moving, you could hear the pain in every note the singer sang. She might be back.
The Hardkiss – Helpless
Another song of despair but very well sung.  A melancholy school bell starts the song. There is a lot of silent anger and despair in the singer's voice but it makes for an eerily enjoyable listen. The lead singer has been sharing the lipstick with Anastasia, and is dressed as a tribute to the Statue Of Liberty. There is a man in a mask. Very haunting – dark, bleak but moving, very powerful chorus. Audience screaming their lungs out.
Antonina Matviyenko – Tin Whistle
Nordic chanting and birds whistling in the background introduce this ice maiden, all in white. This is a middle eastern wail mixed with Scandinavian overtones. Audience not quite sure what to make of it, seems like Tonya was beckoning wild animals to her door. Mysterious.
Vladislav Kurasov – I'm Insane
Despite its zany title this is another slow piece. The depressed mood and anguish reeks out of Vladislav's every pore. The first line is "Live with death". There is no way you cannot be affected. Vladislav's eyes indicate a lot of pain, in his white blazer and the audience were feeling it along with him. Ruslana has stopped smiling.
Lavyka – Hold Me
A gentle ballad with a piano background, very like Geraldine's 1975 entry You – very quiet and very haunting barely audible, even the instruments seemed to have their volume turned down – the audience were louder. It didn't really  go anywhere just meandered until it reached its end. Ruslana had to be woken up.
Jamala – 1944
This was as bleak as a Ukrainian winter. Clearly the mood in Ukraine is still very low.  A Balkan cello opening, the tempo picks up and  is a little like Imaani's Where Are You in pace. There is no doubt though that this is a protest song. Dressed unsurprisingly all in black, wind machine blowing her hair, but here's the thing, rather good, lots of wailing and screaming towards the end. Ruslana is on her feet.
Aida Nikolaychuk – Inner Power
This is a bit more upbeat, but still has the undertones of the mood in Ukraine at the moment. Dressed in red from head to toe, a very fiery performance – in fact fire is mentioned in the lyrics and after seeing the dress at the back it looks like it also caught fire – all about finding your inner power.
Svetlana Tarabova – Never Again
Another anti-war song and clearly Ukraine are coming with a message this year. Partly sung in Ukrainian it then changes to English and there's no happiness to be found. A bullet hole ends the number from the flaming red head – chilling.
Brunettes Shoot Blondes – Every Monday
Ending with a boy band, this song wasn't quite as bouncy as say E.G.O in Lithuania or  Denmark's Anti Social Media, in fact it was yet another gloomy piece. Hard to really describe, it was a slow moving depressing pop song. Not the best ending to the show.
The show
The hosts tonight, and indeed for all three shows are  Ukrainian T.V presenters Dimitri Tankovich and Aleksander Pedan. They opened with a Ukrainian comedy routine and made it clear Ukraine are happy to be back. It doesn't take long to realize that despite it being a fun competition there are a lot of messages in the semi-final's songs, and they are very powerful, showing songs can convey a million emotions. At this point do not expect gladiators and hamster wheels in the final this year. The songs all would make the perfect soundtrack to the Oscar nominated 2015 documentary Winter On Fire, about the unrest in Kyiv over the previous year. Ukraine has the longest commercial breaks in Europe. Before the voting Belarus' Ivan was the special guest. and sang his Eurovision hit How To Fly.
The results
A panel made up of ex-Eurovision winner Ruslana wearing a shirt resembling the Albanian flag, second place Verka Serduchka (Andriy Danylko), with no silver to be found, and tonight's token sensible and straight-laced person, composer Konstantin Meladze, gave their critiques. All their votes were tallied and converted to a 9-1 point scale for each song. An hour long televoting took place with the same point conversion for these votes. The top three acts carry on to the final.
| | | | | |
| --- | --- | --- | --- | --- |
| |  jury |  televoting | | |
|  Anastasia Prikhodko |  4 |  3 |  7 | |
|  The Hardkiss |  7 |  8 |  15 |  final |
|  Antonina Matviyenko | 5 |  2 | 7 | |
|  Vladislav Kurasov  |  3 | 4 |  7 | |
|  Lavyka |  1 |  1 |  2 | |
|  Jamala |  9 |  9 |  18 |  final |
|  Aida Nikolaychuk  | 2 |  7 | 9 | |
|  Svetlana Tarabova  | 6 |  6 | 12 | |
|  Brunettes Shoot Blondes |  8 |  5 |  13 |  final |
Ukraine at the Eurovision Song Contest
Ukraine  has participated in the Eurovision Song Contest 12 times, debuting in 2003  with a 14th place finish for Oleksandr Ponomariov and Hasta La Vista. Not the best start, but the following year they took first place, in only their second attempt, with Ruslana and Wild Dances.
While hosting, Ukraine place their worst to date with Green Jolly and  Razom nas bahato which finished in 19th place. Tina Karol returned the country to the top 10 in 2006 with Show Me Your Love. The following two years saw them finish second with Verka Serduchka Dancing Lasha Tumbai (yeah right) and Ani Lorak's Shady Lady.
The hamster wheel made its first appearance in 2009 with Svetlana Loboda Be My Valentine, only to be used again in 2014 when Mariya Yaremchuck went Tick Tock. In the interim Mika Newton placed 4th with Angel in 2011 and Zlata Ognevich came 3rd in 2013 with Gravity.
Below you can watch a compilation of the last 7 years of Ukraine in the Eurovision Song Contest. We did our extra best to find our greatest footage, and maybe you'll see something you haven't seen before.