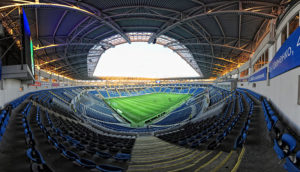 The new European football season is upon us. The draw for the UEFA Europa League have posed some serious issues for the preparation of the 2017 Eurovision Song Contest, should Odessa be chosen as host city for the event.
The problems that have arisen from the UEFA Europa League draw concerns Zanya Luhansk, who used to play at Avanhard/Avangard until 2014. They moved to the Chornomorets stadium in Odessa because their old ground was destroyed by a bomb at the start of the invasion of Eastern Ukraine, which lead to the creation of the self proclaimed Luhansk People's Republic
Zorya Luhansk are in Group A of the UEFA Europa league along with Manchester United (ENG), Feyenoord (NED) and Fenerbahce (TUR). Home dates for Luhansk are set to be 15th of September, 3rd of November and 8th of December. This could pose a risk to any rebuilding of the stadium that would need to be carried out should Odessa get awarded the Eurovision Song contest 2017.
It is the quarter final and semi final dates that would pose an even bigger risk. These dates are 13/4/17 (1st leg) for the quarter final and 20/5/17 (2nd leg) along with 4/5/17 (1st leg) and 11/5/17 (2nd leg) for the semi final. Should Zorya Luhansk progress through the round of 16 matches, then for the home leg dates, that would hold up any preparations for Eurovision, as the pitch will be played on, and 6 weeks worth of preparation will need to be undertaken in such a short space of time.
The EBU, and the 2017 organising committee will now need to take these draw dates into consideration when deciding the host city for the 2017 contest, as UEFA state that a home ground cannot be changed unless there is extreme circumstances, which is why Zorya Luhansk have moved their home ground to Odessa in the first place.