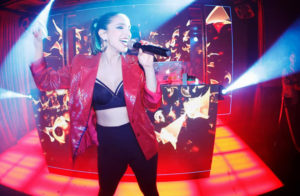 Lisbon's biggest gay club – Trumps – held its very first Eurovision party. Catarina Pereira was the event's headliner and special guest, but other surprises took place such as the club's own Eurovision show where the outrageous Drag Queens covered former acts such as Ukraine's 2007 Verka Serduchka among others.
You don't want to miss Trumps' Eurovision parties. Lisbon's biggest gay club announced last week they'll be throwing Eurovision parties until mid-May in order to celebrate Portugal's first time ever hosting the Eurovision Song Contest. According to the club's director, Trumps is set to be this year's biggest unofficial EuroClub for the music festival.
The first party happen last Friday and, besides the headliner Catarina Pereira, other familiar faces were present such as Filipa Azevedo (2010) and Dora (1986). The doors opened at 23:45h and everything was ready to welcome the Eurovision fans. The stage had the event's official promo on repeat while songs such as Invincible (Sweden, 2006), Golden Boy (Israel, 2015), Heroes (Sweden, 2015), Shady Lady (Ukraine, 2008) and many, many others did the warm up for the night.
At roughly 02:30h the outrageous Drag Queens took over the stage. Each of the four, paid homage to an Eurovision act. Carola (Sweden), Verka Serduchka (Ukraine) and Charlotte Perrelli (Sweden) were the chosen acts for the first night but none seemed to impress the judge – the DJ – who awarded all 1 point except for the Verka's imitation that got 11. In between, one of the other Drag Queens performed Filipa Azevedo's Há Dias Assim and was joined by the singer herself that was also in the club that night.
The headliner, Catarina Pereira, took the stage right after and surely proved everyone why she is so loved amongst Eurovision fans. With an epic version of Canta Por Mim (Festival da Canção 2010), Catarina even asked her former rival (Filipa Azevedo) to sing a little bit of her song: "I am sure this girl knows it", she said before handing the microphone. Before leaving the stage – and as promised – Catarina performed Loreen's 2012 winning song Euphoria and officially opened the Eurovision party.
Overall, the following hours were a mix of Eurovision songs and Pop music that made sure to satisfy everyone in the audience. For the following weeks, there'll be room for even more Eurovision songs according to the club's owner.
Saara Alto announced as headliner
Trumps second Eurovision party is happening next Friday – 16th of March – and, this time, Filipa Azevedo herself will headline the night. On top of that, the club has just announced via its social networks that Finland's representative, Saara Alto, will also be tomorrow's special guest. The Monsters singer is doing a 20 minutes set.
More news are yet to come in regards to Eurovision parties in Trumps. In the meantime, check our compilation video of what happened at the very first party: