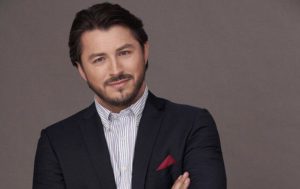 For the first time in Ukraine's history in the contest, two Ukrainian TV channels will broadcast the competition at the same time. UA Pershiy and STB. Vidbir presenter Serhiy Pritula will provide the commentary on the new channel, while Timur Miroshnychenko continues on UA Pershiy.
Today, Ukrainian TV channel STB announced that they would be the second channel to broadcast the Eurovision Song Contest in Ukraine. This is the first time in the country's history that two channels will broadcast the show at the same time. Thus be competing for the viewers.
During this announcement they declared that popular television presenter and Vidbir host Serhiy Pritula will provide the commentary for STB. He will be competing against UA: Pershiy commentator Timur Miroshnychenko who most of you will recognise as being the green room host of last year's contest. Timur has been the Ukrainian commentator for 10 years, taking over from Pavlo Shylko in 2006.
Both channels will be broadcasting the competition on the 8th, 10th and 12th of May.
Ukraine will be represented at the Eurovision Song Contest by MÉLOVIN with Under The Ladder. He is competing in the second half of the second semi-final.