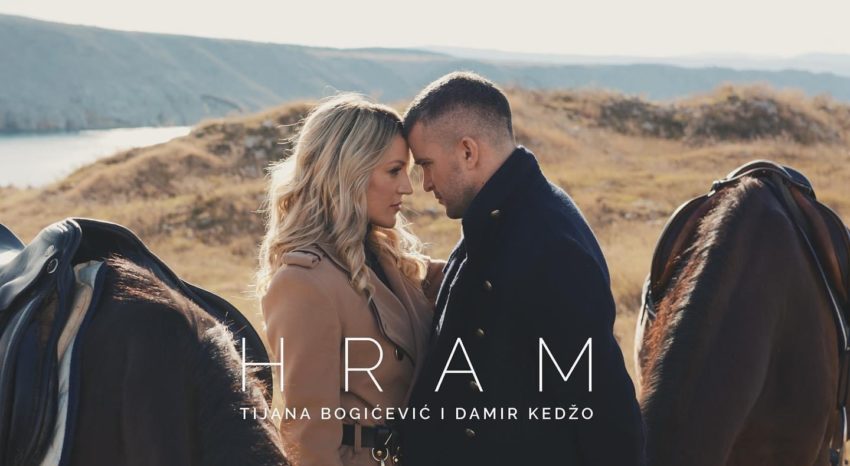 Tijana Bogićević, who represented Serbia at 2017 Eurovision Song Contest and Damir Kedžo, who would have represented Croatia in the contest last year, have joined forced for a new song titled "Hram". It is a song about how powerful the love is.

Two former Eurovison artists, Tijana Bogićević and Damir Kedžo, released yesterday a new song titled Hram, which translates to Temple. This is their first collaboration ever and the woman, who stands behind it, is well-known Serbian songwriter Aleksandra Milutinović. In the past, Aleksandra wrote many songs that entered the Serbian national selection, Beovizija. Furthermore, she penned the song Rijeka Bez Imena which represented Bosnia and Herzegovina in the Eurovision Song Contest back in 2007.
Hram is a contemporary pop song that worships the power of love. Love is seen as a temple – a place of safety that you keep and protect when you finally find it. Love is a source of motivation, and it gives meaning to our lives.
Who are Tijana Bogićević and Damir Kedžo?
Tijana Bogićević, who currently resides in the United States, has participated twice in the Eurovision Song Contest. Back in 2011, she was a backing vocalist for Nina, who represented Serbia with the song Čudo. Six years later in Kiev, Tijana failed to qualify for the grand final with the song In Too Deep. In 2018, she released her debut album Čudo.
Damir Kedžo became really famous in 2016, when he won the third season of Croatian edition of the show "Your Face Sounds Familiar". Last year, he won the Croatian national selection, Dora, with the song Divlji Vjetre. Unfortunately, Damir didn't get the chance to go to Rotterdam as the 2020 Eurovision Song Contest was cancelled due to the COVID-19 pandemic. He decided not to te-enter Dora this year. To date, Damir has recorded two studio albums – the most recent one, Poljubi Me Sad, is from July 2020.
You can listen to Hram in the video below: