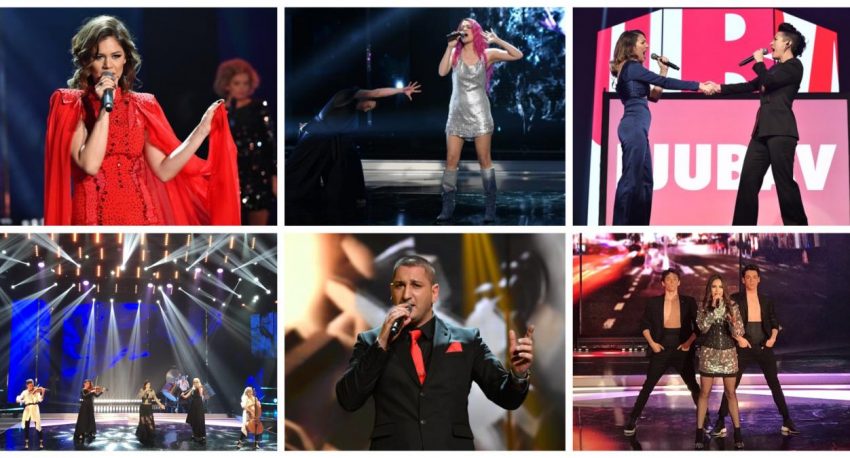 Serbia joined the fray tonight with the first of two semi finals of Beovizija 2019. Twelve acts performed tonight with half of them heading to the final on March 3 2019.
Tonight's lucky contestants will be joined by another six tomorrow night. The eventual winner will be Serbia's Eurovision Song Contest entry for 2019.
The Show
Before the competition got started, there was a review of some on the past Israeli entries – a tribute this year's host nation. The charming hosts were Dragana Kosjerina and Ivan Mihailović.  Dragana wore an expensive looking red dress, while Ivan was very smart in his suit. The competition took place at RTS Studio 8 in Belgrade.
After the voting period closed we were treated to a rendition of Euphoria by past Serbian entrants Sanja Vučić and Bojana Stamenov, and Croatia's own Jacques Houdek. Bojana then run through her 2015 Serbian entry Beauty Never Lies.
Jacques then did the Croatian 2017 entry My Friend. Jacques has co-written the Croatian entry this year The Dream by Roko. Finally Sanja Vučić sang the 2016 Serbian entry Shelter.
Or perhaps, not finally because the show still had Knez, Montenegro's entrant from 2015 as a surpise guest, who came to sing his song Adio.
Yet another surprise was to come as the quartet the got together to run through a rendition of Serbia's popular winning song Molitva.
When the singing was complete there was a flashback video to 2008 when Serbia hosted the contest.
The Songs
Funked Up – Zašto da se ne desi
This six piece, all in black, group live up to their name, with this funky uptempo opening number, which is probably heading to the final due to having a bit of life about it and probably a stand out before the competition really gets started. Shades of Level 42, this will be a great one to dance around to in Tel Aviv. A door separated our lead singing man and woman to begin with but of course they met up fine at the end. Illuminated drum sticks added to the presentation.
Aleksandra Sekulić – Tugo
A Balkan string introduction and into a ballad that Serbia does so much better than anywhere else. Whether it's the language that allows such melody or not, but the songs are silky smooth. Aleksandra had a red dress and boots on tonight and was accompanied by a saxophonist, and three female backing singers. A nice simple performance.
Osvajači – Voda i plamen
Another six piece group who are usually more associate with rock, but tonight had a big power ballad. The lead singer has a velvet jacket on. The back wall video was full of fire, an old Eurovision favourite. The piano and electric guitar feature heavily in this song, which again was a pleasant Balkan tune, perhaps not a Eurovision winner.
Dunja Vujadinović – 7
Lots of images of Dunja could be seen from behind her during her performance. Dunja wore a white dress and featured many of our favourite Serbian words in this love song. A wailing violin accompanied Dunja during the song. This was another competent ballad but not outstandingly good.
Mr. Doo – Do 100
More wailing strings and poor Mr. Doo looked as if he'd run into a lamppost while hurrying to get to the studio. Make up aside, the Doo was joined on stage  by two females in their rain coats and a male backing singer and guitarists, who na na na'ed through the song. A little slow, more for the visuals that the song here.
Saška Janks – Da li čuješ moj glas
Dyed pink hair for another power ballad from Saška. Dressed in a white house coat and silver boots,Saška had two male dancers who slithered in front of her a few times. The beautiful language helped make the song listenable, but apart from a few power moments in the chorus, this was a little nondescript.
Ivan Kurtić – Bela
This was the first real ballad of the night by a male singer. Dressed like a gangster in his black suit and red tie, Ivan had someone like a mechanic working away in the background. It ended with a drawing of an angel. Plain and simple, very Serbian describes it all.
Sofija Perić – Aritmija
Again this another song that just fits in while on holiday at the Adriatic coast. It has a beach appeal. A backdrop of a busy city, probably Belgrade was featured in the background. Two mala dancers added, well nothing to the performance. This may stand a better chance of qualifying due to having a little more pace than some of the others.
Extra Nena – Još ti čujem glas
Next up was the one we were all waiting for, Extra Nena, the last ever representative of Yugoslavia in 1992. Extra still had her low deep voice but this song lacked the magic of her other entry Ljubim Te Pesmama. Nevertheless in her white raincoat Nena delivered a strong performance of a slow mournful number. Unlikely to be Serbia's entry but still lots of good will all round.
Eleonora – Samo lagano
This performance had a little more oomph than the others, with a very modern and appealing visual experience. Eleonora and her five vixens slinked around in front of some Hollywood legends. A chair in the middle of the stage acted as a bit of a stage prop. Probably more visual than musical but good enough for another viewing in the final.
Wonder Strings & Ivana Vladović – Moja bol
Indeed strings did wonder away behind Ivana. This was probably the best tune of the evening, and sounds very similar to some of Yugoslavia's best from the past. Very emotive. powerful chorus and musical interludes at just the right moment. Some one has being doing their Eurovision homework. So good it will likely fail to be the Serbian entry this year.
Nataša & Una – Samo bez straha
Hidden in silhouette at the start of the song Nataša or was it Una wasn't in the mood for messing around. A woman with a purpose on this beaty number, was only beaten in attitude by rapper Una, or was it Nataša Natasa. This had enough about it to be a little different tonight to probably merit a place in the final. More shouty than musical ,but a fair enough attempt, to end tonight's competition.
The Results
The winning six acts and songs were decided by 50/50 of a selected Serbian panel and televotes of the Serbian public.
The qualifiers are:
Aleksandra Sekulić ( position 12 in the final)
Saška Janks (position 1 in the final)
Nataša & Una (position 11 in the final)
Ivan Kurtić (position 10 in the final)
Wonder Strings & Ivana Vladović (position 5 in the final)
Sofija Perić (position 3 in the final)
Serbia In The Eurovision Song Contest
This will be Serbia's 12th year at Eurovision since its debut in 2007, including an absence from the 2014 contest.
Serbia won in its first year with Molitva by Marija Šerifović, a song that is still popular in Serbia to this day. Hosting the contest in 2008, they did very well again when Jelena Tomašević feat. Bora Dugić placed 6th with Oro.
In 2012, Željko Joksimović placed third with Nije ljubav stvar, having already been a runner up in 2004 when he represented Serbia and Montenegro.
Serbia have done rather well at Eurovision usually, but as the years pass, they have now  failed to make the final on three occasions -nearly a quarter of their entries.
Last year wasn't one of these times when Sanja Ilić & Balkanika finsihed 19th with Nova Deca.