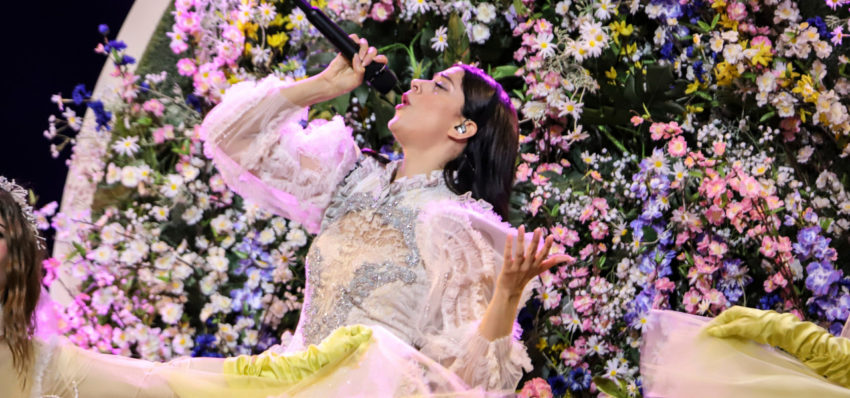 The second days rehearsals ended today with Greece and San Marino giving their first run throughs, and therefore completing the first semi final of 2019. Have we seen a winner yet?
One of the pre-contest favourites opened the evening rehearsals followed by a fan favourite blast from the past.
Greece: Katerine Duska – Better Love
A large wishing fountain/bell with what looked like a giant egg in it appeared first on the stage. The stage looks remarkable before the song even starts, and because of that, there is a lot of setting up at the beginning.
When the song starts the bell turns out to be one dimensional on a rotunda and Katerine is standing on it. She has two fencing females with swords and three female backing dancers dressed in yellow lace dresses. Katerine herself could be in a long white costume, but the lights make it look pink. The show is spectacular but the vocals cannot be described as first class – adequate is as good as it gets there at the moment.
When the rotunda turns around, the other side is full of flowers alla Secret Combination from 2008.
There is now some microphone adjustment taking place to balance the vocals.The second rehearsal is much stronger although some vocals will still need to be fixed.  There are a few heys in the verses and the egg gets dismissed like the balloon that it is. However towards the end Katerine is holding some really long notes. The dancers drop to the ground and a large flower opens on the stage.
San Marino: Serhat – Say Na Na Na
Serhat stands, all in white, on the stage blowing kisses to his beloved fans, secretly hoping deep down inside this might be their best result yet. So what's Serhat giving us? Three female and two male singers start of the catchy number pretty well and then Serhat does his best on his platform, with his deep growling voice.
Soon it transpires the boys are there for their dancing ability and its the ladies who are doing all the backing vocals. The song is a great way to close the first semi final, and Serhat is saying that he didn't do his best , as he couldn't hear the backing vocals.
The lyrics of the song are shown in the pink and yellow background, and it seems that one of Serhat's backing vocalists is Ellen De Generes – surely not. The boys get their loud speakers and suddenly everyone is saying Na Na Na.
Unlike Katerine's more serious performance, Serhat's fun number, shows that there is room for all sorts of songs in the final – but who are going to be the lucky ten?