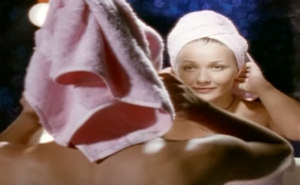 Amazing and fantastic, or just simply the world's most annoying song ever. People might disagree about the song, but yesterday we all talked about Whigfield, and it looks like it will take a while before Whigfield turns into Sannie, if ever.
Yesterday 10 acts were presented as participants for the 2018 Danish national selection, but a 47 year old woman who hasn't had a hit for quite some years stole the show.
She is not even using the same name you once knew her as. And she splits us. Half of us thinks she is amazing, and probably just what Eurovision needs, while the other half is praying the world doesn't once again fall for her singing what some describes as 'the world's most annoying song ever'.
If you are very young, you can be excused, but otherwise there is no way you haven't heard Whigfield's Saturday Night, unless your planet was outside our solar system, and even that might not have been far enough away. The song became an international smash hit of a size, very few Danish artists reach, or very few artists at all.
Whigfield earned a place in the Guinness book of Records as she with that same hit went straight into first position on the chats in the UK – as first female ever. And the Brits weren't the only ones. 11 weeks as number one in Spain, and all over Europe, in Asia, in Australia, South America and Canada people felt the air getting hot on Saturday evenings.
Saturday Night is fantastic, or is it the world's most annoying song ever? That depends on who you ask. Both opinions could be heard from fans reacting to her taking part in Melodi Grand Prix 2018. Yesterday almost everyone talked about her, many even listened to the song once again – and sang along to it. Aren't you glad it is winter in Europe so your neighbours probably didn't hear you during the "Da ba da dan dee dee dee da Nee na na na, be my baby"?
It will be Sannie in the Danish final, but for most of us it will take a lot more than a few weeks to see her as that, and not Whigfield. And it will require something really extraordinary to make sure it isn't Saturday Night, we will also associate her with in the future.
Recently, she has released house music under her name Sannie, and though her Melodi Grand Prix entry is more pop, it felt natural for her to make the Danes see as Sannie, which is her name given by birth. But Sannie is Whigfield, and Whigfield is Sannie. The two are closely connected, and not even an Olympic sprinter can run fast enough to get away from Saturday Night.
So what's the song Boys On Girls about? At the press conference yesterday, Sannie told in an interview to Eurosong.dk that the song was basically fully produced within five hours on what she describes as a magic day in the studio. It has been ready for a few years just waiting for the right moment – and the right platform to be released on. When she was asked to take part in the Danish final this years, she said, that she had just the right song ready.
To Good Evening Europe, Sannie revealed that the song is a sexy song, and that we will see a performance from her which is very different to what she have done before.
We are all looking forward to hear the 'new' song, but until then it we'll keep singing along to Saturday Night, whether it is amazing, or simply plain annoying.