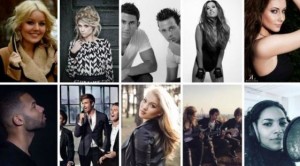 Yesterday, the 10 songs competing in the Danish national selection, Melodi Grand Prix, was leaked on the streaming service Spotify. Today, the songs became available on iTunes – including the name of the songwriters. Most interesting is Emmelie de Forest as one of the songwriters.
For the second year in a row the 10 songs competing to represent Denmark at this year's Eurovision Song Contest was leaked before broadcaster DR intended to. Yesterday the 2016 Dansk Melodi Grand Prix entries leaked on Spotify. DR later explained that it happened as the record company Sony accidently wrote 2015 instead of 2016 when entering them into their system. Spotify's system took that to mean it was the songs from last year, and as such released them.
Today DR pushed the songs to the other streaming services to release them as well – and once iTunes did so, it included the list of songwriters, a list which includes the 2013 Danish Eurovision winner Emmelie de Forest behind the song Never Alone. Among the songwriters are also Eurovision songwriters like Dimitri Stassos, Peter Boström and Jonas Gladnikoff. Behind the song Rays of Sunlight is Brian Risberg Clausen also known as Bryan Rice. He has taken part in the Danish final several times, both as singer and as songwriter. Most famous is his second place from 2010 Breathing.
David Jay – Rays of Sunlight (Brian Risberg Clausen & Christoffer Stjerne)
Simone – Heart Shaped Hole (Andrew Love & Carl Ryden)
Muri & Mario – To Stjerner (Mads Løkkegaard, Gianluigi Fazio, Muri & Mario)
Sophia Nohr – Blue Horizon (Marie Keis Uhre & Christoffer Lauridsen)
Veronicas Illusion – The Wrong Kind (Dimitri Stassos, Peter Boström, Tobias Stigaard Stenkjær & Freja Jonsson Blomberg)
Lighthouse X – Soldiers of Love (Katrine Klith Andersen, Søren Bregendal, Daniel Lund Jørgensen, Joannes Nymark & Martin Skriver)
Kristel Lisberg – Who Needs a Heart (Jonas Gladnikoff & Sara Ljunggren)
Jessica – Break It Good (E. Larsen, Tommy P Gregersen & David Todua)
Bracelet – Breakaway (Jimmy Jansson, Rebecca Krogmann, Charlie Grönvall & Felix Grönvall)
Anja Nissen – Never Alone (Emmelie de Forest, Rune Westberg & Maureen Anne McDonald)