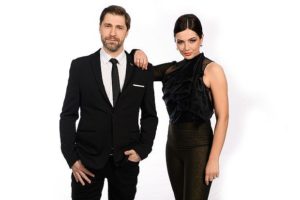 There hasn't been long to wait since six acts made the Serbian Beovizija 2019 final last night. Yes, tonight, the last six acts made it through, completing the line up for Sunday night's final.
Serbia will take part in the first half of the first semi final on May 14. Twelve acts will sing their hearts out on Sunday, hoping to win the honour of representing their home land in Tel Aviv.
The Show
Tonight's hosts were Nebojša Milovanović and Ana Babić. Nebojša is a 44 year old actor who starred in the films Bure Baruta and Lift. Ana ia a 32 year old Croatian singer, whose debut single, Preživjet ću" made number one in Serbai, ten years ago. She is now a Belgrade native. She wore a black gown and never ending necklace looking a little like Eva Peron before she dyed her hair blonde.
The show opened tonight to a flash back of Sanja Ilić & Balkanika winning last year, before the group came on to give the song Nova Deca a 2019 remix. A video was shown of all eleven past Serbian entries to get you in the swing. How many can you remember?
The interval act opened tonight with Jelena Tomašević and Lea Sirk singing Portugal's winning song from 2017 Amar Pelos Dois. This was followed by Lea giving a reprise of Slovenia's classic Hvala, Ne from last year. Jelena then did the 2008 Serbian entry Oro.
The washing hanging on a line could only mean, here comes Laka with Bosnia and Herzegovina's 2008 entry Pokušaj and sure enough here it came, with a different set of ladies doing the knitting. Bring Bosnia and Herzegovina back to the Eurovision Song Contest.
The last time FYROM made the final was 2012 and Kaliopi came next to remind us why Crno I Belo did just that. If the country has a new name in this years contest, then Kaliopi will forever be its last qualifier.
Then Sanja Ilić & Balkanika  gave us a rendition of old School Aska with Halo Halo, Yugoslavia;s 1982 entry, Oh how Eurovision has lost its mojo since these days.
Finally Emilija Kokić from Riva performed Yugoslavia's only winning song Rock Me from 1989, while our hosts danced along.
The Songs
Sanja Rio – Ljubimo se
Like last night an uptempo group opened the show and look how that turned out. A very colourful performance this was tonight, led by natural red head, presumably Sanja. This had a very electro dance beat and seemed to be a bit repetitive towards the end. However as it seems anything goes for this years Eurovision, who can dare to predict its chances.
Majdan – Budim te
An un-plugged electric guitar is always the best give a way that there's a backing track and here's Madjan blatantly exploiting the infraction. This is a slam dang bang the guitar and drum rock type song, which some of the ex-Yugoslav countries have been prone to send in the past. Struggling a bit for a tune, but if early eighties is your thing, this is the song for you.
Goga Stanić – Čudo
This is a bit more like it, with Goga in a chess board style dress, accompanied by four dancers, who are actually dancing and not slithering about on the stage posing for no reason. There is a constant pounding to this moderate paced dance like number though you'd be hard pressed to find any real rhythm to the song. However as a visual treat it ticks all the boxes.
Ana Popović – Lutaš
With a hairdo that looks like it needs a lot of looking after, Ana appeared on stage staring right into the camera to sing her simple ballad. With two backing vocalists behind her, halfway through the song they all get bored and totally change the tune. From there on it was anything goes with some powerful wailing with everyone all over the place.
Lord – Radnički sin
Two pirate like type dancers joined Lord on stage for another song that can't make up its mind how many tunes it should have. All of this was very upbeat with a couple of traditional instruments thrown in for good measure. A little rap and some dungarees means there's something for everyone in this song. Two complete strangers cam wandering in towards the end of the song, and they too burst into a dance routine. Stage performance perhaps more memorable than the song.
Nevena Božović – Kruna
Balkan ballad slow again for this passionate ballad from Nevena. All in black with foot wear that was more laces up the legs than any sings of a sturdy shoe. This had the standard verse with outburst vocals in the chorus, while flames shot out behind the singer. Probably strong enough to merit a second hearing at the final. At this point of the show it was time to go enjoy a bar of chocolate from Slatka Kuca.
Gipsykord – Boje
An accordion and piano opened this song, for what looked like a trio in the introductory video, but it actually turned out to be a full six piece collective of musicians. The lead singer wore an outfit to remember, all colours of laces from the ankles up, and little else. This song was a lot more lively than what had come before and was actually quite good, which will no doubt be its downfall.
Jana Šušteršić – Viktorija
Jana opened her song staring into a large mirror in a jesters like cape and dress, while a piano banged away in the distance. Losing the cape, Jana continued in a white lacy dress, constantly promising to burst out into a big chorus, yet taking her own sweet time to get there. When she finally did it was of course a case of vocal gymnastics, before Jana sat down on that  blasted piano and played her way out of the song.
Lana & Aldo – Pogledaj u nebo
The video wall here featured a lady presumably acting out the lyrics to this song in sign language. This was a group of old rockers who obviously had arrived at the studio and parked their motor bikes outside, for a quick exit if they don't get the results they're hoping for. Despite the appearance of the group though, perhaps best described as an aging Put from Croatia, this had some really good harmonies in the chorus. One to watch.
Dženan Lončarević – Nema suza
Best described as old school traditional this is the type of stuff Serbia excels at. Clearly the distressed lady on stage sitting knitting was upset, probably at the three dancers who were dancing round her stealing her wool. As Balkan as it can get, if we've to get drama at Eurovision this will be it.
Tina i Lola Amvon – Tvoje oči
Presumably mother and daughter this is another flash back to the Nostalija and Maxi and Chris Garten days, where it would have fit in perfectly. Daughter was dressed a bit more trendy than her mother, but mum could show her some strong vocals. Probably a little too sickly sweet to go much further, but the audience loved it, so that's a good sign.
Tamara Milanović – Reči nisu dovoljne
And so to the last song. In a very pink dress which want on forever, alas the Serbian heats were not to escape the slitherers and indeed four joined Tamara for no reason whatsoever. This is another ballad which Tamara wrung every note out of her body, but was a bit of a downer to end the show, rather than something more jolly. It stands as good a chance as all the others tonight.
The Results
The Serbian public were given twenty minutes to vote. Their preferences were combined with a Serbian jury. The following six acts qualified to the final.
Majdan – Budim te (position 2 in the final)
Jana Šušteršić – Viktorija (position 6 in the final)
Nevena Božović – Kruna (position 8 in the final)
Ana Popović –  Lutaš (position 9 in the final)
Dženan Lončarević – Nema suza (position 4  in the final)
Lord – Radnički sin (position 7 in the final)
Serbia In The Eurovision Song Contest
After a successful two debut years, Serbia failed to qualify to the final for the first time when Marko Kon & Milaan and the song Cipela didn't receive enough points in 2009.
Recovering in 2010, Milan Stanković and Ovo je Balkan placed 13th, with Nina and Caroban placing one place lower in 2011.
In 2013 after failing to qualify again, the country took a sabbatical and dropped out in 2014.
Since then only Bojana  Stamenov has made the Top 10 when Beauty Never Lies just managed to creep in there in 2015.
Before a new entrant is announced, enjoy once more, Serbia's shining glory.