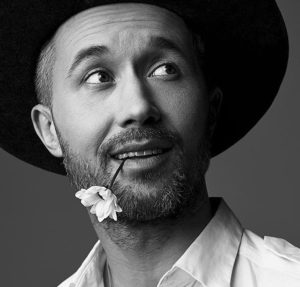 Vidbir semi-finalist and The Voice Ukraine judge Serhiy Babkin is opening himself up for criticism from another side than usual when he takes part in the Ukrainian national selection. His song is a tribute to women whether they are daughter, wife or mother.
Musician Serhiy Babkin will be joining the likes of Tayanna, Illaria and Pur:Pur in the Ukrainian national selection, Vidbir.
As well as being part of the Ukrainian music industry for nearly two decades. Babkin is also a judge on The Voice Ukraine, serving with 2006 Eurovision participant Tina Karol and 2016 winner Jamala. Interestingly, instead of working alongside Jamala, Serhiy will now be critiqued by Jamala as she will appear on the judging panel with Andriy Danylko and Eugene Filatov.
When asked if he was ready to face possible criticism from fellow The Voice judge Jamala, Babkin said "I am always open to critics. This is the work of judges – to listen to everyone, to discuss, to find in the statement the pros and cons. So it's normal, I'm ready for everything".
Serhiy's song in the Ukrainian national selection is titled Крізь твої очі (Through your eyes) and tells a story about the love of family, of parents and of his home country. Babkin explains that the song wasn't specifically written for Eurovision, and is one and a half year old.
I feel that this song is associated with the number three. For every man in life there are three main women, the mother, the wife and the daughter. My message was to them. Because each of them was once the daughter and will later be mother. And I, as a man, I thank each of them for their lives and for what they will bring into this world.
Who is Serhiy
Serhiy has been involved in the arts since a young child. He was encouraged by his mother to try out ballroom dancing, figure skating as well as amateur dramatics. After graduating in 1994, the 9th grade and children's music school, enters the theater department of the Kharkov Lyceum of Arts (graduated in 1996).
In 2000 Babkin created a duo called 5'nizza (Pyatnitsa – Friday) with fellow Khakiv boy Andriy Zaporozhets. The duo recorded a number of songs in their own style of hip-hop, reggae and funk. The band took a hiatus in 2007, returning in 2015. During the hiatus of the band Babkin took part in a new 'supergroup' with fellow Ukrainian musicians Svyatoslav Bakarchuk (Okean Elzy frontman) ,Dmytry Shurov and Petro Chern.
And then, he is one of the judges of The Voice Ukraine – alongside former Eurovision winner Jamala. It will be interesting to see how it will when the now two face in each other in each their role.