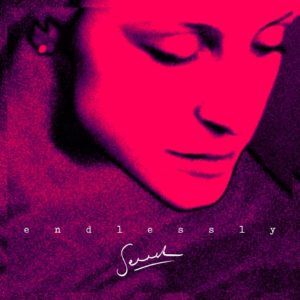 Sennek, who represented Belgium at 2018 Eurovision Song Contest, has recently released a new single titled "Endlessly". Today she also launched the lyric video for the song.
29 year old Belgian pop artist, Sennek, was predicted a great result last year in Lisbon with her Bond inspired entry A Matter Of Time. Unfortunately it didn't happen. Sennek failed to qualify for the grand final as she finished 12th in her semi-final.
Last week she dropped her first single since the 2018 Eurovision Song Contest. For Endlessly, Sennek worked with composer Maxime Tribeche, who also co-wrote A Matter Of Time. Together they created another atmospheric and well produced pop song with emotional strings and soaring vocals. Sennek wrote Endlessly about the break up she went through after Eurovision.
A song that describes the feeling of being happy and sad at the same time. Running away because you can't deal with your breakup. Escaping in partying, dancing, drinking and running through the streets without destination … This is not a cliché break up song. It is a song that wants to make you dance. Make you forget about life for 3:30 seconds and lose yourself into the music.
You can say that the vibe is more contemporary on Endlessly compared to Sennek's Eurovision entry. It is a sophisticated, well written track with some remarkable hooks.
Below you can watch the lyric video for Sennek's new song:
Sennek – Endlessly (Lyrics)
If I lose my mind, I lose it into the night
Recklessly, helplessly
Turn off all the light, help the darkness make it right
Recklessly, helplessly
Cause it's getting real now, let go of the real now
You always have a friend in me, endlessly
So turn off all the light, help the darkness make it right
Recklessly
Time after time after time I get higher and higher
Trying to escape the screaming louder and louder
If diamonds are forever and ever
I guess we were nothing but embers
And I, I just watch the fade away
The I, then I'll be on my way
If I lose my mind, I lose it into the night
Recklessly, helplessly
Turn off all the light, help the darkness make it right
Recklessly, helplessly
Cause it's getting real now, let go of the real now
You always have a friend in me, endlessly
So turn off all the light, help the darkness make it right
Recklessly
Day after day after day I fall deeper and deeper
As I stumble on my desire, ire
There's no such thing as forever and ever
To watch the flame in the embers
And I just watch them fade away
Then I, then I'll be on my way
If I lose my mind, I lose it into the night
Recklessly, helplessly
Turn off all the light, help the darkness make it right
Recklessly, helplessly
Cause it's getting real now, let go of the real now
You'll always have a friend in me, endlessly
So turn off all the light, help the darkness make it right, recklessly
Endlessly