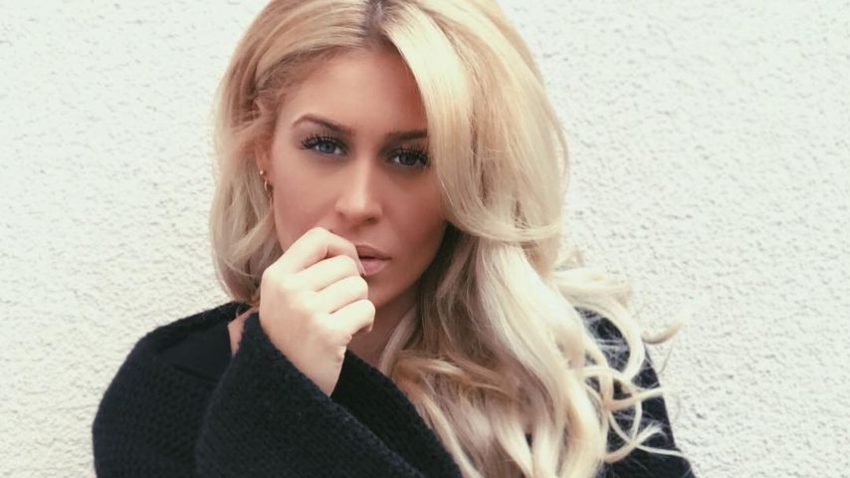 The second heat of Romania's Selecția Națională took place tonight with another six acts and songs joining the finalists from two weeks ago. Romania will hold their final on February 17 2019.
Twelve acts competed tonight and the jury selected five to go straight to the final, From the remaining seven acts, the Romanian public were given the chance to send one more to the final.
The Hosts and Interval Act
As per last week singer and presenter Aurelian Temişan along with television host Ilinca Avram hosted the competition. After the songs had been sung, Alessandro Canino and the band HitItaly treated the audience to a mini concert.
The Songs
2 Gents – Ielele
What do you think this will sound like. The appearance looks as if it's going to be an opera song, and at the beginning it look that way. However after a few lines it takes off into a calypso dance song and is really quite good. A fancy bit of staging and the 2 Gents could be in the running to head to Tel Aviv.
Georgy – Tears
This song goes at a pace that's hardly breathing. The piano plods and if this type of song is to do well It needs to burst out. However it seems to try but just doesn't get there. A female backing vocalist harmonizes and a haunting cello tries hard over the solemn pace. Sadly unlikely to be remembered by the end of the show.
Olivier Kaye – Right Now
This song starts a little on the reggae side but soon turns into a standard pop song. There is a lot of power in the chorus but it's not really memorable enough to be a winner.
Xonia – Discrete
This is a sad little song with a lilting guitar. Very well sung and definitely under the radar. Romania could do worse than send this little gem to Eurovision.
TMW – Make Me Your Man
Back to the sixties a little bit with a bit of mod rock. The lead singer has a bit of rough in his voice but the female backing vocalists balance it back out. Again hard to get a grip of a tune, but visually OK for a while.
Johnny Bădulescu – Give Up Now
A bit of a country feel for Johnny and that's just enough to make it stand out enough. Johnny sang Devoted last year, where he came fourth in his heat, but this time he could be heading for the final. This is a simple yet enjoyable sing sung with enough power to keep you interested until the end.
Echoes – High Heels On
This rock group came eleventh last year and are back with a similar type of song this year. They definitely know their stuff and there seems no reason why they won't make the final again. However the jury seems to have disagreed and have left them to compete in the televote.
Aldo Blaga – Your Journey
This is a nice simple song, another one of these empowerment songs, making you believe you can be anything you want to me. Aside from that lie though this is very well sung and easy to enjoy. If Aldo believes he can make the final then he will.
Letiția Moisescu and Sensibil Balkan – Daina
This is not so sensible Balkan as the acts name suggests and it takes a while to get going. After it starts though it's of to party land again with an array of instruments. When it gets you in a rhythm the songs tune changes again. Another probably heading to the final.
Laura Bretan – Dear Father
Going into this heat, this is a favourite of lots of people. Another father song like Seemone in France, who just missed out on winning. This is a standard ballad but Laura can reach quite a few high notes on the chorus. Hard to see how this will miss the final and then Bella and Laura can have a battle of the titans.
Ester Peony – On A Sunday
By now the show is getting a bit long and needs a shot in the arm. Unfortunately instead we are served this piece of indie folk. The beating drum accompanies Ester who admittedly has a powerful enough voice, but again there is nothing to make this stand out. Ester described it more as operatic.
Linda Teodosiu – Renegades
To end, yet another ballad, but the piano and melody actually make this one more palatable. The chorus  bursts in and soon we are wrapped up in another Eurovision anthem. This seems a sure shot for the final and could even go all the way.
The Results
The first five acts and songs to qualify thanks to the jury, which was made up of Adi Cristescu, Mihai Georgescu, Crina Mardare, Andy Platon and Mugurel Vrabete were:
Olivier Kaye – Right Now
Letiția Moisescu and Sensibil Balkan – Daina
Laura Bretan – Dear Father
Ester Peony – On a Sunday
Linda Teodosiu – Renegades
The last act was chosen by the public. They chose to send Aldo Blaga – Your Journey.
Romania At The Eurovision Song Contest
The Humans shook Romania to the core last year apparently when they became the first Romanian entry to not qualify to the final. Never was the title Goodbye more appropriate. Still, despite never winning, Romania has a good track record in Eurovision.
Their first top 10 came in 2002 with Monica Anghel and Marcel Pavel with Tell Me, who finished 9th. A year later, Nicola finished one place lower with Don't Break My Heart. Since then the country has finished Top 5 on three occasions, you can read in other EuroVisionary articles what they were.
The 6th and final time they finished in the Top 10 so far was with Yodel It by Ilinca and Alex Florea which finished 7th in 2017.