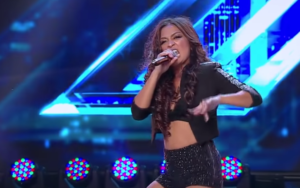 Selecția Națională 2019, the competition that Romania will use to choose their Eurovision entry this year has started. It took place in Arad tonight with six acts heading to the grand final in Bucharest on February 17 2019.

A jury chose the top 5 acts to qualify. After that, the most popular public favourite was also sent to the final. Twelve acts will compete in the final with another six being added next week.
The Show
A medley of past Romanian entries opened the show. At the interval there was an unfortunate and most off tune version of Euphoria by Iulianei Beregoi. Alas there followed several more songs, while she was accompanied by dancers from the Sky Dance company.
The Hosts
The hosts tonight were singer and presenter Aurelian Temişan along with television host Ilinca Avram.
The Songs
Trooper – Destin
A bit of anthemic rock music to kick of tonight's show. The song begs for audience participation with the cleverly placed chanting part. A good song to open a concert but maybe not quite winning material.
Berniceya – The Call: Dynasty of Love
The title of this song sounds promising but it's a dated Sarah Brightman type thing suitable for a musical. Berniceya was dressed in a flowing red dress and accompanied by four opera like backing singers. The staging was very stagnant so votes will depend on how much people like opera. Although Romania has sent similar songs in the past.
Ommieh and Anakrisez – Rock This Way
This male-female duo performed a mid tempo song with a hip hop beat. Sadly it has been done so many times before but it excels with Anakrisez's voice which sounds a lot like Christina Aguilera. Not bad but not an obvious winner either. The couple all in black seemed to receive help from two backing singers. All of them looked as if they were a bunch of school friends having a go at a bit of karaoke.
Teodora Dinu – Skyscraper
Teodora's Fly was quite acceptable last year and she is back to give it another try. This song starts quiet but bursts out in the chorus. Another performance where the whole cast was dressed in black. Teodora had four backing singers to cleverly raise the chorus. Seems likely to make the final.
Dya and Lucian Colareza – Without You (Sin ti)
Pan pipes open the song so it gets of to a good start. This is a nice European ballad which would have done well in the past. Maybe it's time to bring some old school back. Pleasant but it will probably be considered dated. Lucian was in a yellow jacket, while Dya wore a green skirt and dress which seemed to have run out of material. As an extra bonus an angel danced between the pair on stage – what's not to love.
Nicola – Weight of the World
Nicola represented Romania in 2003 with Don't Break My Heart, when she came 10th. This is a nineties dance track and you can hear the same sound as her last entry, in parts of this song. Not remarkable but with a bit of work this has potential. Nicola had four school girls in their gym room clothes dancing behind her, The stage and lights looked really modern, but the staging of the song seemed very old.
Steam – The Way It Goes
Gypsy style music from this duo. It harks back to the days of Madness and The Beat. A catchy enough tune which could be enough to get it to  the final at least.
Vaida – Underground
This is the type of song the United Kingdom like to have in their finals. Another hark back to the eighties with a bit of an electronic backing to bring it up to date. The most melodic tune of the night so far. Vaida wore a light blue flowing dress and was accompanied by three females in black dresses made of lace.
Claudiu Mirea – We Are the Ones
Returning after his 2017 showing with Magnet, this would appear to be an acoustic type number, but it actually turns into a slight bit of a dance number. Claudiu has two male backing musicians and a female backing singer. The stage is very green while he performs. The recorded version has a lot more power than this live version.
The Four – Song of My Heart
This four piece, two female, two males are singing a club type dance number. The men appear to be a lot older than the girls, but they just might not be aging as well. An accordion and bongo drum are thrown in to add to this party number. If this is to represent Romania there needs to be more power due to the type of song it is. However the group did well.
Bella Santiago – Army of Love
Taking good notice that Fuego placed second last year, here comes Bella with an almost carbon copy. This will get to the final and probably do well. Bella was dressed in the shortest dress that she could get away with and was accompanied by four male dancers all in black. That left her with one female backing singer to add some extra vocals.
The Results
The Romanian jury was made up of Adi Cristescu, Mihai Georgescu, Crina Mardare, Andy Platon and Mugurel Vrabete. They picked their favourites and sent the others to a televote, which was won by Vaida.
Romania In The Eurovision Song Contest
Romania's first entry at Eurovision was Dan Bittman with Dincolo Di Nori in 1994. Like Lithuania, due to non qualifying and disqualifications throughout the years, this will be Romania's 20th entry at Eurovision.
Although they usually do quite well, Romania has never won the contest, instead finding 3rd place is the best they have ended up. They did this twice with Luminița Anghel and Sistem  in 2005 with Let Me Try and Paula Seling and Ovi in 2010 with Playing With Fire.
Last year Goodbye by The Humans was the first time Romania missed the final since the introduction of the semi finals.
Here is tonight's opening number from Trooper.