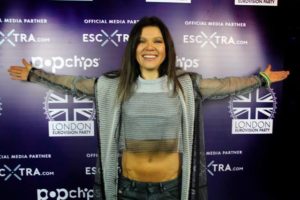 After 4 years of waiting, Ruslana announced the premiere of her latest single will take place at the 2nd semi final of this year's Eurovision Song Contest. Her Eurovision entry Wild Dances is not forgotten and will, together with other Eurovision hits, be part of the opening ceremony.
2004 Eurovision winner, Ruslana has started the Eurovision campaign trail. As well as attending and performing at numerous Eurovision events and pre-parties across Europe, she has also been promoting the upcoming contest in Kyiv, Ukraine.
During the press interviews that took place prior to her performance at the London Eurovision pre-party which took place yesterday, Ruslana announced some details about the show which was later confirmed via her official Facebook page. Her latest single will be premiered as part of the interval act for the second semi final which will take place on 11th May.
Ruslana has not revealed too much about her song and the title of the song is still yet to be confirmed to the press and public. However, she did say "The song has absorbed all of the emotions from all of the events that have taken place".
As with her winning Eurovision entry Wild Dances, Ruslana returned to the Carpathian Mountains in Western Ukraine for inspiration for the new song. She hopes to "bewitch people so that they forget where they are". We look forward to finally hearing it!
Eurovision Opening Ceremony
As well as discussions about her performance at the contest, Ruslana also discussed details of the opening ceremony. She announced that this year, Kyiv will have the longest red carpet used in Eurovision history – at a staggering 265 metres. As well as this, The National Orchestra of Folk Instruments will perform hits of past Eurovision contests. Of course, Wild Dances will be one of the songs performed by the orchestra. There will also be numerous other events taking place around the capital. Namely at St Sophia's, Kontrakova and Poshtova Squares.