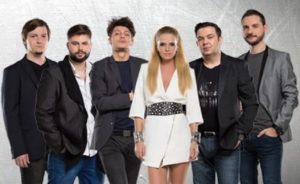 Tonight the fifth and final heat of Romania's Selecția Națională 2018 took place with the final three performers heading to next weeks final.
The final will take place on February 25 2018 in Romania's capital, Bucharest when 15 artists will be hoping to be picked to represent their country at the Eurovision Song Contest.
This week the show was held at Sala de Spectacole a Casei de Cultură in Sighișoara.
The interval act tonight was Direcția 5, featuring one of our dear judges, showing us what he had. As he can't be in two places at one time, the concert was recorded yesterday.
The Hosts
Our hosts for all six shows are Diana Dumitrescu and Cezar Ouatu.
Diana Dumitrescu is an actress and model, known mainly for appearing in soap opera roles. Cezar appeared in the best soap opera of all, the Eurovision Song Contest, for Romania in 2013.
The green room host was journalist Simona Boantă.
The Songs
Manuel Chivari – Somebody to Love
That can't be Justin Bieber opening the show, can it? At last a song that belongs in 2018. An upbeat modern rhythm and perfect for Eurovision. Written by Michael James Down, this becomes his best chance to make Eurovision this year. Now if we can just get past those pesky judges.
Maria Suciu – Sweet Nothing
More swaying rhythms from another non-descript song. A saxophonist gives the song a bit of class and Maria sings well enough. But you won't remember it in the morning. Maria wore a floral print dress.
Evermorph – Live Your Life
This is a bit more upbeat than some of the other songs. Evermorph hangs his guitar over his shoulder threatening that he's going to play along. Eventually, he does as two backing singers sing along. He has a particularly pleasing singing voice. The song though is in one ear and out the other.
Dora Găitanovici – Fără tine
A piano plays along throughout this slow song. Dora makes the mistake of having a male dancer swanning about on the stage behind her. This trick has never worked for anyone yet, but still they continue to haul it out. Some powerful emoting at the end is the songs saving grace.
Tomer Cohen – Baby You're the Only One
Tomer from Israel has this nineties dance number to sing. A flashing disco like background features two backing singers. Before long though a three-piece dance troupe fills up the stage. Colourful but too dated.
Sergiu Bolotă – Every Little Thing
Another slow song with an electric drum beat to give it a more modern feel.Sergui is a particularly good singer which helps the song a bit. There is a bit of a marching rhythm to the song. Two backing singers and two dancers are the attractions on display behind Sergiu.
Alexandru Ungureanu – Sail with Me
A piano introduces a woeful ballad where Alexandru wants to leave you. Unfortunately, he doesn't quite hit all the notes in the chorus. It could be described a bit as eighties alternative. A violin helped the song whose title line was very similar to Shakespears Sister's Stay.
Iliana – I Won't Lie
The guitar is the main instrument here, to begin with. However, after a verse, the song bursts into a catchy sing-along chorus. Three young looking girls dance behind Iliana, while two singers help with the chorus.
Teodora Dinu – Fly
Fast or slow guess which? Yet another song at a snail's pace. The attraction here is Teodora herself, quite the stunner. The only instrument seems a lonely synthesizer with a little piano. A little backing vocal comes in at the end, and a long-held note might actually do it for Teodora. A bit of a Shady Lady stage show with four men and women in a box behind her.
The Humans – Goodbye
There are six humans. Five male backing band and a blonde female singer, Cristina Caramarcu. The song is better than some on offer tonight. The song takes a verse and chorus before it really begins. There then follows shades of Heart. Up against some others tonight, this should sail into the final.
SAVE – All We Need
CAT Music so you know straight away it has to be a dance song. Sure enough, it is and SAVE has two young modern ballet dancers doing some dancing behind him. The judges are at least still awake for this one. Another potential for the final, or last place depending on the judge's mood. Ilanca thought there was some Avicii about it.
Denisa Trofin – Tears
This song is a bit ghostly and mysterious at the beginning. Sadly, the song never really improves after that. Denisa is certainly a looker, but that's the best that be said of this dreary number. The last song performed in the other four heats reached the final. Will Denisa keep that record up.
The Judges
Liliana Ștefan who wrote the 1998 Romanian entry Eu cred by the late Mălina Olinescu.
Viorel Gavril a famous composer and conductor.
Ilinca Băcilă the Yodel It Romanian singer from last year.
Nicu Patoi who accompanied Mălina Olinescu on the guitar at the Eurovision 1998.
Marian Ionescu member of the band Direcția 5.
The Results
| | | | | | | | |
| --- | --- | --- | --- | --- | --- | --- | --- |
| | Liliana | Viorel | Ilinca | Nicu | Marian | Total | Position |
| Manuel Chivari | 6 | 6 | 5 | 1 | 2 | 20 | 7 |
| Maria Suciu | | 2 | | | |  2 | 11 |
| Evermorph |  2 | | 1 | 5 | 1 | 9 | 10 |
| Dora Găitanovici | 8 | 8 | 8 | 10 | 8 | 42 |  3 |
| Tomer Cohen | | 1 | | | | 1 | 12 |
| Sergiu Bolotă | 7 | 5 | 4 | 7 | 5 | 28 | 4 |
| Alexandru Ungureanu | 3 | 4 | 2 | 2 | 6 | 17 |  8 |
|  Iliana | 4 | | 7 | 3 | 7 | 21 |  6 |
| Teodora Dinu | 12 | 10 | 10 | 8 | 10 | 50 |  2 |
| The Humans | 10 | 12 | 12 | 12 | 12 | 58 | 1 |
| SAVE | 1 | 3 | 3 | 4 | 3 | 14 | 9 |
| Denisa Trofin | 5 | 7 | 6 | 6 | 4 | 28 | 4 |
Romania At The Eurovision Song Contest
This will be the 19th year that Romania appears at the Eurovision Song Contest. In that time they have sung in six different languages, although to be fair, all six were used in one song, Liubi, Liubi, I Love You by Telemondo in 2007. That song finished in 13th place, the same as this year's host Cezar, finished with It's My Life in 2013.
Eight of Romania's entries finished higher than Telemondo and Cezar, while the other eight finished below. Best was Paula Seling and Ovi with Playing With Fire in 2010 and Luminiţa Anghel & Sistem with Let Me Try in 2005.
Watch tonight's winning song from The Humans below