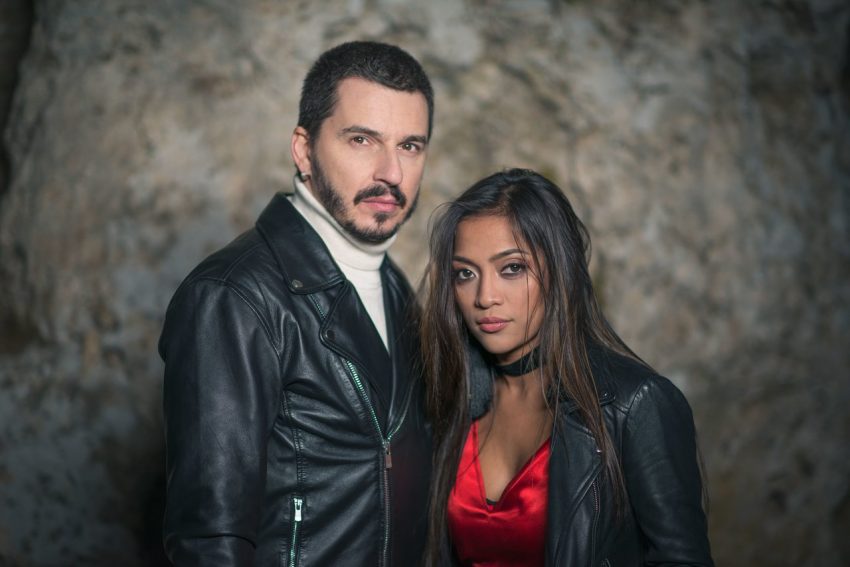 Tonight, Romania continued their search to find their representative for the Eurovision Song Contest 2018. This week's show includes past entrant MIHAI. He finished fourth in 2006 with Tornero. Will he return to Eurovision this year?
The final of the Selecția Națională 2018 for Romania will be held on February 25 in Sala Polivalentă in Bucharest. For now, heat two takes place in Teatrul Național in Timișoara. Three songs from this heat will advance to the final.
The Hosts
Our hosts for all six shows will be Diana Dumitrescu and Cezar Ouatu. Cezar, of course, represented Romania in 2013 with It's My Life, which placed 13th in Malmo, Sweden.
The green room host was Doriana Talpeș.
The Show
Televiziunea Română (TVR) is the Romanian television company responsible for all six shows. Tonight's show was opened by Ricardo Caria, who sang Portugal's winning song from last Amar Pelos Dois.
Before each act there are postcards from Romania. It looks like an amazing place.
After all the songs had been performed there was a long showing of Romanian adverts. There then followed a long interval set of performances from Serbian singer Neda Ukraden, Romanian jazz artist, Lavinia Răducanu and jazz band Cargo.
After the results, Ricardo sang again.
The Songs
Pragu' de Sus – Te voi chema
This is an upbeat pop song, of the type, usually used to open a Eurovision selection show. Sang in Romanian it has the feel of a song from the seventies. The four-piece band performed in front of a back wall filled with a lot of clocks. Nothing out of the ordinary but pleasant enough.
Miruna Diaconescu – Run for You
This an understated dance type song, similar to Natasha Bedingfield. The saxophone adds an extra layer to the song. Miruna performed while two shady dark characters danced around her. The song was a little too screechy towards the end.
MIHAI –  Heaven
Another epic from MIHAI co-written by serial Eurovision songwriter Michael James Down. This is a bit slower than previous entries, with a bit of an electro instrumentation after the choruses. MIHIA was all in white tonight, sporting a man bun. Towards the end of the end of the song, MIHAI sprouted two white angels wings.
Othello – Noi suntem pădure
A very old school type song opening with a violin. The six-piece ensemble consists of four men and two ladies. They were all dressed in traditional costumes and worked well together. The instruments made this song stand out from the others. Shades of Mocedades and Eres Tu.
Alessandro Dănescu – Breaking Up
Starting by singing at a saloon table, things don't look good for Alessandro and his girl. Sure enough, they are over, so Alessandro consoles himself with his two male dancers. There are a lot of high notes in this song. Sadly Alessandro missed quite a few, Perhaps he was meaning to, as his girl felt sorry for him, and returned to him. All's well that ends well.
Jessie Baneș – Lightning Strikes
Jessie looks extremely glamorous in her white gown. The song starts of as a bit of a non-event, not helped by the electric drum pounding away in the background. However at the chorus things come to life, and Jessie is joined by two enthusiastic dancers. Shame the song wasn't just the choruses.
Romeo Zaharia – Maybe This Time
Three dancers in white costumes and two backing singers helped Romeo through his song. It looked like one of the singers was dressed in a swimming costume. This is another song that sort of died in the seventies, but here's Romeo trying to revive it. Nice enough but not a standout.
Rafael & Friends – We Are One
This is even too old fashioned to be old-fashioned. An anthem of sorts about all joining together, but there was little in the performance to encourage such behaviour. A big step backward should this go to Eurovision.
Serena – Safari
Jungle rhythms for Serena and her Safari. She was surrounded by four female dancers. She was accompanied by an un-named chanter mid-song. The tempo is a bit disappointing as there is a great dance mix available for this song. The performance here was actually a little flat.
Endless feat. Maria Grosu – Thinking About You
Maria is the highlight here. Endless starts of singing a little below key to a pulsing dance pace. When Maria comes in, the song comes to life. One for dancing around to, as Maria brings three backing dancers. Before long though, Endless is soon dancing around too.
Meriem –  End the Battle
A bit of a Turkish delight flavour here from Meriem. She was dressed in a long white dress accompanied by two female singers. Two male dancers pranced around to the sound of the guitar. Probably the most upbeat number of the evening.
Jukebox feat. Bella Santiago – Auzi cum bate
This is the most dramatic of all the entries tonight. The song had more impact with a pounding piano. Bella added to the drama, and the song was sung in Romanian. Bella did some aggressive stomping while standing at the same point of the stage in her long white dress.
The Judges
Liliana Ștefan who wrote the 1998 Romanian entry Eu cred by the late Mălina Olinescu.
Viorel Gavril a famous composer and conductor.
Ilinca Băcilă the Yodel It Romanian singer from last year.
Nicu Patoi who accompanied Mălina Olinescu on the guitar at the Eurovision 1998.
Marian Ionescu member of the band Direcția 5.
The Results
| | | | | | | | |
| --- | --- | --- | --- | --- | --- | --- | --- |
| | ilinca | Marian | Liliana | Nicu | Viorel | Total | Position |
| Pragu' de Sus | 2 | 5 | 2 | 4 | 6 | 19 |  7 |
| Miruna Diaconescu |  6 | 6 | 4 | 1 | 5 |  22 | 5 |
| MIHAI |  10 | 4 | 5 | 10 | 10 |  39 |  3 |
| Othello | | 7 | 1 | 5 | 4 |  17 | 8 |
| Alessandro Dănescu | 4 | 3 | 7 | | 1 |  15 | 11 |
| Jessie Baneș | 8 | | 8 | 7 | 3 | 26 | 4 |
| Romeo Zaharia | 1 | 1 | | 6 | 8 | 16 | 10 |
| Rafael & Friends |  3 | 12 | 10 | 8 | 7 |  40 |  2 |
| Serena |  7 | 2 | 3 | 3 | 2 | 17 | 9 |
| Endless feat. Maria Grosu |  5 | 8 | 6 | 2 | | 21 | 6 |
| Meriem | | | | | |  0 | 12 |
| Jukebox feat. Bella Santiago | 12 | 10 | 12 | 12 | 12 | 58 |  1 |
Romania In The Eurovision Song Contest
As was mentioned last week, this year will be the 20th appearance for Romania at a Eurovision Song Contest final.
Since the introduction of the semi-finals, Romania has qualified to the final every year. Mihai Trăistariu, who represented the country in 2006 finished fourth. This continued an excellent result from the previous year when Romania had finished third.
However, despite reaching every final, after Paula Seling and Ovi in 2010, Romania had to wait until 2017 to get a top ten placing again. This they did with Yodel It by this year's judge Ilinca, feat. Alex Florea.
Enjoy tonight's winning song below.