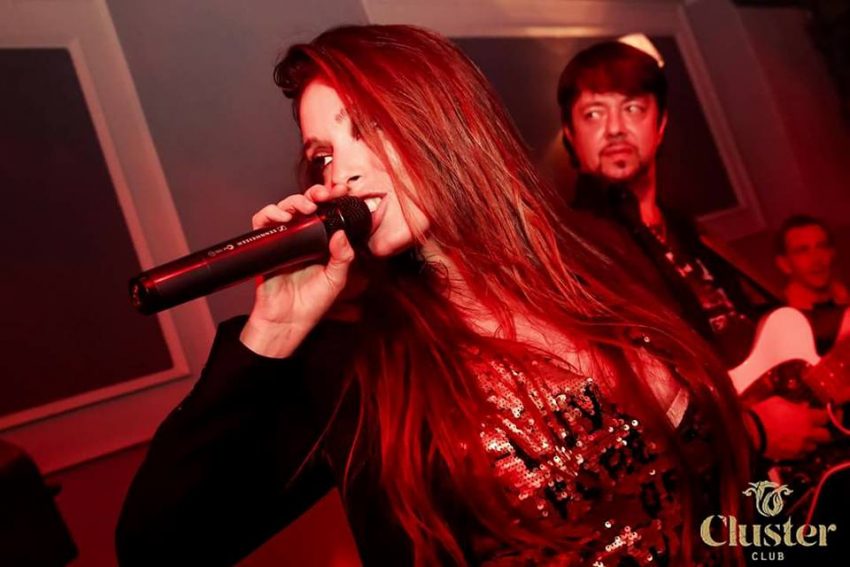 Tonight, Romania continued their search to find their representative for the Eurovision Song Contest 2018. This week three more contestants will join the previous weeks six choices in the final.
The final of the Selecția Națională 2018 for Romania will be held on February 25 in Sala Polivalentă in Bucharest. For now, heat three of five takes place in Teatrul Național in Craiova.
The Hosts
Our hosts for all six shows will be Diana Dumitrescu and Cezar Ouatu. Cezar, so far has resisted showing of the vocal prowess like when he represented Romania in 2013 with It's My Life, which placed 13th in Malmo, Sweden.
The green room host was Alina Șerban.
The Show
Televiziunea Română (TVR) is the Romanian television company responsible for all six shows. The opening and interval entertainment came from FreeStay, Dan Helciug and Mihaela Alexa, this week. We were treated to past Romanian Eurovision entries plus a rousing rendition of Barcelona.
The Songs
Eliza Chifu –  So Good Without You
No nonsense here from Eliza who is enjoying life without you. This is the type of thing Chaka Khan or Gloria Gaynor would be good at singing. As it turns out Eliza maybe just needs some coaching as there definitely is some potential here. Her four backing dancers seemed to be enjoying themselves.
Carolina Gorun – Reach Out for the Stars
A slow haunting ballad, which starts very quiet, but bursts into flames during the chorus. Sung well enough but this doesn't seem to be what Romania is looking for this year. Pleasant with puffs of smoke shooting out at the right moments. The two female backing vocalists helped it along.
Mareș Pană – Daydreamer
The song plods along at a hand clapping pace. However the vocals never really take off. The two backing singers clap along too, at the right moments. When Mares has had enough of singing, a dance track comes in to help the song along.
Ayona – The Story Goes On
Written by Ovidiu Anton, nice to see he has no hard feelings.This is a full-blown performance complete with a five-piece backing band. Ayona makes good use of the stage, showing off her experience. The song has a very memorable chorus. Good be a good sign.
Aurel Dincă – Fire in the Sky
This look as if they will be a heavy metal number. As it turns out its a little bit of American eighties Bon Jovi type, but with dark hair. This is the type of song the judges are loving in Romania at the moment, so don't be surprised if it gets into the final. A guitar, piano, drums and a backing vocalist added to the mix.
VYROS  – La la la
Surely that would be the irony of Eurovision if this song was to win and La La La becomes the first title to win twice. It is probably unlikely to happen. This song has a Mediterranean feel to it, without actually working up apace. A bit of unexpected rapping happens towards the end. A false ending does it no favours.
Zavera – Come Back to Me
A flute and a violin introduce this bit of a that's more like it song. The lead singer, looking like someone you don't want to mess with, belts out this song to wake everyone up. The song has a bit of a dance feel about it, but it is when the instruments come in where the song shines.
Elena Hasna – Revival
More slow pace less warbling, written by a group of Perssons, so that'll be a Swedish production. The singing was decent enough, and a mournful clarinet added some class. Two dancers added to the drama, whilst two backing singers helped the chorus soar.
Diana Brătan – Paint It Rainbow
Sitting at her piano, this is a very slow song. The pace never speeds up but stays winsome and flighty. Hard to see how any Yodel It's could appreciate something like this. Countries have lost Eurovision in the past with songs like this.
Tavi Clonda – King
This week is the week of the slow American style rock songs. Tavi is backed by three musicians. Certainly, Tavi has potential as a singer, but the song seems to last forever. However, the chorus has a certain power that our current Romanian judges seem to love.
Erminio Sinni & Tiziana Camelin – All the Love Away
This song starts off pretty good with Tiziana singing, but then gravelled voiced grandpa comes in, and then it becomes a sort of standard duo ballad. Erminio plays the piano, while Tiziana tries to out-sing him. Still, Italy placed 9th in 1989 with something similar.
Xandra – Try
Starting a bit like Triana Parks Line, then Vânia Fernandes Senhora do mar, before settling for Andorra's Jenny and Sense Tu. The singing was probably the most powerful of the night. Two backing male vocalists did some finger clicks and a female vocalist helped the song reach its heights.
The Judges
Liliana Ștefan who wrote the 1998 Romanian entry Eu cred by the late Mălina Olinescu.
Viorel Gavril a famous composer and conductor.
Ilinca Băcilă the Yodel It Romanian singer from last year.
Nicu Patoi who accompanied Mălina Olinescu on the guitar at the Eurovision 1998.
Marian Ionescu member of the band Direcția 5.
The Results
| | | | | | | | |
| --- | --- | --- | --- | --- | --- | --- | --- |
| | Viorel | Liliana | Ilinca | Marian | Nicu |  Total | Position |
| Eliza Chifu | | 6 |  3 |  4 | | 13 |  9 |
| Carolina Gorun | 1 | 5 | 6 | | 5 |  17 |  8 |
| Mareș Pană | 3 | 3 | | 1 | | 7 | 11 |
| Ayona | | 2 | 1 | 3 | 2 |  8 | 10 |
| Aurel Dincă | 4 | | 2 | 7 | 6 |  19 |  7 |
| VYROS | 8 | 10 | 8 | 8 | 3 |  37 |  3 |
| Zavera | 7 | 4 | 5 | 5 | 4 |  25 |  6 |
| Elena Hasna | 2 | 7 | 7 | 2 | 7 |  25 | 5 |
| Diana Brătan |  5 | | | | 1 |  6 | 12 |
| Tavi Clonda | 6 | 1 |  4 | 6 | 12 | 29 |  4 |
|  Erminio Sinni & Tiziana Camelin | 10 | 12 | 10 | 12 | 8 | 52 | 1 |
| Xandra | 12 | 8 | 12 | 10 | 10 |  52 |  2 |
The top three continue to the final.
Romania In The Eurovision Song Contest
Romania first attempted to enter Eurovision in 1993 with Dida Drăgan and Nu pleca. However, it was eliminated in a hurriedly prepared preselection. Therefore the country debuted in 1994 at the Eurovision Song Contest in Dublin, Ireland with Dan Bittman and Dincolo de nori, finishing 21st.
It wasn't until 1998 that Romania appeared at the actual contest again, with Mălina Olinescu and Eu Cred which finished 22nd.
In 2002 Monica Anghel & Marcel Pavel with Tell Me gave Romania their first top 10 placing, when they finished 9th.
Below is the video of tonights winning song