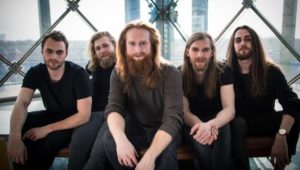 Vikings don't need electric instruments to make aware of themselves. That can be heard on the new acoustic version of this year's Danish Eurovision entry "Higher Ground".
Rasmussen will represent Denmark in Lisbon – first in the semi-final on the 10th of May and then hopefully in the final Saturday the 12th. Compared to the Danish final, a whole new group of "vikings" to accompany him on stage has been chosen.
The four vikings are Daniel Firth, Gustav Emil Bresler, Jesper Paasch and Mads Engelhardt – and they can be heard on this newly released acoustic version.