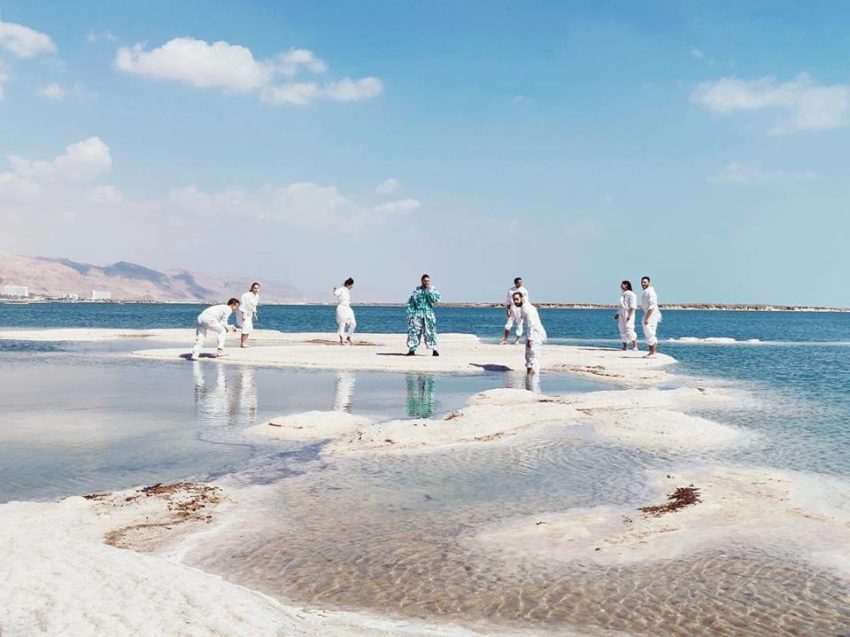 Semi Final 1 is now underway and with it brings the excitement of postcards. The 40 second videos before each performance that showcases a countries beauty, cultural significance and modernity while introducing us to each countries act.
Postcards have been a staple at the Eurovision Song Contest since 1970, when we seen Julio Iglesias play football at Real Madrid stadium and Dana cycle through the streets of Dublin. Over the years we have had some colourful and interesting postcards, from interpretive artistic paintings in 1975, to creating flags in 1998 and meeting citizens of each participating country living and working in Germany (2011).
In April we received a teaser trailer of what to expect from the postcards this year. Once again we get to explore the beauty of this ancient country from its built heritage to its natural wonders all while we get to experience the talent of some Israeli dancers. In the teaser we get to hear Israel's first ever Eurovision winner, Ab-ba-ni-bi by Izhar Cohen and Alpha Beta. Izhar of course will present the jury votes for Israel this year, on the 40th anniversary of Israel's first hosting of the contest.
For the postcards this year, each participant travelled to the country over the last 4 months and below is an overview of what you will see during their adventure there.
Cyprus: Tamta – Replay
Tamta travels to Eilat for her postcard. In the video we see her climb to the top of a building before walking down a jetty and pushing the triangle which acts like a play button for all artists, she then starts an energetic dance with four backing dancers all dressed in white.  She is in a white dress with a multicoloured jacket.
Montenegro: D Mol – Heaven
D Mol travel to Mikhmoret beach where some surfers are enjoying a sunny day in the sea, once they hit the triangle they do less dancing and more posing as the dancers clad in blue pick up where they clearly fall short. Still shows the beautiful landscape of Israel's coast.
Finland: Darude feat. Sebastian Rejman – Look Away
Darude and Sebastian are seen on top of a helipad in the Ramat Gan (Financial District) of Tel Aviv. Joined by rhythmic gymnasts performing a dance around the two guys as they sway from side to side and fool around with silly dad dancing.
Poland: Tulia – Fire of Love (Pali się)
Tulia are seen in Jerusalem (Mishkenot Sha'ananim) walking across a bridge where they are then confronted by their play button. They are surprised by four male dancers in traditional garb while the girls are in what can only be described as glittery, bubble wrap dresses.  There is great interaction between the two groups.
Slovenia: Zola Kralj & Gaspar Šantl – Sebi
Dressed in all white Zola and Gaspar take a walk in the beautiful Ruhama Badlands, through lush green meadows. Once their triangle is activated they are joined by multiple couples as they dance what can only be described as a traditional dance that could be seen in the Alps. They are then transported by a vehicle through the fields as they bask in the sunlight.
Czech Republic: Lake Malawi – Friend of a Friend
Lake Malawi travel to Caesarea, there they walk into a structure similar to a Greek theatre. They meet three women in green and white pin stripe suits and have a dance off. It looks like a lot of fun and the guys obviously seem to be enjoying themselves.
Hungary: Joci Papai – Az Én Apám
Joci is in what I would describe as the most beautiful cave I have ever seen at Beit Guvrin National Park. Surrounded by dancers in orange flowing outfits, everything is in slow motion as the dancers do some amazing acrobatics while sunlight floods in from above them like a spotlight. It is a stunning piece of art.
Belarus: Zena – Like It
Zena is walking through Rockefeller Archaeological Museum in Jerusalem when she comes across her triangle in a veranda. Joined by four beautiful backing dancers, she breaks into some modern dance moves which she is obviously very comfortable with performing.
Serbia: Nevena Božović – Kruna
Nevena is in Ein Zivan walking through wind turbines. When she pushes the triangle she is joined by two female dancers. They goof around in the cherry blossom trees dancing to Charleston style music with some classic moves.
Belgium: Eliot – Wake Up
Eliot is enjoying a relaxing day by the pool in Mitzpe Ramon, when his triangle brings him three girls in pink chiffon dresses. Eliot leaves it up to the girls to twirl and dance around him as he just poses. He does interact a little at the end but it looks as if he wasn't fully comfortable with doing too much in the way of dancing
Georgia:  Oto Nemsadze – Keep On Going
Oto travels to the coastal city of Acre, in the North of Israel. Here he is walking through a harbour full of yachts, when he stumbles across his triangle. Once pressed he is joined by four male dancers as they perform a quite traditional and aggressive dance. It is visually stunning once we are transported on to the ancient cobbled streets of the city.
Australia: Kate Miller-Heidke- Zero Gravity
In Jaffa Kate is walking through an old building, she is then joined by her dancers, four men as she dances down steps and across rooftops. She is seen bashing drumsticks and dancing on a wharf, looking like she is having the time of her life. It is crazy to think this is what caused her a serious foot injury.
Iceland: Hatari – Hatrid Mun Sigra
Matthias and Klemens are found walking through ruins of ancient buildings in Beit Sha'an National Park, they both push the triangle together, and are joined by numerous men all in similar attire to the guys, if a little toned down. They move through different ruins before we see the triangle transport us back into the arena.
Estonia: Victor Crone – Storm
Tel Aviv Beach looks like fun with many paddle boarding and wind surfing. Victor is lying in the middle of a whole group of dancers as they form the shape of the sun. They seem to have a great time jumping around on the beach with their surf boards, like a 1960's beach party.
Portugal: Conan Osiris – Telemóveis
Conan Osiris is on top of some rocks in the middle of The Dead Sea. Dressed in a avant-garde green and white jump suit, Conan is joined by dancers as they perform some contemporary moves on a very small platform. At least they wont sink if they fall in.
Greece: Katerine Duska – Better Love
Katerine is touring the Van Leer Institute in Jerusalem when she pushes her triangle and four female dancers in red start to jive. Greek traditional music is then introduced and they and Katerine do a kind of traditional dance with books on their heads. It is so fun and cute and Katerine looks like she is having the best time.
San Marino: Serhat – Say Na Na Na
The last postcard tonight is Serhat walking through a Solar Thermal Power Station, in Ashalim. This is the campest thing I have seen in a long time. He looks like a sugar daddy dancing with four young men, in hot pink, gyrating around him. It is funny, camp and just fabulous for Eurovision.
In my view
The postcards are of such a high standard this year, I personally have not been this excited about them since 2014 and it is great to have a brand new concept. Dance is always something that Israel has taken much pride in, and they have showed this in their Eurovision performances over the years. This has obviously influenced their postcards for 2019.

The opinion expressed in "In my view" are those of the author and are not necessarily the one of EuroVisionary.com.