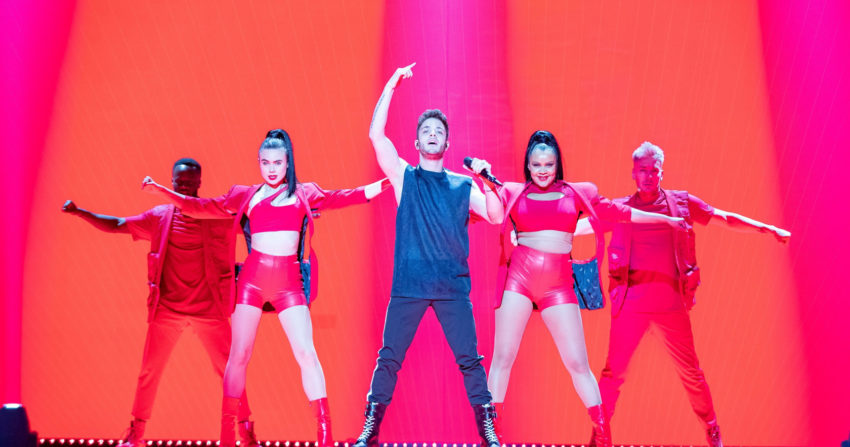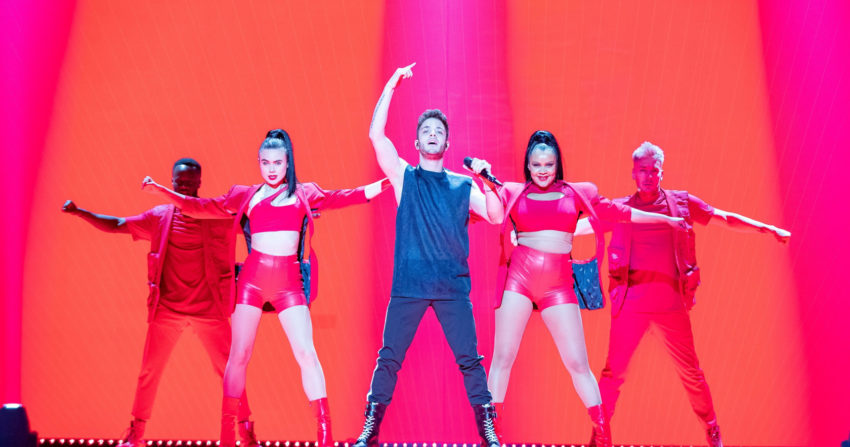 18 more countries took to the stage tonight in a bid to impress the professional juries and pick up as many votes as possible. Before they got on stage we got to see what adventures they had in Israel and this is what you can expect to see tomorrow.
Tonight the Jury Final for the second Semi Final took place, as with Semi Final 1, we got to see what 18 more participants got up to on their Israeli dance adventure. The concept this year is 'Dancing Israel' and the broadcaster and production company continue to impress with fantastic locations, dances and one or two very noticeable songs along the way.
Overview
Armenia- Srbuk- Walking Out
Srbuk is walking through ruins in the Masada National Park, when her triangle appears in front of her and presses play.  She is joined by four men in long black robes and they have obviously stolen Tamta's, dancers hats. It is a little mysterious and serious, yet very enjoyable.
Ireland- Sarah McTernan- 22
Sarah is at the Eylat Palm Plantation on horse back before hitting the play button and being joined by four female backing dancers in long teal chiffon dresses with matching veils.  They wave their hands with such abandon it doesn't look like dancing and more like a hen party.
Moldova- Anna Odobescu- Stay
Zichron Yaakov's Wineries is the destination for Anna, once she pushes the play button she is joined by a male dancer as they run through vineyards and wine cellars clinking wine glasses and jumping about like excited children.  This is such a fun postcard.
Switzerland- Luca Hänni- She Got Me
Luca is found in the Tel Aviv, Israel Philharmonic Orchestra where he is joined by five blue suit clad females dancing to a 50's style, guitar instrumental.  It really does feel like a scene from Blue Hawaii with Luca doing his best Elvis impression.
Latvia- Carousel- That Night
Suzanne Dellal Centre for Dance and Theatre is the scene for Carousel, once their triangle appears the band are joined by a whole school of dancers in an auditorium and a dance studio.  No real dancing is happening on the part of the band, but why do they need when they have so many doing it for them.
Romania- Ester Peony- On A Sunday
Ester travels to Mount Hermon where she is joined by a male dancer dressed in white, in direct contrast to her black suit.  They dance on top of the mountain to what could be described as a music box instrumental piece of music.
Denmark- Leonora- Love is Forever
Leonora takes a day trip to Jerusalem, there she finds the Israeli ballet performing so she decides to don a tiara and join them in some classic ballet moves.  She of course should feel a little more natural than other participants, due to her performance background in figure skating.
Sweden- John Lundvik- Too Late For Love
John Lundvik is roller skating around Tel Aviv Port when he stumbles upon his triangle, he is then joined by four female roller skates as they do some great acrobatics and enjoy a carousel ride.
Austria- Pænda- Limits
Tel Aviv Bauhaus is the scene for Austria's postcard and Paenda is joined by a male dancer to perform a swing jazz number.  She has obviously had some dance experience before, she looks like an expert dancer in the postcard.
Croatia- Roko- The Dream
Roko takes a trip to the Israel Museum in Jerusalem.  Joined by four dancers in yellow, Roko and the dancers are seen in several parts of the museum posing and goofing around.
Malta- Michela- Chameleon
Michaela is found at Timna Park joined by found dancers in black they perform a contemporary dance in the rock formations of the park.
Lithuania- Jurij Veklenko- Run with the Lions
Jurij is found at Habonim Beach, he then goes to an air strip which is when the play button is pressed.  Joined by four female dancers, they dance to a Latin beat along the small air strip before Jurij takes the his car for a drive and ends up dancing on top of his bonnet.
Russia- Sergey Lazarev- Scream
Sergey goes to the Historic Tower of David in Jerusalem, and there is little dancing in this postcard as Sergey joins a team of Parkour runners around the walls of the ancient monument. Although some don't think he really done anything dangerous in the postcard, and it does seem a bit contrived.
Albania- Jonida Maliqi- Ktheju Tokës
Banias Nature Reserve is the scene of Jonida's postcard. Dressed in a 50's style dress, she sways with four dancers on the edge of a waterfall and admires the lush greenery around her.
Norway- KEiiNO- Spirit in the Sky
The band travel to the Judean Desert, where they are joined by a host of dancers. They perform a tradition type of dance, something similar to a Hora. This reminds me of Avi Toledano's 1982 performance in Harrogate.
The Netherlands- Duncan Laurence- Arcade
Duncan Laurence is seen on Mount Arbel, where he is shortly after joined by a group of child dancers. We quickly realise they are dancing to an arrangement of the Los Del Rio's world-wide smash Macarena.
North Macedonia- Tamara Todevska- Proud
Tamara is walking through the Carmel Forest, when she presses her triangle four dancers join her to skip and dance through the foliage before ending up in a river to splash about and release the triangle back and bring us into the arena.
Azerbaijan- Chingiz- Truth
Gan HaShlosha (Sahne) is where we see Chingiz chilling by a pond, once we are introduced to his dancers, they must have taken inspiration for Tamara as they end up splashing about in the water and having a hell of a good time.