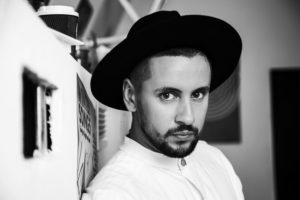 Monatik is opening act for the first semi-final of the 2017 Eurovision Song Contest. Today, at the first dress rehearsal, we got to see his act for the first time.

Before the opening act there is a video montage of many Ukrainian women in traditional costume.
Following that, the opening act is Monatik, a famous Ukrainian singer songwriter and dancer.  He was a coach on the third series of the Voice, Ukraine.The opening song is called Spinning. Monatik is joined by eight dancers, as he sings and raps his latest dance style number.
He is dressed in a long blue and white traditional coat, with a dark blue beeny.
For those of you who do not know of him, below is a sample video of his work, where lots of couples can be seen dancing in a variety of locations.