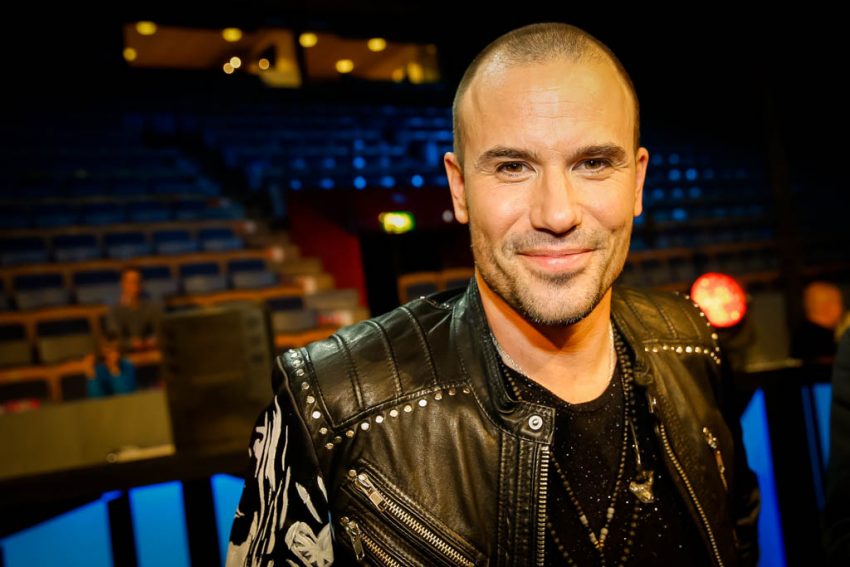 Eurovision world reach fever pitch during the next four days, when no less than eight countries pick who will represent them at this year's Eurovision Song Contest, to be held in Stockholm, Sweden. If that wasn't enough, Europe's longest running dramas continue in Sweden and Lithuania, making it ten shows to keep you bleary-eyed.
Pull up a chair, lock the door, disconnect the phone, because you're going to have a busy long weekend, starting on Thursday night.
Thursday 25 February
Germany
was previously scrapped, and tonight the new Unser Lied für Stockholm takes place in Köln Germany. Barbara Schöneberger, last year's wonderful hostess, will be knocking back a stiff drink hoping this year's winner will accept the honour and take their song to Sweden. Tune in to ARD at 20:15, when tele-voting  will send three songs to qualify for the second round. These top three will perform a second time, and while the German public are SMS'ing, BossHoss and the Common Linnets will treat you to their version of Dolly Parton's Jolene.
Alex Diehl – Nur ein Lied
Avantasia – Mystery of a Blood Red Rose
Ella Endlich – Adrenalin
Gregorian – Masters of Chant
Jamie-Lee Kriewitz – Ghost
Joco – Full Moon
Keøma – Protected
Laura Pinski – Under the Sun We Are One
Luxuslärm – Solange Liebe in mir wohnt
Woods of Birnam – Lift Me Up (From the Underground)
Below, enjoy our highlight video from the last five years of German entrants. Maybe there is a song or two you forgot about?
Friday 26 February
United Kingdom
On Friday the BBC will tell the British public which song will represent The United Kingdom, no wait, that's wrong, at 20:30 CET, Eurovision: You Decide will be shown on BBC4 and the public will this time decide which of six competitors will wave the Union Jack in May. Katrina will perform, and then will make up the judging panel with Carrie Grant and Jay Revell. No expense has been spared as last year's Eurovision winner, Måns Zelmerlöw, will also be performing.
The shortlist of songs can be found on the BBC's Eurovision site.
Joe & Jake – You're Not Alone
Bianca – Shine a Little Light
Dulcima – When You Go
Matthew James – A Better Man
Darline – Until Tomorrow
Karl William Lund – Miracle
Below enjoy highlight's from the United Kingdom's most recent entries and pray for the best this year.
Saturday 27 February
Get a lot of sleep Friday night, have an early dinner and then settle down for five grand finals, which are going to take some maneuvering to watch them all.
Finland
First of it's Finland and their Uuden Musiikin Kilpailu 2016. Nine acts will be introduced by Roope Salminen and Krista Siegfrids from YLE's studio's in Helsinki. The winner will be chosen 50% jury and 50% public. There – nice and simple. Finland will be hoping to achieve their first win in a decade when Lordi stormed off with the prize in 2006 with Hard Rock Hallelujah. Tune in at 20:00 CET to rate their chances this year.
Saara Aalto – No Fear
Stella Christine – Ain't Got Time for Boys
Eini – Draamaa
Cristal Snow – Love Is Blind
Annica Milán & Kimmo Blom – Good Enough
Mikael Saari – On It Goes
Tuuli Okkonen – Don't Wake Me Up
Barbe-Q-Barbies – Let Me Out
Sandhja – Sing it Away
Enjoy Finland's recent highlights which might contain footage you haven't seen before.
Hungary
A Dal 2016 reaches its conclusion after three qualifying rounds and two semi finals. Eight acts are ready to face the Hungarian public and jury. The jury, Pierrot, Zséda, Károly and Frenreisz  will select their favourite four tunes first. The top four will sing again and the public will choose the winning song. Tune in starting  at 19:40 to watch all the action.
Petruska – Trouble in My Mind
Gergő Oláh – Győz a jó
Kállay Saunders Band – Who We Are
Mushu – Uncle Tom
André Vásáry – Why
Freddie – Pioneer
Parno Graszt – Már nem szédülök
Olivér Berkes & Andi Tóth – Seven Seas
Hungary have yet to win the contest, although they have sent a few fan faves. which under performed on the night. Remind yourself of some of these guilty pleasures below.
Moldova
Moldova is the third country choosing their song tonight and if you're watching this show prepare for a long night. The TRM Studio 2 in Chișinău will host sixteen entries from 18:40 CET, chosen from two qualifying heats which were held last Tuesday and Thursday**. Votes from an expert jury will be split with the Moldovan public, to choose this year's winner.
Pasha Parfeny will perform as the musical interval act, as well as the dance troupe Space.
Valentin Uzun – Mine
Maxim Zavidia – La La Love
Doinița Gherman – Irresistible
Lidia Isac – Falling Stars
Big Flash Sound – Când vrei
Che-MD – Vodă e cu noi
Andrei Ionița & Onoffrei – Lie
Cristina Pintilie – Picture of Love
Nadia Moșneagu – Memories
Rodica & Ivan Aculov – Stop Lying
Emilia Russu – I Am Not the Same
Viola – In the Name of Love
DoReDoS – FunnyFolk
Max Fall feat. Dan Vozniuc & Malloy – Game Lover
Valeria Pașa – Save Love
Felicia Dunaf – You and Me
Moldova has missed the final, for the last two years. Let's recap these entries along with prior year's highlights and wish Moldova the best for 2016.
Norway
One country keeping a little quiet this year is Norway. However NRK will hold their Melodi Grand Prix 2016 at 20:55 CET tonight. Ten treats will be performed, hosted by Silya Nymoen and Kåre Magnus Bergh from the Oslo Spektrum.
Two rounds will be held, with the first, eliminating six songs – the public are getting the honour of doing this. The top four songs will perform again. The public will vote, but the points will be announced by region. No word of guests yet but let's hope A Monster Like Me appears somewhere.
The Hungry Hearts feat. Lisa Dillan – Laika Tonje Gjevjon
Stage Dolls – Into the Fire
Stine Hole Ulla – Traces
Makeda – Stand Up
Pegasus – Anyway
Freddy Kalas – Feel Da Rush
Laila Samuels – Afterglow
Elouiz – History
Suite 16 – Anna Lee
Agnete – Icebreaker
Now below must be the first time you are seeing our exclusive content for Norway, who doesn't enjoy seeing Norway – play and then re-play.
Slovenia
Finally plucky little Slovenia, who've only treated us to little snippets of their songs so far, will also pick their entry tonight, during their Evrovizijska Melodija (EMA), which starts at 20:00 CET. Ten acts will perform tonight, including second timers, Regina and Nuša Derenda. Klemen Slakonja will do the hosting honours from the studios of Radiotelevizija Slovenija. A jury will pick the top two songs, then it ill be up to the Slovenian public to slide to unlock their phones, and call in for their favourite entry.
Anja Baš – What If
Žan Serčič – Summer Story
Anja Kotar – Too Cool
San Di EGO – Brez tebe
D Base – Spet živ
Regina – Alive in Every Way
ManuElla – Blue and Red
Raiven – Črno bel
Nuša Derenda – Tip Top
Sebastijan Lukovnjak – Tales of Tomorrow
Please have a look at the recent entries from Slovenia, which guaranteed will feature content you haven't seen before as it is a lot more than just their Eurovision performances.
Sweden
While two countries tonight managed to choose their entry with only one show, Sweden's Melodifestivalen 2016 enters it's fourth week, which will pick the final two songs to go straight to the Swedish final in two week's time, and also the two songs which will receive another chance next week. As always the show airs at 20:00 CET on SVT. More familiar names return including favourite Molly Sanden, as well as 2005 entrant Martin Stenmarck, and perennials, Panetoz, Linda Bengtzing and Dolly Style.
Gina Dirawi and Sarah Dawn Finer will host the show from the Gavlerinken Arena in Gävle.
Eclipse – Runaways
Dolly Style – Rollercoaster
Martin Stenmarck – Du tar mig tillbaks
Linda Bengtzing – Killer Girl
Frans – If I Were Sorry
Panetoz – Håll om mig hårt
Molly Sandén – Youniverse
Sweden are hoping to tie Ireland's seven wins this year. Listen to their highlights below and then decide for yourself, whether they should have broken that record years ago – of course while you enjoy the footage which you haven't seen before.
Lithuania
Finally it wouldn't be a Saturday evening without another elimination show from Lithuania. The first and second division acts will now compete against each other for the first time, and it will make the Gladiators seem like kids at kindergarten. All ten acts will be hoping the juries and public send the others home. Two will be voted off the island before next weeks semi, read that again SEMI final. The end is near. Watch the proceedings at 20:00 CET at LRT.
Catrinah – Be Free
Ruslanas Kirilkinas – In My World
Milda Martinkėnaitė – If Tomorrow Never Comes
Erica Jennings – Leading Me Home
Saulenė Chlevickaitė – Strong
Aistė Pilvelytė – You Bet
Valdas Lacko – Stay Tonight
Rūta Ščiogolevaitė – United
Donny Montell – I've Been Waiting for This Night
Ieva Zasimauskaitė – Life (Not That Beautiful)
Sunday 28 February
Latvia
If you managed to get through Saturday, get a damp cloth and wipe your brow, or stick two matches in your eyes to keep them awake, because two things could happen tonight in Latvia. Either the most obvious choice of all the finals will be selected to go to Sweden, or Europe will let out the biggest gasp if one of the other three acts are a shock winner. Be there when one or the other happens in Latvia's Supernova grand final at 20:25 CET.
Justs – Heartbeat
Catalepsia – Damnation
MyRadiantU – We Will Be Stars
Marta Ritova – Not From This World
Our final re-cap is from Latvia. Enjoy all  the weekend's shows. Hopefully you also like reading about them. Joins us as the weekend progresses as we report on the results.