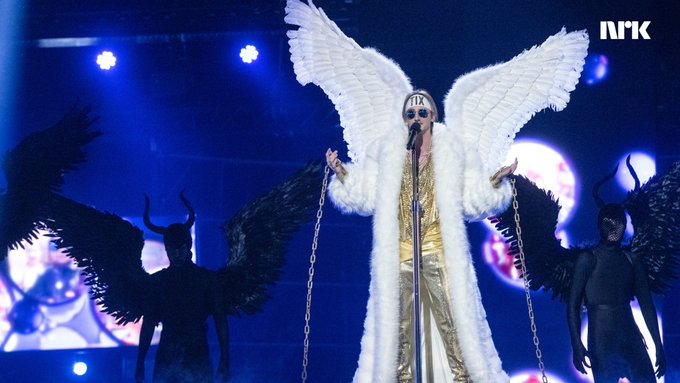 TIX did the almost impossible tonight: won the Norwegian final ahead of top favourite KEiiNO. Melodi Grand Prix 2021 came to an end this evening with an exciting final, and a somewhat surprising result.
The past five weeks, we have intensively followed the Norwegian Melodi Grand Prix selection. We have seen act after act deliver their very best. Yet, going into tonight's final, it was difficult to see anyone else than 2019 Norwegian Eurovision representative KEiiNO winning – and yet, we got a surprising result.
In Norway, they apparently don't like their own language. Ahead of tonight's show both TIX and Stavangerkameratene had changed their Norwegian language songs to English. As such, all songs were in English. This is a big shame, and a big contrast to neighbour Denmark with an almost identical language. In their national final, half the songs will be in Danish.
Jorn unfairly accused of foul play
No Norwegian final without drama, it seems. On the day of the final, Norwegian broadcaster NRK went out blaming Jorn for trying to get foreign fans to vote for him. The broadcaster has made it possible to vote abroad, but now they say that the intention was that it will of course only be those with Norwegian roots living abroad who vote. But that intention has not been communicated out. Not even when you sign up for an NRK profile in order to vote or on the voting page itself is that mentioned. Jorn's team even asked NRK before making a Facebook post about it. There was nothing wrong – until today where the broadcaster found it needed to accuse the singer of foul play.
Jorn did nothing wrong as NRK never encouraged only foreigners with Norwegian background to vote, and they knew exactly what Jorn was doing. Furthermore, other participants have done exactly the same thing, encouraging foreign fans to vote for them. But only Jorn was blamed in public…
Melodi Grand Prix 2021 final result
The voting in tonight's final was done in three parts. First round started after all 12 acts had performed on stage. The four acts with most points continued to the second round. This time, they didn't have to perform again. People voted based on the video shown from first round. The four acts were then reduced to four who would in a 'gullduell' (Gold duel). This time, they performed again, and the result was given divided by geographical region. There's however no check of where people actually are from as voting is all done online with NRK login. Norwegians living abroad and foreigners were able to vote too as long as they, more or less randomly perhaps, picked a region. In each 'voting round' people had three votes to place as they want on one, two or three acts.
| | | |
| --- | --- | --- |
| Act | Song title | Placement |
| TIX | Fallen Angel | Winner |
| KEiiNO | Monument | 2nd place |
| Jorn | Faith Bloody Faith | 3rd – 4th place |
| Blåsemafian feat. Hazel | Let Loose | 3rd – 4th place |
| Atle Pettersen | World On Fire | No placement |
| Raylee | Hero | No placement |
| Stavangerkameratene | Who I Am | No placement |
| KiiM | My Lonely Voice | No placement |
| Emmy | Witch Woods | No placement |
| Kaja Rode | Feel Again | No placement |
| Rein Alexander | Eyes Wide Open | No placement |
| IMERIKA | I Can't Escape | No placement |
The show
The show kicked off at 20:00. It started with a presentation of all 12 acts before we went on stage and saw Ulrikke perform her 2020 Melodi Grand Prix winner Attention. This time, we heard a different version of it though as it halfway through changed to be a dance version. She turned her beautiful ballad into a real EuroClub banger.
As all the 12 acts had performed, it was time to vote for the first time. A recap lasted almost the 8 minute long voting window. Former Eurovision acts send their best wishes to the participants.
We were entertained with beautiful music and pictures showing great winter photos from Norway. This country is beautiful both winter and summer and their nature should be treasured, as we saw tonight.
Before the winner was announced, Ulrikke came back on stage. This time she performed her new single Fallen Apart.
Norway at the Eurovision Song Contest
With three Eurovision victories, Norway is on track with fellow Scandinavian neighbour Denmark, although both countries are three behind Sweden. Norway first won in 1985, the year after Sweden's second win. Bobbysocks' La Det Swinge has since become a classic hit, which most fans can sing a long to. Ten years later, Secret Garden gave Norway their second win with the song Nocturne, which only contained 24 words, and the rest was instrumental, mainly violin. In 2009, Norway would once again bring the violin to Eurovision – and win by no other than Rybak.
Since the last Norwegian victory, by Alexander Rybak in 2009, Norway have scored rather decent in Eurovision. Stella Mwangi (2011) and Agnete (2016) both failed to reach the final, but of the remaining six entries that did make it, four of them ended in top 10.