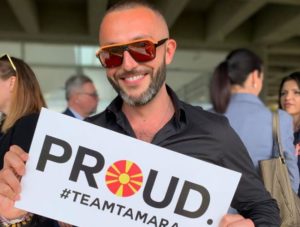 Today, North Macedonia's national broadcaster, MRT, released the song that will represent this Balkan country at the upcoming Eurovision Song Contest in Rotterdam. Vasil Garvanliev will sing North Macedonia's entry "You".
In January, the broadcaster revealed that Vasil Garvanliev will represent North Macedonia at the 2020 Eurovision Song Contest. On February the 14th, we found out that the song Vasil is going to perform in Rotterdam is titled You. And today, the song was released.
You is composed by Nevena Neskoska, who is a good friend of Vasil. She is a composer and producer, who was born in North Macedonia's city of Ohrid, but raised in Chicago, USA. Nevena has studied songwriting at Berklee College of Music. Nevena penned the lyrics for You together with her sister Kalina Neskoska and her former co-student from Berklee, Alice Schroeder.
You, is an invitation for everyone to connect, open up, dance, and celebrate the moment.

The title itself addresses another person but also, the person where it all begins – YOU, yourself.

We've all been there. The moment when that unexplainable thing happens and sensations take over you. The choice is yours: let go, put your dancing shoes on, celebrate, and just dance.
In the embedded video below you can hear this year's entry from North Macedonia:
Who is Vasil Garvanliev
35-year-old Vasil started his music career at the age of 7, performing at some of North Macedonia's most popular music festivals for children. Soon thereafter, Vasil's family moved to the United States, where he continued his career as a soloist at the Chicago's Children Choir. Later, Vasil established himself as an opera singer in Canada. He achieved over 50 operatic roles and recitals at music festivals across the world and collaborations with some of the world's most prolific artists.
In 2018, Vasil returned to North Macedonia, where he launched his own pop career with singles Gjerdan, Patuvam and Mojata Ulica. Vasil took part in the Eurovision Song Contest already last year as the backing vocalist for North Macedonia's representative Tamara Todevska.
North Macedonia in the Eurovision Song Contest
North Macedonia had its debut in the contest back in 1998 with Vlado Janevski's Ne Zori, Zoro. The country participated in the contest 19 times.
Their best result to date is a 7th place which Tamara Todevska achieved last year in Tel Aviv performing the song Proud.