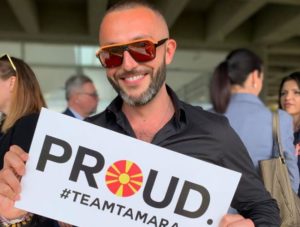 In an internal selection, Vasil Garganliev, has been chosen to represent North Macedonia at this year's Eurovision Song Contest. He is familar with the contest as he provided backing for Tamara last year.
Last year, after the result had been changed, Tamara Todevska had won the jury voting, and finished in an overall 7th place. With the song Proud, she had secured the country their first ever top 10 result at the Eurovision Song Contest.
Whether or not they can achieve another good result this year is up to Vasil Garganliev. He has just been presented at the artist who will represent the country in Rotterdam, the Netherlands in May this year. Vasil was a part of the country's team last year too as he provided backing for Tamara.
I am beyond honoured to present my country at the Song Contest in Rotterdam and I can hardly wait to put all my experience and knowledge into creating a magical journey that will touch people's heart across Europe.
Like many others, Vasil had to escape the Balkan in the 1990s. He went to United States. Back in 2007, he took part in the national selection Skopje Fest with the self-written song Pomogni Mi (Help me). He came in as third to last finishing 13th out of 15th. Let's hope for more success for the 2020 Eurovision Song Contest. 
In 2018, Vasil returned to North Macedonia. The song, with which, he will compete at the 2020 Eurovision Song Contest has yet to be released.
Tamara ended poor North Macedonia strike
Six years in a row not reaching the final. That was what Tamara Todevska was up against last year – and managed to turn around. The country had failed to reach the final from 2013 – 2018 (both included). When Kailopi in 2012 qualified for the final, she left behind a four year non qualification strike, so fans from North Macedonia can only rarely cheer for their own country in the grand final of the Eurovision Song Contest.
Depending on how you count, North Macedonia either debuted in 1996 or in 1998. They did submit a song for the audio pre-qualification event (semi-final), but failed to get through to the main contest. In 1998, they got through – and finished 19th.
When official semi-finals were introduced, things went smoothly for North Macedonia – in the beginning. Late Toše Proeski qualfied for the final in 2004, and the next three years, their artists all reached the final – without much success in the actual final though.
But then things changed. Together with Vrčak and Adrian, Tamara Todevska represented the country in 2008, and failed to reach the final. That marked the beginning of an 11 year period with just one qualification – until Tamara came back last year, and made her country proud.
In the video below, you can watch a clip from Tamara rehearsing on last year's Eurovision stage: