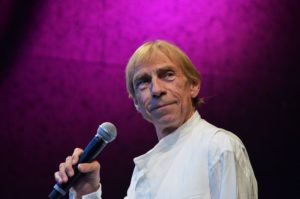 Speakers on loud, and one particular Norwegian national final entry on repeat for at least 100 times. That was one of the tasks, Norwegian police was called out for this weekend. 
In 1989, Britt Synnøve won the Norwegian Melodi Grand Prix final and represented the country at the Eurovision Song Contest with the song Venners Nærhet. In Kristiansund, the western part of Norway, at least one person probably disagrees with that choice however.
Triple Eurovision participant Jahn Teigen (Norway 1978, 1982 and 1983) also took part in the 1989 national final. His entry Optimist finished outside top 3, but is today one of his most loved songs. But listening to it 100 times in a row – for high volume – can be too much for some.
Norwegian Tidens Krav tells how the Police in Kristiansund Saturday evening got a call from a citizen who could not handle anymore of Jahn Teigen's Optimist. According to Operation leader at the Police John Bratland, the neighbour should have been playing the same song on and on again, and after at least 100 times, it was time for the police to step in.
At 23:16, Police were at the address for the first time. At that time things had apparently settled down, but at 00:30 they were back again and told the host to turn down the volume.
In the video below, you can take a look at Jahn Teigen's performance of Optimist in the Norwegian Melodi Grand Prix final in 1989: