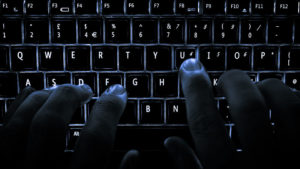 Two acts have been disqualified from the national selection in Ukraine after they hacked the system. The technical department found evidence of them using bots to create more votes for themselves.

The broadcaster in Ukraine, STB, have announced some alarming news concerning the online wildcard selection process. two acts who were a part of the online process, have since hacked the STB website in order to give themselves more votes, and the over all lead. This has lead to an automatic disqualification for the two acts concerned.
What lead to the disqualification?
The security service for STB, have confirmed that the disqualified acts hacked the leader-board. This means that the security of STB, and StarLightMedia Holding was compromised, while these hacks were taking place.
On Tuesday 8th November, at 16:00 local time, our technical administrators discovered a large number of requests to The Eurovision database of the site, and therefore they have decided to suspend the vote. All requests came from bots instead of real people.

– Technical representatives of STB
Not only has the security of STB and StarLightMeda Holding been compromised, but also Novy Kanal and ICTV, as reported by ESC KAZ.
It is very fustrating to know that some participants decided to reach success by means of cheating. It's amazing that people who did it were certain that such actions can go un-noticed. Technical capabilities of StarlightMedia Holding websites allow us to monitor fraud attempts. Therefore we ask all of our users, and participants in various competitions, including the national selection, not to resort to dishonest methods of competing,

– Editor in Chief of STB.UA, Yulia Petrovskaya,
The votes annulled by STB were:
Kuznetsov (Kyiv) – Deep Shivers
Aghiazma (Kyiv) – Zombie Dogs
The new vote leaders are:
Denis Povaliy – (Kyiv) – Written on your heart – 10202
Ksenia Popova –  (Kryvyi Rih) – Let it fall – 1861
One Light inside – Stay – 1754
Legenda Folium – (Kharkiv) – My Space – 1635
Alex Angel and Lady Gala – (Kyiv) – Running for Love ft Minerva & Jenya Frank – 1145
You can vote for the remaining participants as the voting has now fully recommenced. The winner will be announced on 15.01.2017 at midnight local time (23:00 CET/22:00 GMT).