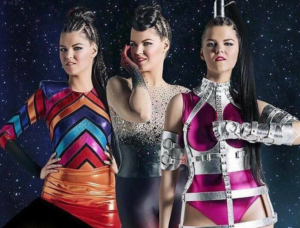 Contrary to the outfits, Saara Aalto's three songs have all been well received, but "Monsters" seems to be the preferred one. Are you also on board for that one, or are the fans overlooking a true gem among the other two? 
With more than one million views, Saara Aalto's Monsters is the most watched one on YouTube, of her three entries for the Finnish UMK final on Saturday, the 3rd of March. As the first one released, it however also do have an advantage, just as the second one have to the third one.
Domino was the second one released, and it has passed half a million views on YouTube. The third one, Queens, is currently at 423.000 after just four days. So no, the views on the videos does not say anything about which one is more popular. Had one of the others been released as the first one, it might have been that one which had passed the magic one million. One can however also argue that, she released the strongest one first to secure higher views on the others.
As we can't conclude anything from views, let's look at polls. In a poll at Eurovision World, the song monsters is a clear winner with 76% of the votes. At Oikotimes, Monsters lead by 67% while our own poll below give Monsters a 70% lead.
Eurovision perspective on the three songs
People can be eager to follow the common opinion, so we won't rely just on polls either. We asked three team members from various places in Europe to listen to all three songs, and comment on the songs and their potential in the international competition.
Monsters
Ashleigh, United Kingdom
Monsters is my favourite song out of the three. I really hope that Finland make the right choice and send this song to Lisbon. The video looks promising, and the directors have shown good vision with it. I would be really excited to see how they turn this into a production on the big stage. The song is up-tempo, fresh and would definitely stand out. We could be hearing a potential winner of Eurovision if Finland select this song.
Pedro, Portugal
It is not everyday that you get to listen to good Pop music. The "fast food music" comment is correct up to a certain point. Singers nowadays keep on releasing music until something sticks. It doesn't matter if it features silly lyrics, trends or dated sounds, they'll just do it, so when you listen to something like Monsters, it just feels right. The production is on key as it features great Pop elements and the lyrics aren't just there. They're empowering to the listener. It is the perfect Eurovision fit: an amazing Pop Dance production mixed with empowering lyrics and an amazing vocalist. On top of that, possibly an amazing performance. I'd risk saying if this goes to Lisbon, Finland will most likely finish top 5.
Josef, Czech Republic
Monsters sound the best out of the three songs chosen for Saara. It has that anthemic potential, and I am pretty sure that this entry would not only be a strong contender for the victory, but also a hit at Euro Club. The melody combined with Saara's vocals and the usage of her high notes is the most efficient (as we see it in all of these entries). Also the theme is really a lot LGBT themed, either in the case of coming-out or the bullying, and that you have to face the monsters and you should not be scared of them anymore. It's also the fastest of those three songs, which is a good sign.
In Eurovision, Monsters would be an almost sure qualifier, and even a possible winner. Especially as halfway through the selection of the songs, a lot of fan favourites failed to qualify from their national selections, so still we have no clear winner. Saara may be one of them, if she choose Monsters. TOP 5 in the final.
Domino
Ashleigh, United Kingdom
Domino is a good song with a nice melody, and there is no doubt that Saara would smash the vocals. If it was selected as the Finnish entry, it would do quite well. But I don't think it is winning song.
Pedro, Portugal
All the fierce aspects of Monsters are now gone as love and passion replaced them. The production is smoother, yet the chorus still is strong which could be a good factor for Eurovision. The way the song builds up could also end up in an amazing performance, yet it isn't a given as Domino is something more common and less unique. I could see it in the finals though.
Josef, Czech Republic
Domino is the slowest out of the bunch. Co-written by Thomas G:son, everybody expected a lot from Domino. But I was disappointed a lot. It sounds the most generic out of these three entries. Domino is also the least "Eurovision-style" song out of them. I would say that Saara's vocals are not used efficient enough in this song.
As we already saw some G:son's songs doing better and even worse, in a combination with the charisma of Saara, Domino could qualify for the final, but after that, I would predict a placing around 15th place. It just doesn't have the same level of attraction, or even wow effect, which Monsters have.
Queens
Ashleigh, United Kingdom
Queens is my least favourite song out of the three. For me, it is all over the place. The melody changes a little too often during the song, which makes it hard to follow and enjoy it. Having said that, the changes in the melody made the song sound more unique, and it would sound distinctive against competing songs.
Pedro, Portugal
Maybe the riskiest entry of them all. Could be a hit or a miss in Eurovision. Despite the anthemic chorus, the verses could get the listener lost in between, as it represents a huge break on the song. Nonetheless, its mysterious production could easily provide Saara all the tools for one of the best performances. I could also see it in the finals and, in case it ends up being a hit, finish close to the top 10.
Josef, Czech Republic
If we speak about the tempo, Queens are similar to Monsters. In my ranking, it is somewhere in the middle – better than the slower Domino, but still not as good as Monsters. The video is really artistic in terms of using different haircuts, dresses and makeup. Queens would be suitable for Eurovision, but I just don't see it winning in Finland.
Should it, with Queens, Finland would qualify from the first semifinal, as there is only a small group of the countries that would be sure qualifiers. For the final, I am not sure how Queens may appeal to the Eurovision audience, but I am guessing it won't be enough to break into TOP 10. I expect a 10th to 15th place for Queens.
Conclusion
We started out wondering if Monsters really is that much better than the other two, or if people might be overlooking a true gem among the others? The polls we looked at all clearly shows that the international fans voting in such polls, with a big majority prefer Monsters.
Our three journalists, one based in Eastern Europe, one in South Europe and one in Western Europe, looked at the three songs from a Eurovision perspective. Despite their big spread geographically, they all go with that Monsters have the best chance for good placement for Finland, in fact they all predict a top 5, and maybe even a Finnish victory.
On Saturday, the third of March, Finland will select one of these three entries, which will then represent them at the 2018 Eurovision Song Contest.