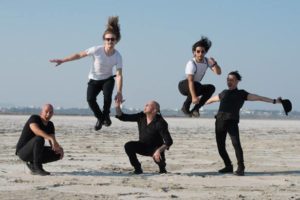 2016 Cypriot Eurovision participants are tying their knots to Denmark even closer. This afternoon, they announced that they signed with the Danish label Mighty Music, which already have a former Danish participant in their catalogue. 
Denmark didn't give any points to Cyprus at the 2016 Eurovision Song Contest, but the Cypriot band Minus One has afterwards spent a lot of time performing and recording in the small Scandinavian country. In the future, they are likely to visit even more as they just signed a record deal with the Danish label Mighty Music.
Mighty Music is a label which specialize in rock, mainly heavy metal. They already have one former Eurovision participant in their catalogue; Mike Tramp. Mike was part of the band Mabel which represented Denmark at the 1978 Eurovision Song Contest. As the band split up, he went to the US and played in bands like White Lion and Freak of Nature. Today, he is a solo artist.
In the video below, remind yourself of Minus One's Eurovision entry Alter Ego: