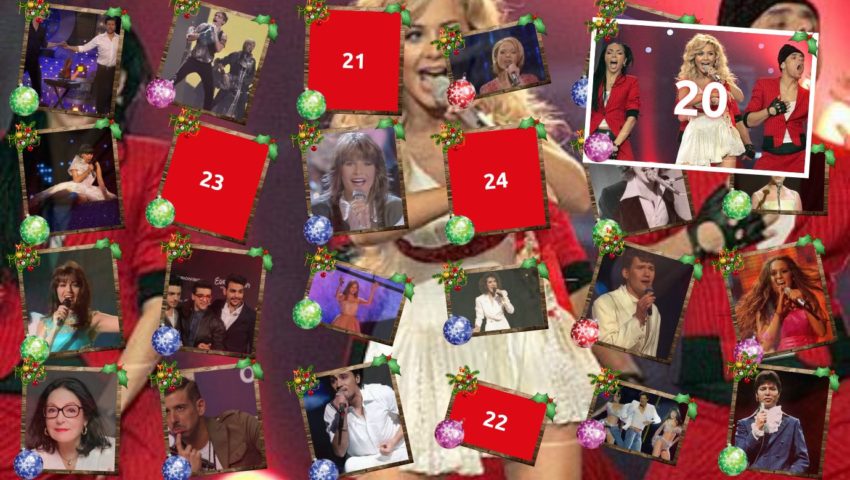 Warm up to Christmas by listening to the beautiful carols performed by Eurovision artists. Each day until Christmas features a new act giving their version of a Christmas song. As 20th, we listen to Ukraine's Tina Karol.
Back in 2006, Tina Karol represented Ukraine at the Eurovision Song Contest with the song Show Me Your Love. She placed 7th. Since then, she has released several albums, been coach in the Ukrainian "The Voice" and three times won the award as 'Most Beautiful Woman in Ukraine'.
At the Eurovision Song Contest, Tina sang in in English. In today's Christmas song, you'll hear her in her native Ukrainian. Тиха Ніч is the title of the Ukrainian version of the song most know in English as Silent Night. It's originally from 1818 by Austrian composer Franz Xaver Gruber. The title in its original German language is Stille Nacht, Heillige Nacht. is considered one of the most traditional Christmas carols and has status as UNESCO Cultural heritage.
The lyrics in the Ukrainian version are close to the English one, so you can enjoy the song without wandering what she is singing about.
In this series:
Day 19: Katy Garbi – O Χειμώνας o βαρύς (Winter Wonderland)
Day 18: Kalomira – Ta Xristougenna Auta
Day 17: Dami Im – All I Want For Christmas Is You
Day 16: Michelle – Stille Nacht, Heilige Nacht
Day 15: Nana Mouskouri – Petit Garçon
Day 14: Dima Bilan – Last Christmas 
Day 13: Tommy Seebach – Vi Ønsker Jer Alle En Glædelig Jul
Day 12: Ilse DeLange – Midden in de Winternacht
Day 11: Celine Dion – Oh Holy Night
Day 10: Cliff Richard – Mistletoe & Wine
Day 9: Zoë – La Nuit Des Merveilles
Day 8: Il Volo – Christmas Medley
Day 7: Alexander Rybak & Didrik Solli-Tangen – Presents
Day 6: Sakis Rouvas – Xronia Polla Christmas
Day 5: Litesound – Shooting Star
Day 4: Grethe Ingmann – Jeg Så Julemanden Kysse Mor
Day 3: Carola – Nu Tändas Tusen Juleljus
Day 2: Francesco Gabbani – La Mia Versione Dei Ricordi