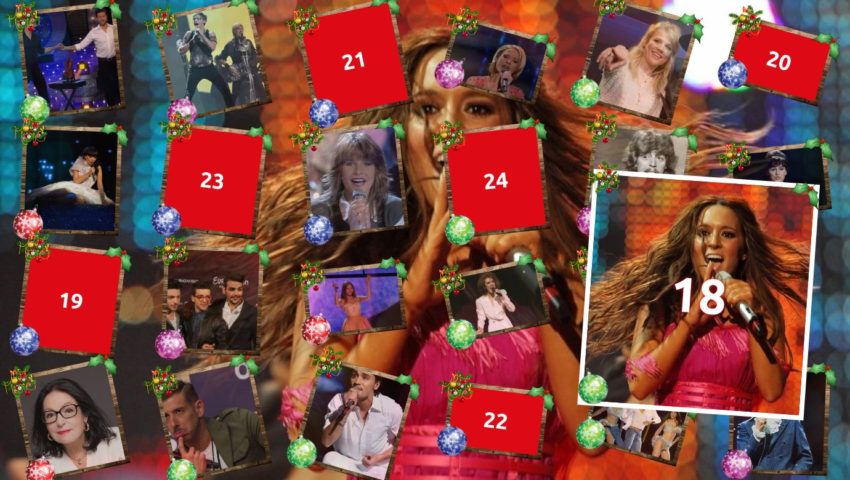 Warm up to Christmas by listening to the beautiful carols performed by Eurovision artists. Each day until Christmas features a new act giving their version of a Christmas song. As 18th, we listen to Kalomira.
At the 2008 Eurovision Song Contest, Greece came third. They were represented by Greek-American singer Kalomira and her charming Secret Combination. She is born and raised in the US, but became known to the Greeks when she in 2004 won the talent show "Fame Story".
Her Eurovision entry became a massive hit on charts across the world in countries as different as Turkey, Denmark, Belgium, Ireland, United Kingdom and Canada just to mention some – and of course Greece and Cyprus.
Today's Christmas song is titled Ta Xristougenna Auta. It translates to 'This Christmas'. She is writing to Santa to tell him that she has been a very good girl, and that she only has one wish: to be with the man she loves. 'Chestnuts roasting, warm and cozy, mistletoes are all around', she describes the time while waiting for her guy.
In this series:
Day 17: Dami Im – All I Want For Christmas Is You
Day 16: Michelle – Stille Nacht, Heilige Nacht
Day 15: Nana Mouskouri – Petit Garçon
Day 14: Dima Bilan – Last Christmas 
Day 13: Tommy Seebach – Vi Ønsker Jer Alle En Glædelig Jul
Day 12: Ilse DeLange – Midden in de Winternacht
Day 11: Celine Dion – Oh Holy Night
Day 10: Cliff Richard – Mistletoe & Wine
Day 9: Zoë – La Nuit Des Merveilles
Day 8: Il Volo – Christmas Medley
Day 7: Alexander Rybak & Didrik Solli-Tangen – Presents
Day 6: Sakis Rouvas – Xronia Polla Christmas
Day 5: Litesound – Shooting Star
Day 4: Grethe Ingmann – Jeg Så Julemanden Kysse Mor
Day 3: Carola – Nu Tändas Tusen Juleljus
Day 2: Francesco Gabbani – La Mia Versione Dei Ricordi